Director of Research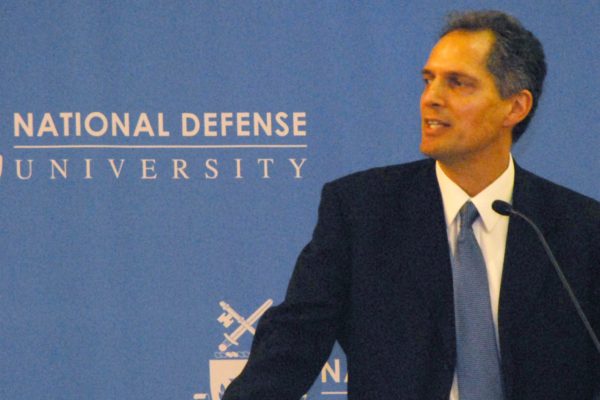 Dr. Joseph Siegle leads the Africa Center for Strategic Studies' research and strategic communications program with the aim of generating policy relevant analyses addressing Africa's security challenges. His research includes understanding the role of governance in advancing security and development; the role of external actors, including Russia, in Africa; stabilizing fragile states; democratic transitions; and strengthening institutions of democratic accountability. Dr. Siegle has written widely for leading policy journals and newspapers and is a regular media analyst.
Prior to joining the Africa Center, he was a Douglas Dillon Fellow at the Council on Foreign Relations, a senior research scholar at the University of Maryland's Center for International and Security Studies, and a senior advisor for democratic governance at DAI. For more than a decade, he served in various field capacities throughout Africa as well as in Asia and the Balkans with the international NGO, World Vision, and as a Peace Corps Volunteer.
Dr. Siegle holds a doctorate in international security and economic policy from the University of Maryland's School of Public Policy and a master's in agricultural economics, with an emphasis on African food security, from Michigan State University.
Areas of Expertise
Democratization, Stabilization of Fragile States, Africa Security Trends, Russia's influence in Africa, Security and Development, Countering Violent Extremism



Spotlight

Taking Stock of the Surge in Militant Islamist Violence in Africa

Africa Center for Strategic Studies, March 7, 2023

Book Review

Intervening to Undermine Democracy in Africa: Russia's Playbook for Influence

Democracy in Africa, February 22, 2023

Spotlight

Africa's 2023 Elections: Democratic Resiliency in the Face of Trials

Africa Center for Strategic Studies, January 31, 2023

Essay

The Creeping Loss of African Sovereignty in Africa: Year in Review 2022

Wilson Center Africa Program, January 30, 2023

Spotlight

Decoding Russia's Economic Engagements in Africa

Africa Center for Strategic Studies, January 6, 2023

Book Review

The Disruptor—A Recent History of Russia in Africa

South African Journal of International Affairs, December 9, 2022

Testimony

Russia's Use of Private Military Contractors

House Committee on Oversight and Reform Hearing, September 15, 2022

Article

Why Russia is on a Charm Offensive in Africa

The Conversation, July 26, 2022

Testimony

Russia's Strategic Objectives and Influences in Africa

House Foreign Affairs Committee Hearing, July 14, 2022

Article

Putin's World Order Would Be Devastating for Africa

Foreign Policy, May 30, 2022

Article

Russia and the Future International Order in Africa

This article originally appeared as part of the ISPI Dossier "Side Effects: Ukraine's Perfect Storm Looming over Africa," May 6, 2022

Infographic

Mapping Disinformation in Africa

Africa Center for Strategic Studies, April 26, 2022

Infographic

Debunking the Malian Junta's Claims

Africa Center for Strategic Studies, April 12, 2022

Blogpost

How Russia is Pursuing State Capture in Africa

London School of Economics and Political Science, March 21, 2022

Spotlight

Strategic Implications for Africa from Russia's Invasion in Ukraine

Les implications stratégiques de l'invasion russe de l'Ukraine pour l'Afrique

Guerra in Ucraina: nuovo avvertimento che l'Africa deve essere vigile contro l'influenza destabilizzante della Russia

Implicações estratégicas para África da invasão da Rússia na Ucrânia

التداعيات الإستراتيجية لإفريقيا من الغزو الروسي لأوكرانيا

Africa Center for Strategic Studies, March 9, 2022

Blogpost

The Future of Russia-Africa Relations, in Foresight Africa: Top Priorities for the Continent in 2022

Brookings Institution, February 2, 2022

Essay

"Africa's Diverging Views on Governance Norms," Chapter 16 in Africa Year in Review 2021

Wilson Center Africa Program, January 19, 2022

Spotlight

Africa's Complex 2022 Elections: Restoring Democratic Processes

Africa Center for Strategic Studies, January 11, 2022

Article

Africa's Coups and the Role of External Actors

ISPI, December 17, 2021

Spotlight

What the Post-Coup Agreement Means for Sudan's Democratic Transition

Africa Center for Strategic Studies, November 24, 2021

Article

Sudan's Hard-Won Transition to Civilian Rule Faces a Precarious Moment

The Conversation, October 22, 2021

Article

Russia in Africa: Undermining Democracy through Elite Capture

Democracy in Africa, September 23, 2021

Article

Russia's Wagner Play Undermines the Transition in Mali

AllAfrica.com, September 23, 2021

Op-Ed

Walking Back the Coup in Guinea

The Conversation, September 17, 2021

Blogpost

Russia's Asymmetric Strategy for Expanding Influence in Africa

London School of Economics, September 17, 2021

Article

Presidential Term Limits Key to Democratic Progress and Security in Africa

La limitation des mandats présidentiels est la clé du progrès démocratique et de la sécurité en Afrique

عدد فترات الرئاسة هو أمر مهم من أجل التقدم الديمقراطي والأمن في إفريقيا

Orbis, Summer 2021

Article

Term Limits: A Linchpin to Restoring Democratic Norms in Africa

Democracy in Africa, June 25, 2021

Article

Evading Term Limits Needs to Be a Red Line

Vanguard Africa, June 21, 2021

Spotlight

Lessons for Africa from India's Deadly COVID Surge

Africa Center for Strategic Studies, May 28, 2021

Book Chapter

Russia's Strategic Goals in Africa

George C. Marshall Center, May 2021

Blogpost

The Sudanese Military's Interests in Civilian Rule
مصالح القوّات المسلّحة السودانية في الحكم المدني

Tawazun, March 23, 2021

Infographic

Autocracy and Instability in Africa
Autocratie et instabilité en Afrique

Africa Center for Strategic Studies, March 9, 2021

Essay

"The Erosion of Term Limits in Africa Reflects Worrying Trend,"
in Africa Year in Review 2020

Wilson Center Africa Program, January 12, 2021

Spotlight

Taking Stock of Africa's 2021 Elections

Africa Center for Strategic Studies, January 12, 2021

Infographic

Analyzing Africa's Second Wave of COVID-19

Africa Center for Strategic Studies, January 5, 2021

Op-Ed

Mali Coup Offers Lessons in Democracy Building—but Junta Must Go
La principale leçon en construction de la démocratie du coup d'État au Mali : la junte doit partir

The Hill, September 18, 2020

Infographic

Circumvention of Term Limits Weakens Governance in Africa

Africa Center for Strategic Studies, September 14, 2020

Op-Ed

Mali: Beware the 'Popular' Coup

Attention au coup d'État "populaire"

AllAfrica.com, August 31, 2020

Infographic

Africa's Varied COVID Landscapes

Africa Center for Strategic Studies, July 13, 2020

Spotlight

Africa Center for Strategic Studies, May 27, 2020

Spotlight

Lessons from the 1918-1919 Spanish Flu Pandemic in Africa

Africa Center for Strategic Studies, May 13, 2020

Infographic

Mapping Risk Factors for the Spread of COVID-19 in Africa

Africa Center for Strategic Studies, April 3, 2020

Spotlight

Assessing Africa's 2020 Elections
Évaluation des élections de 2020 en Afrique

Africa Center for Strategic Studies, January 28, 2020

Infographic

Threat from African Militant Islamist Groups Expanding, Diversifying
Augmentation et diversification de la menace provenant des groupes islamistes militants

Africa Center for Strategic Studies, January 18, 2020

Essay

"Sudan and Algeria: The Growing Power of African Protests" in Africa: Year in Review 2019

Wilson Center, January 2020

Research Paper

Assessing Attitudes of the Next Generation of African Security Sector Professionals
Évaluation des attitudes de la prochaine génération de professionnels du secteur de la sécurité en Afrique

Africa Center for Strategic Studies, May 2019

White Paper

Recommended US Response to Russian Activities in Africa

NSI, May 2019

Spotlight

Five Things to Watch in Sudan's Transition
Cinq choses à suivre de près pendant la transition au Soudan

Africa Center for Strategic Studies, April 12, 2019

Spotlight

An Overview of Africa's 2019 Elections
Aperçu des élections africaines de 2019

Africa Center for Strategic Studies, January 31, 2019

Article

Deep Commitment, High Expectations
Engagement profond, attentes élevées

Africa Defense Forum, July 12, 2018

Infographic

Term Limits for African Leaders Linked to Stability
Limites et durée de mandat des dirigeants africains liés à la stabilité

Africa Center for Strategic Studies, February 23, 2018

Article

Boko Haram vs. Al-Shabab: What Do We Know about Their Patterns of Violence?

Washington Post, October 2, 2017

Article

ISIS in Africa: Implications from Syria and Iraq

SMA Reachback, March 2017

Article

Changing the Political Calculus

The Cipher Brief, October 11, 2016

Article

Constitutional Design: Vital but Insufficient for Conflict Management in Africa

Ethnopolitics, Spring 2016

Testimony

The Political and Security Crises in Burundi

United States Senate Foreign Relations Subcommittee on Africa and Global Health Policy, December 9, 2015

Blog post

Why Term Limits Matter for Africa

International Security Network, July 3, 2015

Article

Security Sector Reform in Times of Democratic Reversal

Security and Peace, January 2015

Book Chapter

"ICT and Accountability" in Bits and Atoms: Information and Communications Technology in Areas of Limited Statehood. Stephen Livingston and Gregor Walter-Drop, eds.

2014

Article

Sustaining Reliable Partnerships: Progress after the U.S.-Africa Leaders Summit

Georgetown Journal of International Affairs, August 14, 2014

Book chapter

"Boko Haram and the Isolation of Northern Nigeria: Regional and International Implications" in Boko Haram: Anatomy of a Crisis. Ioannis Mantzikos, ed.

2013

Book chapter

"Managing Volatility with the Expanded Access to Information in Fragile States" in Diplomacy, Development, and Security in the Information Age. Shanthi Kalathil, ed.

2013

Analysis

Overcoming Africa's Democratic Setbacks

The Brenthurst Foundation, 2013

Paper

Building Democratic Accountability in Areas of Limited Statehood

International Studies Association, 2012

Article

Overcoming Dilemmas of Democratization: Protecting Civil Liberties and the Right to Democracy

Nordic Journal of International Law, 2012

Blog post

Democratization and Dilemmas for Africa's Security Forces

Globalnet, January 5, 2012

Special report

Africa and the Arab Spring: A New Era of Democratic Expectations

Africa Center for Strategic Studies, 2011

Blog post

Some Small Signs That the "Arab Spring" Is Spreading into Africa

Christian Science Monitor, November 7, 2011

Article

Stabilizing Fragile States: Difficult but Necessary

Global Dialogue, Winter/Spring 2011

Commentary

Democracy Pushback in Egypt: Revolution Was the Starting Point, Not Finish Line

Christian Science Monitor, April 15, 2011

Blog post

What Egypt Means for Africa

One, February 15, 2011

Paper

Stability-Enhancing Development

Conference on Reducing Insecurity in Africa, December 2010

Book chapter

"Decentralization and Internal Conflict" in Making Decentralization Work. Ed Connerly, Kent Eaton, and Paul Smoke, eds.

2010

Book

The Democracy Advantage: How Democracies Promote Prosperity and Peace

2009

Article

Governance Strategies to Remedy the Natural Resource Curse

International Social Science Journal, June 2009

Article

Social Networks and Democratic Transitions

Developing Alternatives, December 2008

Article

Steps Toward Reconstruction in Somalia

DAIdeas, April 2008

Article

Democracy and Development: Overcoming Autocratic Legacies

Development Outreach, November 2007

Paper

Effective Aid Strategies to Support Democracy in Africa

Brenthurst Foundation, June 2007

Article

The Governance Root of the Natural Resource Curse

Developing Alternatives, Spring 2007

Paper

Explaining the Variation in Economic Performance of Developing Country Democratizers

Community of Democracies, March 2007

Paper

U.S. State Department, Democracy Dialogues, February 2007

Paper

Assessing the Merits of Decentralization as a Conflict Mitigation Strategy

U.S. Agency for International Development, September 2006

Article

Iraq and the Global Democracy Movement

Global Dialogue, Summer/Autumn 2006

Paper

Democratic Divergence in Africa: Lessons and Implications for Aid

Brenthurst Foundation, April 2006

Article

Why Democracy is Central to Prosperity and Peace

KAS-Auslandsinformationen, January 2006

Article

The Economic Obstacles to Democratization

Georgetown Journal of International Affairs, Summer/Fall 2005

Commentary

Bringing the D Word into the World Bank

International Herald Tribune, June 29, 2005

Report

East Timor: The Fragile Road to Recovery

USAID, January 2005

Remarks

The Political Origin of Refugee Crises

African Refugee Network, May 26, 2004

Article

Foreign Affairs, September/October 2004

Article

Developing Democracy: Democratizers Surprisingly Bright Development Record

Harvard International Review, Summer 2004

Op-ed

In Sudan's Darfur: Action, Not Just Aid

Christian Science Monitor, June 30, 2004

Op-ed

Los Angeles Times, February 22, 2004

Remarks

Changing the Definition of Success in Military Interventions

Carleton University, October 2003

Op-ed

Wall Street Journal, July 13, 2003

Op-ed

Los Angeles Times, July 13, 2003

Op-ed

Africa's Fault Line: Governments Must Act to Soothe Religious Tensions

International Herald Tribune, June 9, 2003

Op-ed

The Other Battle in Iraq

New Jersey Star Ledger, April 13, 2003

Op-ed

Rebuild We Must

New Jersey Star Ledger, December 1, 2002

Op-ed

The Dangerous Urge to Help Africa

Financial Times, June 27, 2002

Working paper

Botswana's Approach to Drought: How Disaster Relief Can Be Developmental

Michigan State University, June 1990




Panel Discussion

Echoes of the war in Ukraine: Disinformation and power shifts in the Sahel

SIPRI Stockholm Security Conference 'Battlefields of the Future: Trends of Conflict and Warfare in the 21st Century—Effects and Impact of the War in Ukraine,' November 9, 2022

Documentary

How Russia Profits from African Coups

Vice, August 24, 2022

Expert Testimony

Examining the Realities of Russian Activities and Influence in Africa and Its Effects on the Continent

House Foreign Affairs Committee Hearing, July 14, 2022

Panel Discussion

Countering Coups in the Greater Sahel: Steps to Reverse Military Rule and Revitalize Democracy in the Region

US Institute of Peace, February 23, 2022

Panel Discussion

US Institute of Peace, December 8, 2021

Panel Discussion

The COVID Pandemic and its Implications for Democracy, Freedoms and Good Governance

EU Parliament, The EU and Africa in a Post-Pandemic World, April 22, 2021

Roundtable Discussion

The Nigerian State and Insecurity

Africa Center for Strategic Studies, February 17, 2021

Panel Discussion

Constitutionalism and Presidential Term Limits: Effects on Democracy, Governance, and Security in Africa

New York City Bar Association, January 11, 2021

Democratic Transitions in Africa

Africa Center for Strategic Studies, October 31, 2019

Strategies for Peace and Security in the Sahel

Africa Center for Strategic Studies, September 27, 2019

Democratization Trends in Africa: Protests, Crackdowns, and Breakthroughs

Africa Center for Strategic Studies, June 14, 2019

This Ain't Your Grand-Daddy's Africa: Looking Beyond Challenges to Lock in Opportunities

Wilson Center, June 11, 2019

Understanding the Underlying Drivers of Armed Conflict in South Sudan

Africa Center for Strategic Studies, May 1, 2019

A Time of Testing for Africa's Democracies

Africa Center for Strategic Studies, September 28, 2018

Trends in Africa's Evolving Security Landscape

Africa Center for Strategic Studies, October 2017

The Mimi Geerges Show, October 2017

Democratic Transitions and Security

Africa Center for Strategic Studies, July 2017

Democratic Transition and Conflict in Africa

Africa Center for Strategic Studies, May 2017

Africa's Contemporary Security Trends

Africa Center for Strategic Studies, December 2016

Governance, Rule of Law, and Security

Africa Center for Strategic Studies, October 2016

Challenges and Opportunities in Africa's Evolving Governance Landscape

Africa Center for Strategic Studies, September 2014

Africa: The Return of the Coup d'Etat and the Persistence of the "Big Man"- Dr. Joseph Siegle

Africa Center for Strategic Studies, February 2014

South Sudan: Charting a Path to Stability

Africa Center for Strategic Studies, February 2014

Understanding and Mitigating the Drivers of Islamist Extremism in Northern Nigeria: Part 1, Part 2

Africa Center for Strategic Studies, December 2013

Africa and the Arab Spring: A New Era of Democratic Expectations: Part 1, Part 2, Part 3

Africa Center for Strategic Studies, November 2011

Current Trends of Democratization

Africa Center for Strategic Studies, September 2011




Ending Conflict in Sudan is Crucial for Regional Stability

Voice of America, Africa News Tonight, May 16, 2023

Role of External Actors in Resolving Sudan Conflict

Voice of America, Nightline Africa, May 13, 2023

Thousands Flee as Sudan Collapses into War

World, April 28, 2023

World, April 27, 2023

Sudan Slips into Chaos. Russia Lurks in the Background.

Radio Free Europe/Radio Liberty, April 19, 2023

Financial Interests Driving Sudan's Generals

Voice of America, Africa News Tonight, April 19, 2023

Voice of America, Africa News Tonight, April 19, 2023

Sudan Conflict Requires Civilian Engagement

Voice of America, Africa News Tonight, April 18, 2023

Background to the Sudan Crisis

Voice of America, Africa News Tonight, April 18, 2023

Putin's Arrest Warrant Threatens His Battle for a Continent

Newsweek, March 27, 2023

Al Qaeda Closes In on a Stalwart U.S. Ally in Africa

Wall Street Journal, March 26, 2023

Blinken Announces Aid for Niger and Its Neighbors

VOA, March 16, 2023

Blinken Urges Ethiopians to Follow Through on Peace Commitments, Accountability

VOA, March 15, 2023

Civilians Call for Sudan's Military Leaders to Step Down

Voice of America, Nightline, February 26, 2023

Escalating Tensions within Sudan's Military Government

Voice of America, Nightline, February 25, 2023

Ucrânia/1 ano: Um sucesso da Rússia na guerra será exemplo seguido noutros países
[Ukraine One Year Later: Russia's Success Will Be an Example Followed in Other Countries]

Multinews, February 23, 2023

A Successful Election in Nigeria Would Send a Powerful Message

Brookings, February 15, 2023

Egypt and the Growing Politicization of African Militaries [8:05-12:30]

Voice of America, February 12, 2023

Analysis on Russia-Africa Relations

Voice of America, Studio 54, February 9, 2022

Military Coups and Prospects for Democracy in Africa [16:35—21:00]

Voice of America, February 7, 2023

Mo Ibrahim Foundation Report Shows Africa Growing Less Democratic and Less Safe [13:10–17:30]

Voice of America, Africa News Tonight, February 2, 2023

US Treasury Secretary Visits South Africa

The World, January 27, 2023

Washington Looking to Deepen Economic Ties with Africa

Voice of America, January 19, 2023

Prospect for a Breakthrough in Sudan's Framework Agreement [8:30–12:20]

Voice of America, Africa News Tonight, January 11, 2023

EU Encourages Sudan Civilian-Led Government [8:15–12:45]

Voice of America, Africa News Tonight, January 11, 2023

Role of International Mediation to Find a Solution in Sudan [6:30–10:30]

Voice of America, Africa News Tonight, October 28, 2022

Sudanese Protest on Coup Anniversary [14:50–19:00]

Voice of America, October 27, 2022

Voice of America, Africa News Tonight, October 6, 2022

'We are Not Here for Power': Burkina Faso New Leader

Voice of America, October 4, 2022

Tigray Conflict Fuels Major Humanitarian Crisis

Voice of America, Africa News Tonight, August 31, 2022

Sahel Deemed Fastest Brewing Ground for Militant Islamist Violence

Voice of America, Africa News Tonight, August 5, 2022

U.S. Embassies in Africa Are Chronically Short-Staffed

Foreign Policy, July 22, 2022

Russia's Dreams of a Red Sea Naval Base Are Scuttled—for Now

Foreign Policy, July 15, 2022

Russian and African Leaders Meet, One Needing Allies, the Other Grain

New York Times, June 3, 2022

African Union Leader Meets with Putin

The World, June 3, 2022

Expansion Or Contraction? How Will Putin's War in Ukraine Impact His Outreach To Africa?

RadioFreeEurope RadioLiberty, May 24, 2022

Africa's Permissive Environment Enabling Russian Interference [7:30–12:30]

VOA, Africa News Tonight, May 17, 2022

Putin's Africa Moves Make the West Wary

VOA, May 17, 2022

Implications for Africa from Putin's Challenge to the International Order [8:55–13:15]

VOA, Africa News Tonight, May 13, 2022

Russia Has Used Its UN Veto to Hide Atrocities Committed in the Central African Republic, Experts Say

Pass Blue, May 9, 2022

África se resiste a tomar partido ante la guerra de Ucrania

El País, May 6, 2022

Why Some Countries Still Support Russia Amid Atrocities in Ukraine

VOA, April 29, 2022

International Pressure Needed to Advance Democratic Transition in Sudan [7:20–10:46]

VOA, Africa News Tonight, April 26, 2022

Russian Mercenaries Are Putin's 'Coercive Tool' in Africa

AP, April 23, 2022

Sudan Military Junta Threatens to Expel UNITAMS [6:00–10:30]

VOA, Africa News Tonight, April 22, 2022

Russia Flounders in Ukraine but Doubles Down in Mali

Foreign Policy, April 14, 2022

Mercenaries Extend Russia's Influence in Africa

World, April 14, 2022

African Union Urges Putin to End Conflict

VOA, March 10, 2022

Russia's Aggressive Use of Wagner Mercenaries in Africa [4:30–10:00]

VOA, March 9, 2022

Sanctions and Russia's Strategic Goals in Africa [8:00–13:30]

VOA, March 8, 2022

Weapons and Wheat: Russia and Its 'Oversized' Influence in Africa

South China Morning Post, March 6, 2022

For Its Own Good, South Africa Must Take the Regional Lead Against Russia

Sunday Times, March 3, 2022

La guerra de Ucrania alarga su sombra en África: escasez de trigo y estrés geopolítico

El País, March 1, 2022

Russia Steadily Rebuilding Presence in Africa

VOA, February 21, 2022

France Eyes Military Withdrawal From Mali That Could Leave African Security Vacuum

The Wall Street Journal, February 16, 2022

New Leader in Burkina Faso Following Military Takeover

NBC News, February 4, 2022

Implications for the Mali-Europe Relationship from Wagner's Deployment [10:30-15:30]

Africa News Tonight, February 4, 2022

Standoff between the Military Junta and France in Mali [0:00–5:15]

Africa News Tonight, February 3, 2022

How to Understand the Recent Coups in Africa

Vox, February 5, 2022

Food Prices Approach Record Highs, Threatening the World's Poorest

New York Times, February 3, 2022

Africa's Coups and What Can be Done [4:50–9:45]

Africa News Tonight, January 24, 2022

Role of the UN in Turning Back the Coup in Sudan [8:35–12:50]

Africa News Tonight, January 10, 2022

Restoring a Civilian Government and not Just a Civilian Prime Minister in Sudan [17:30-21:15]

Africa News Tonight, January 7, 2022

Reversing Authoritarian Trends and Strengthening Democratic Norms in Africa [14:35–20:15]

Africa News Tonight, December 23, 2021

Drivers and Contributing Factors to Africa's Coups [10:35–16:00]

Africa News Tonight, December 22, 2021

International Community Response to Sudan Coup and Implications for Africa [8:00–13:00]

Africa News Tonight, November 30, 2021

Unpacking the Hamdok-Burhan Post-Coup Agreement in Sudan [9:40–13:45]

Africa News Tonight, November 29, 2021

Implications for External Engagement in Sudan Following the Coup [0:45–8:30]

Africa News Tonight, October 29, 2021

Explaining the Military Takeover in Sudan [1:00–6:50]

Africa News Tonight, October 28, 2021

Staatsgrepen zijn terug in Afrika en coupplegers leren van elkaar
[Coups are back in Africa and coup plotters learn from each other]

Trouw, October 28, 2021

Russia in Africa—Using Democratic Processes to Undermine Democracy [0:40–6:30]

Africa News Tonight, October 6, 2021

How Russia Uses the Wagner Group in Africa [1:00–5:30]

Africa News Tonight, October 5, 2021

Who Blessed the Vlads Down in Africa?

Foreign Policy, September 24, 2021

ECOWAS and International Response to the Guinea Coup [1:00–5:50]

Africa News Tonight, September 9, 2021

Guinea Coup Derails Constitutionalism and Leads Country down a Path of Instability [1:50–7:45]

Africa News Tonight, September 8, 2021

Why War and Corruption are Inseparable

TRT World, September 8, 2021

Hakainde Hichilema: 'Bally' tiene un plan

La Vanguardia, August 21, 2021

Political Resolutions to the Ethiopia Conflict [1:15–5:45]

African News Tonight, Voice of America, August 20, 2021

Significance of the TPLF and Oromo Liberation Army Compact [5:15–10:00]

African News Tonight, Voice of America, August 19, 2021

What's at Stake in Battle for Control of Western Tigray [5:15–7:15]

African News Tonight, Voice of America, August 3, 2021

The Tigray Offensive and Pressure on Fragmentation in Ethiopia [3:35–9:30]

Africa News Tonight, Voice of America, August 2, 2021

Regional Implications of Ethiopia's Elections [5:45–10:30]

Africa News Tonight, Voice of America, June 23, 2021

The Significance of Ethiopia's Elections [1:10–6:15]

Africa News Tonight, Voice of America, June 22, 2021

Russia's Strategic Interests in Africa [1:15–6:45]

Africa News Tonight, Voice of America, June 3, 2021

Implications for Africa from Russia's Growing Influence [1:20–5:20]

Africa News Tonight, Voice of America, June 4, 2021

العملية السياسية في السودان تمر بحالة سيولة
[The Political Process in Sudan is in a State of Fluidity]

Al Assayha, May 5, 2021

Risks to Regional Security in the Sahel from Unstable Autocracies [4:45–9:00]

Africa News Tonight, Voice of America, May 3, 2021

Regional Implications from Idriss Déby's Death [4:40–7:50]

Africa News Tonight, Voice of America, April 30, 2021

Stability in Chad and Regional Security Cooperation in the Sahel after Déby [0:40–4:10]

Africa News Tonight, Voice of America, April 29, 2021

In a Bid to Boost Its Profile, ISIS Turns to Africa's Militants

New York Times, April 7, 2021

Benefits to Sudan's Military from a Transition to Civilian Rule [1:00–5:15]

Africa News Tonight, April 2, 2021

How Committed is Sudan's Military to the Democratic Transition? [9:40–13:30]

Africa News Tonight, April 1, 2021

How Autocracy Contributes to Instability [12:35–17:55]

Africa News Tonight, Voice of America, March 18, 2021

Mitigating Rising Tensions around the Great Ethiopia Renaissance Dam [12:00–16:20]

Africa News Tonight, Voice of America, March 11, 2021

Addressing Democratic Backsliding in Africa [1:20–5:40]

Africa News Tonight, Voice of America, February 4, 2021

The State of Democracy and Africa's 2021 Elections [1:10–6:00]

Africa News Tonight, Voice of America, February 3, 2021

'Unacceptable': Sudanese PM Criticises Army's Business Interests

Al Jazeera, December 15, 2020

Scenarios for Ethiopia and the Tigray Conflict [1:00–4:45]

Africa News Tonight, Voice of America, November 18, 2020

Ethiopia's Escalating Tigray Conflict [1:10–6:40]

Africa News Tonight, Voice of America, November 17, 2020

Refocusing on Mutual Benefits of Grand Ethiopian Renaissance Dam [6:30–11:30]

Africa News Tonight, Voice of America, October 20, 2020

Finding Compromise in Negotiations for the Grand Ethiopian Renaissance Dam [10:00–16:00]

Africa News Tonight, Voice of America, October 16, 2020

Een verontrustende trend in Afrika: presidenten zijn steeds langer aan de macht
[A Worrying Trend in Africa: Presidents Have Been in Power Longer]

Trouw, October 1, 2020

Africa's Backsliding on Term Limits [1:10–7:00]

Africa News Tonight, Voice of America, September 30, 2020

Responding to the Rise in Violent Extremism in Africa [1:15–5:09]

Africa News Tonight, Voice of America, September 14, 2020

Taking Stock of the Growth of Terrorism in Africa [1:20–6:15]

Africa News Tonight, Voice of America, September 11, 2020

Africa's Varied COVID Landscapes: Explaining the Smaller Number of Cases in Many Parts of Africa [14:20–18:35]

Africa News Tonight, Voice of America, July 24, 2020

Africa's Varied COVID Landscapes: Gateway Countries and Complex Microcosms [1:57–5:20]

Africa News Tonight, Voice of America, July 23, 2020

Grand Ethiopia Renaissance Dam: Defusing Military Tensions [1:15–6:00]

Africa News Tonight, Voice of America, July 17, 2020

Grand Ethiopia Renaissance Dam: Looking for Compromise [14:15–18:30]

Africa News Tonight, Voice of America, July 16, 2020

Egypt, Ethiopia and Sudan to Agree Nile Dam Deal 'in Two Weeks'

Al Jazeera, June 27, 2020

Egypt Calls on UN to Intervene after Impasse in Nile Dam Talks

Al Jazeera, June 20, 2020

Rising Tensions and Scope for Compromise on the Grand Ethiopian Renaissance Dam (GERD) [5:55–11:45]

Africa News Tonight, Voice of America, June 4, 2020

Al-Qaeda-ISIS Clashes in the Sahel [5:40–11:20]

Africa News Tonight, Voice of America, May 21, 2020

Overcoming the Socioeconomic Strains of COVID-19 in Africa [1:30–6:30]

Africa News Tonight, Voice of America, April 10, 2020

Assessing Risk Factors for COVID-19 in Africa [2:55–6:55]

Africa News Tonight, Voice of America, April 9, 2020

COVID-19 in Africa – Vulnerable Countries [2:58–8:35]

Africa News Tonight, Voice of America, April 8, 2020

Africa's Response to COVID-19 [1:20–5:59]

Africa News Tonight, Voice of America, April 7, 2020

GERD: The Need for Compromise [16:25 and 21:35]

Africa News Tonight, Voice of America, February 19, 2020

Working toward an Agreement for the Grand Ethiopian Renaissance Dam [8:40 and 14:00]

South Sudan in Focus, Voice of America, February 4, 2020

Negotiating a Resolution to Differences on the Use of Ethiopia's Renaissance Dam [7:25–12:30]

Africa News Tonight, Voice of America, January 8, 2020

Foreign Ministers from Ethiopia, Egypt, and Sudan Meet in Washington over Ethiopia Renaissance Dam [13:20–18:40]

Africa News Tonight, Voice of America, November 14, 2019

Deescalating Tensions around the Great Ethiopian Renaissance Dam [10:45–15:35]

Africa News Tonight, Voice of America, October 31, 2019

Foreign Policy, October 25, 2019

Analysis of Sudan's Constitutional Declaration [5:10]

Africa News Tonight, Voice of America, August 6, 2019

The Africa Free Trade Agreement [13:55]

Africa News Tonight, Voice of America, July 9, 2019

Sudan Crisis after Military Crackdown on Protests [6:38]

Africa News Tonight, Voice of America, June 6, 2019

Latest developments in Sudan [1:23]

Voice of America, May 15, 2019

Sudan Protests Challenge Military Rule [10:04]

Voice of America, April 12, 2019

Applicability of Rwanda's Development Model for Africa [12:11]

Voice of America, April 8, 2019

Sudan Transition: Will Protesters and Military Reach Agreement?

Al Jazeera, April 14, 2019

Burkina Faso is Fighting for Democracy. Are the Terrorists Winning?

Washington Post, March 23, 2019

Voice of America, February 27, 2019

Voice of America, January 25, 2019

Voice of America, January 23, 2019

In Mali, Fear of Violence May Deter Voters in Presidential Election

Washington Post, July 28, 2018

Prospects for Ending the Ethiopia–Eritrea Conflict

Voice of America, June 25, 2018

I Am An African – Envisioning a stable South Sudan – Will there ever be peace?

SAfm, June 5, 2018

Cameroun : l'ambassadeur américain convoqué après avoir critiqué la gestion de la crise anglophone

Jeune Afrique, May 23, 2018

New Study Links African Conflict to Lack of Term Limits

Voice of America, May 3, 2018

Nigeria Said It Defeated Boko Haram. So Why Is It Throwing More Money into the Fight?

Los Angeles Times, December 25, 2017

The Mimi Geerges Show, October 23, 2017

Qatar's Withdrawal from Horn of Africa Was Retaliatory

Al Arabiya, September 21, 2017

Tanzania President under Fire for Urging Refugees to Return to 'Stable' Burundi

The Guardian, July 29, 2017

Gambians Head to Polls for First Free Parliamentary Vote in 22 Years

FRANCE 24 with AFP, April 6, 2017

Worst Humanitarian Crisis Hits as Trump Slashes Foreign Aid

Associated Press, March 28, 2017

Experts: African Hunger Crisis Largely Man-made

Voice of America, February 24, 2017

How Long Will DRC Allow President Kabila to Remain in Office?

Voice of America, October 10, 2016

Audio Interview: The Buhari Administration and Nigeria's Militant Groups

Voice of America, June 8, 2016

Boko Haram's Focus on Destroying Schools Threatens a Generation

CBC News, April 16, 2016

Will Terrorism Derail Africa's Fledgling Tourism Industry?

The Telegraph, March 17, 2016

Bloody Attacks on Ivory Coast Hotels Raise Profile of African al-Qaeda Branch

VICE News, March 14, 2016

Burundi Power Struggle Outlasts Diplomatic Flurry

IRIN News, March 2, 2016

Ahead of U.S. Meetings, Top Burundian Official Denies Mass Rapes

Foreign Policy, January 21, 2016

What Next for the Burundi Peace Process? / Quelles seront les prochaines étapes du processus de paix au Burundi ?

IRIN News, January 4, 2016

U.S. Doubles Down on Failed Military Strategy in Africa

World Politics Review, November 12, 2015

Is Obama's Trip to Ethiopia Validation of a Corrupt Regime?

Christian Science Monitor, July 27, 2015

How Obama Blended Sentiment and Strategy in Kenya Visit

Christian Science Monitor, July 26, 2015

Obama in Africa: Will His Trip Be More about Symbolism or Substance?

Christian Science Monitor, July 24, 2015

Corruption Concerns Taint Burgeoning China-Africa Trade

Voice of America, September 1, 2014

Obama Set to Host U.S.-Africa Summit

Voice of America, August 3, 2014

Mali, Algeria Violence Stokes Fear of New Terrorist Haven

NPR, January 17, 2013

USAID's Role in Covert Work Questioned

Associated Press, February 12, 2012