Research Fellow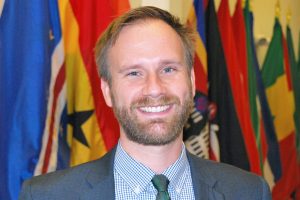 Dr. Daniel Eizenga is a Research Fellow responsible for conducting policy-relevant research advancing understanding of pressing security challenges facing Africa. Dr. Eizenga's research primarily focuses on countering violent extremism in the Sahel and the intersecting roles of civil-military relations, traditional institutions, and civil society across various regime trajectories of African states. He has published his work in a variety of academic and policy outlets and regularly offers expert interviews to the media.
Prior to joining the Africa Center, Dr. Eizenga was a postdoctoral fellow with the Centre FrancoPaix at the Université du Québec à Montréal and a research associate with the Sahel Research Group based at the University of Florida. He has presented his research to and collaborated with several academic and government institutions in both the United States and Canada, including the Canadian Forces College, the Joint Special Operations University, Special Operations Command Africa, the Royal Military College in St. Jean, Québec, the George C. Marshall Center, the United States Institute of Peace, and Defense Language Institute Foreign Language Center at the Presidio in Monterey. He also contributes regularly to academic conferences.
Dr. Eizenga holds a Ph.D. and an M.A. in political science with specializations in African studies from the University of Florida, as well as a B.A. in international development studies with a minor in African studies from Calvin College in Grand Rapids, Michigan.
Areas of Expertise
Civil-Military Relations, Countering Violent Extremism, Democratization, Sahel



Infographic

Mali Catastrophe Accelerating under Junta Rule

Africa Center for Strategic Studies, July 10, 2023

Infographic

Malian Military Junta Scuttles Security Partnerships while Militant Violence Surges

Africa Center for Strategic Studies, February 27, 2023

Spotlight

"Non-Transition" Orchestrated by Chad's Military Government Goes Awry

Africa Center for Strategic Studies, November 15, 2022

Spotlight

Understanding Burkina Faso's Latest Coup

Africa Center for Strategic Studies, October 28, 2022

Infographic

Five Zones of Militant Islamist Violence in the Sahel

Africa Center for Strategic Studies, September 26, 2022

Infographic

Mali's Militant Islamist Insurgency at Bamako's Doorstep

Africa Center for Strategic Studies, August 29, 2022

Infographic

Debunking the Malian Junta's Claims

Africa Center for Strategic Studies, April 12, 2022

Article

A Crucial Moment in Chad's Transition

ISPI, December 17, 2021

Op-Ed

Walking Back the Coup in Guinea

The Conversation, September 17, 2021

Blogpost

What would bring stability after the death of Chad's president?

Monkey Cage Blog, June 1, 2021

Spotlight

Chad's Ongoing Instability, the Legacy of Idriss Déby

Africa Center for Strategic Studies, May 3, 2021

Article

Burkina Faso: Military Responses to Popular Pressures

Oxford Research Encyclopedia of Politics, March 2021

Africa Security Brief

The Puzzle of JNIM and Militant Islamist Groups in the Sahel

Africa Center for Strategic Studies, December 1, 2020

Op-Ed

Mali Coup Offers Lessons in Democracy Building—but Junta Must Go

La principale leçon en construction de la démocratie du coup d'État au Mali : la junte doit partir

The Hill, September 18, 2020

Op-Ed

Mali: Beware the 'Popular' Coup

Attention au coup d'État "populaire"

AllAfrica.com, August 31, 2020

Spotlight

Chad's Escalating Fight against Boko Haram

Africa Center for Strategic Studies, April 20, 2020

Book Chapter

"Authoritarian Resilience in the Face of Democratic Pressures" in Oxford Handbook of the African Sahel. Leonardo A. Villalón, ed.

Forthcoming 2020

Book Chapter

"The Undoing of a Semi-Authoritarian Regime: The Term Limit Debate and the Fall of Blaise Compaoré in Burkina Faso" in The Politics of Presidential Term Limits in Africa: Power Struggles and Implications. Jack Mangala. ed.

Forthcoming 2020

Article

"Grappling with Sahelian Insecurity" in West Africa Insight, Vol. 6 No. 5

Open Society Initiative for West Africa, 2019

Paper

Long Term Trends across Security and Development in the Sahel

OECD Publishing, 2019

Book Chapter

"Burkina Faso" in Africa Yearbook, Volume 15. John Abbink, Victor Adetula, Andreas Mehler, and Henning Melber, eds.

2019

Article

Troubling Times in Burkina Faso

Africa Is Not a Country, October 23, 2019

Commentary

The Current State of Insecurity in Burkina Faso

Italian Center for International Political Studies, September 9, 2019

Article

« Que fait l'armée américaine au Sahel? »

Grand Dossiers de Diplomatie, April 2019

Article

"The Deteriorating Security Situation in Burkina Faso"
« La détérioration de la situation sécuritaire au Burkina Faso »

Bulletin FrancoPaix, March 2019

Research Brief

"The State of Secularism in Chadian Higher Education: Implications for P/CVE Programs and Policy"

RESOLVE Network Research Briefs, March 2019

Book Chapter

"Burkina Faso" in Africa Yearbook, Volume 14. John Abbink, Victor Adetula, Andreas Mehler, and Henning Melber, eds.

2018

Paper

"The Unstable Foundations of Political Stability in Chad."

West African Papers, January 2018

Book Chapter

"Burkina Faso" in Africa Yearbook, Volume 13. John Abbink, Sebastian Elischer, Andreas Mehler, and Henning Melber, eds.

2017

Paper

"Chad: Guardian of Stability in the Sahel"
« Le Tchad, gardien de la stabilité au Sahel »

Bulletin FrancoPaix, September 2017

Brief

"2016 Chadian Presidential Election – Expert Briefing"

Africa Research Institute, January 2017

Book Chapter

"Burkina Faso" in Africa Yearbook, Volume 12. John Abbink, Sebastian Elischer, Andreas Mehler, and Henning Melber, eds.

2016

Article

"Taking Stock of Burkina Faso's Democracy after al-Qaeda Attack"

Washington Post's Monkey Cage, January 21, 2016

Book Chapter

"Political Uncertainty in Burkina Faso" in Ruling on the Margins: Democratic Performance in Small African Countries. Claire Metelits and Stephanie Matti, eds.

2015

Book Chapter

"Burkina Faso" in Africa Yearbook, Volume 11. Sebastian Elischer, Rolf Hofmeier, Andreas Mehler, and Henning Melber, eds.

2015

Article

"Burkina Faso Elections Mark Turning Point in Country's Recent Political Turmoil"

Washington Post's Monkey Cage, December 6, 2015

Article

"Mobilizing for Elections: The Burkinabe Context"

APSA Africa Workshops Newsletter, November 2015

Article

"Here's How You Bring Down a 'Strongman' Government (without a Civil War)"

Washington Post's Monkey Cage. October 15, 2015

Article

"Burkina Faso: President Kafando is Back in Charge, But Now What?"

Africa Is a Country, September 25, 2015

Article

"Why General Gilbert Diendéré Is Derailing the Political Transition in Burkina Faso."

Africa Is a Country, September 20, 2015

Article

"How Al-Qaeda Got to Timbuktu, and Why it Matters"

The Partisan—UF Political Science, Summer 2014

Book Review

Multi-Ethnic Coalitions in Africa: Business Financing of Opposition Election Campaigns, by Leonardo R. Arriola

African Studies Review, April 2014

Working Paper

"Managing Stability through Military and International Acclaim: The Stakes of the Malian Crisis in Chad"

Sahel Research Group, December 2013

Working Paper

"Negotiating Stability during Times of Change: The Stakes of the Malian Crisis in Burkina Faso"

Sahel Research Group, December 2013

Book Review

Historical Dictionary of Niger, Fourth Edition, by Abdourahmane Idrissa and Samuel Decalo.

African Studies Quarterly, November 2013






Analysis: ECOWAS Directed a "Standby Force" for Niger Situation

VOA Africa 54 Interviews, August 11, 2023

Niger's Coup and the International Community's Opposition, Explained

Vox, July 30, 2023

Mali's Referendum Can't Guarantee a Democratic Transition

Vox, June 17, 2023

What Does US Seek from Antony Blinken's Visit to Niger?

Al Jazeera, March 18, 2023

Chad's Coup Leader Stops Democracy in Its Tracks

Foreign Policy, December 6, 2022

Macron Questions Russia's Ambitions in Africa

TheWorld, November 22, 2022

35 Killed in Burkina Faso Bomb Attack

Africa News Tonight, September 6, 2022

How French Exit from Mali Is Impacting Sahel Security

TheWorld, April, 28 2022

Has Mali's Junta Admitted That the Wagner Group Is in the Country?

TRT World Now, April 28, 2022

Talk of Wagner Mercenary Deal Shines Light on Mali Power Politics

Al Jazeera, September 21, 2021

What Deby's Death Means for Regional Security in the Sahel [6:09]

Africa News Tonight, April 20, 2021

France, G5 Sahel Nations Urge Chad to Continue Counterterrorism Support

Voice of America, May 4, 2020

Rebel Attacks in Northern Chad Add a New Layer to Deby's "Gathering Storm"

World Politics Review, September 13, 2018

Donors Keep Quiet as Chad's Economic Woes Give Way to Social Unrest

World Politics Review, February 22, 2018

How Chad's Regional Military Might Enables Repression at Home

World Politics Review, May 18, 2017

Will Compaore's Trial Bring Accountability to Burkina Faso?

World Politics Review, April 27, 2017

Burkina Election Analysis: Connections to the Old Regime, Assessing the Transition and Accepting the Results

RFI, November 28, 2015

Burkina Faso Elections: Why Historic Vote Matters

Al Jazeera, November 28, 2015

How Burkina Faso's Rapper-Activists Shaped a Year of Upheaval

Institute of Current World Affairs, November 1, 2015

Stalled Transition: Burkina Faso's Fading Chance for Reform

World Politics Review, October 20, 2015

Burkina Faso's Next Challenge: Reintegration of Former Putschist Soldiers

VOA, October 2, 2015

Burkina Faso: What to Do with Presidential Guard after Failed Coup

RFI, September 26, 2015