Professor of Counterterrorism and Countering Violent Extremism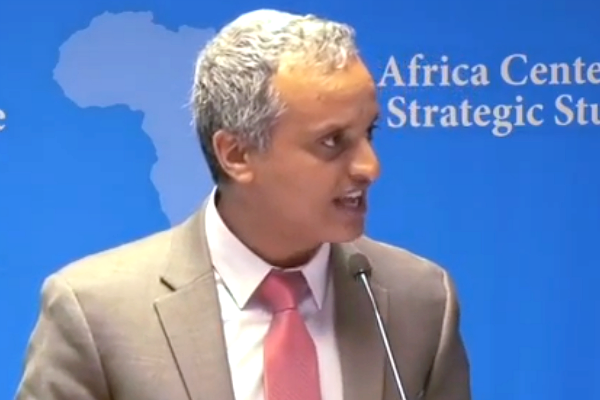 As a professor of counterterrorism and countering violent extremism, Dr. Anouar Boukhars works closely with African government and nongovernmental security sector leaders on developing and implementing activities and programs relating to counterterrorism and countering violent extremism. His research focuses on the dynamics of radicalization and violent extremism in Africa.
Prior to joining the Africa Center, Dr. Boukhars was a nonresident fellow in the Middle East Program at the Carnegie Endowment for International Peace and an associate professor of international relations at McDaniel College. He has served on several advisory boards and committees on the Sahel and North Africa, including at the African Peacebuilding Network at the Social Science Research Council. From August 2015 to July 2017, Dr. Boukhars served at the Institute for Peace and Security Studies in Addis Ababa, Ethiopia, as lead facilitator of its flagship program, the Executive Masters in Managing Peace and Security in Africa. His research has been published in numerous leading policy publications and academic journals. He routinely conducts fieldwork in Africa and consults frequently for the African Union, World Bank, United Nations, U.S. State Department, and European governments.
Dr. Boukhars holds a Ph.D. in international studies from Old Dominion University in Norfolk, Virginia; an M.A. in applied humanities from Al Akhaweyn University in Ifrane, Morocco; and a B.A. in English literature from Ibn Tofail University in Kenitra, Morocco.
Areas of Expertise
Counterterrorism, countering violent extremism, radicalization, North Africa



Book Chapter

"Plus ça change, plus c'est la même chose: The Herculean Task of Civilianising the Algeria State," in Geopolitics and Governance in North Africa: Local Challenges, Global Implications, ed. Sarah Yerkes

Edinburgh University Press, May 2023

Article

Why Extremist Insurgencies Spread: Insights from the Sahel

Georgetown Journal of International Affairs, January 2, 2022

Article

Comparative Perspectives on Linkages between Violent Extremism and Organized Crime in Africa

African Security, March, 2022

Spotlight

Trajectories of Violence Against Civilians by Africa's Militant Islamist Groups

Africa Center for Strategic Studies, February 8, 2022

Spotlight

Tunisia in Crisis: An Explainer

Africa Center for Strategic Studies, July 30, 2021

Spotlight

Tunisia's Evolving Counterterrorism Strategy

Africa Center for Strategic Studies, July 16, 2021

Spotlight

Keeping Terrorism at Bay in Mauritania

Africa Center for Strategic Studies, June 16, 2020

Book Chapter

"Algeria's Sufis Balance State Patronage and Political Entanglement," in Islamic Institutions in Arab States: Mapping the Dynamics of Control, Co-option, and Contention

Carnegie Endowment for International Peace, June 2021

Book

Salafism in the Maghreb: Politics, Piety, and Militancy

Oxford University Press, December 2019

Spotlight

Tunisia Crying out for Change
Le changement politique, cri de ralliement des élections tunisiennes

Africa Center for Strategic Studies, September 27, 2019

Article

Diwan, April 9, 2019

Article

Diwan, April 1, 2019

Article

Barriers Versus Smugglers: Algeria and Morocco's Battle for Border Security

Carnegie Endowment for International Peace, March 19, 2019

Article

Reassessing the Power of Regional Security Providers: The Case of Algeria and Morocco

Carnegie Endowment for International Peace, February 27, 2019

Op-Ed

As Their Influence Grows, the Maghreb's 'Quietist' Salafists Are Anything but Quiet

World Politics Review, December 11, 2018

Article

Diwan, September 18, 2018

Article

The Paradox of Modern Jihadi Insurgencies: The Case of the Sahel and Maghreb

Al Jazeera Centre for Studies, July 15, 2018

Article

Maghreb: Dream of Unity, Reality of Divisions

Al Jazeera, June 3, 2018

Article

Diwan, April 18, 2018

Brief

The Maghreb's Fragile Edges
Les rebords fragiles du Maghreb

Africa Center for Strategic Studies, March 19, 2018

Article

The Potential Jihadi Windfall from the Militarization of Tunisia's Border Region With Libya

Combating Terrorism Center, January 26, 2018

Article

Diwan, September 18, 2017

Paper

The Geographic Trajectory of Conflict and Militancy in Tunisia

Carnegie Endowment for International Peace, July 20, 2017

Article

The Fragility of Elite Settlements in Tunisia

African Security Review, July 10, 2017

Op-Ed

Overcoming the Barriers to Regional Security Cooperation in West Africa and the Sahel

World Politics Review, May 30, 2017

Op-Ed

Morocco and the African Union: Back into the Fold

Social Science Research Council, February 25, 2017

Article

The Promise and Peril of the Maghreb: Risks and Instability in the Maghreb and Western Mediterranean

European Institute of the Mediterranean, December 31, 2016

Article

How West Africa Became Fertile Ground for AQIM and ISIS

World Politics Review, November 29, 2016

Article

Exclusion and Despair Make Tunisia's Border Regions a Powder Keg

World Politics Review, July 19, 2016

Article

As Threats Mount, Can Mauritania's Fragile Stability Hold?

World Politics Review, June 16, 2016

Book Chapter

"In the Eye of the Storm: Algeria's South and Its Sahelian Borders," in Algeria Modern: From Opacity to Complexity, Luis Martinez and Rasmus Alenius Boserup, eds.

April 26, 2016

Article

The Politics of North African Salafism

Orient, April 1, 2016

Paper

Mauritania's Precarious Stability and Islamist Undercurrent

Carnegie Endowment for International Peace, February 11, 2016

Article

'Quietist' and 'Firebrand' Salafism in Algeria

Fride, November 24, 2015

Article

Strengthen Tunisia's Army, But Keep It Out of Politics

Diwan, October 20, 2015

Article

Corridors of Militancy: the Sahel-Sahara Border Regions

Fride, July 22, 2015

Article

Rethinking Security Across the Sahara and the Sahel

Fride, April 8, 2015

Paper

The Reckoning: Tunisia's Perilous Path to Democratic Stability

Carnegie Endowment for International Peace, April 2, 2015

Op-Ed

Political Tensions Mount in Southern Algeria

Fride, March 25, 2015

Article

Morocco's Islamists: Bucking the Trend?

Fride, June 6, 2014

Article

The Egypt Effect: Sharpened Tensions, Reshuffled Alliances

Carnegie Endowment for International Peace, February 13, 2014

Paper

In the Crossfire: Islamists' Travails in Tunisia

Carnegie Endowment for International Peace, January 27, 2014

Article

North Africa: Back to the Future?

Fride, January 10, 2014

Article

Western Sahara: Beyond Complacency

Fride, October 4, 2013

Article

Al-Qaeda's Resurgence in North Africa?

Fride, August 27, 2013

Op-Ed

Western Sahara: The Lingering Conflict

Fride, July 29, 2013

Q&A

Simmering Conflicts in the Sahara

Carnegie Endowment for International Peace, JUNE 10, 2013

Op-Ed

North Africa: Breeding Grounds for Terror

Washington Post, May 28, 2013

Op-Ed

Mali's Challenges Post-French Intervention

CTC Sentinel, May 23, 2013

Article

The Mali Conflict: Avoiding Past Mistakes

Fride, February 28, 2013

Article

What's Next for Mali and Algeria?

Carnegie Endowment for International Peace, January 23, 2013

Op-Ed

Look to the More Stable Neighbors

New York Times, January 16, 2013

Op-Ed

Algerian Foreign Policy in the Context of the Arab Spring

CTC Sentinel, January 14, 2013

Paper

The Paranoid Neighbor: Algeria and the Conflict in Mali

Carnegie Endowment for International Peace, October 22, 2012

Paper

The Drivers of Insecurity in Mauritania

Carnegie Endowment for International Peace, April 30, 2012

Paper

Simmering Discontent in the Western Sahara

Carnegie Endowment for International Peace, March 12, 2012