Assistant Research Fellow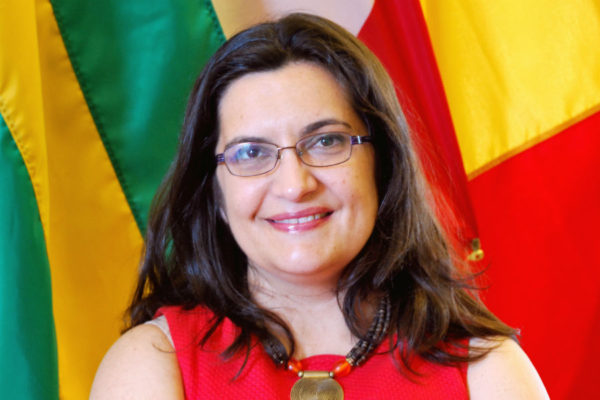 As an Assistant Research Fellow, Alix Boucher focuses on good governance, peace operations, and transnational threats. Her areas of expertise include peace operations in Africa, building the rule of law in conflict and post-conflict states, security sector reform, and UN sanctions.
Before joining the Africa Center, Ms. Boucher served as an expert adviser for the High Level Review on United Nations Sanctions, an international effort to assess the effectiveness of UN sanctions. She was also a member of the Targeted Sanctions Research Consortium. She previously worked at the Stimson Center's Future of Peace Operations program, the National Defense University's Center for Complex Operations, and the Global Center on Cooperative Security. She received a B.A. in international relations from Mount Holyoke College in South Hadley, Massachusetts, and an M.A. in international relations and international economics from the Johns Hopkins University School of Advanced International Studies in Washington, DC. She is a native French speaker.
Areas of Expertise
Peace operations, stability operations, UN sanctions, UN expert panels, countering violent extremism, counterterrorism, West Africa, Central Africa, and the Sahel Africa



Spotlight

The Role of Parliamentary Committees in Building Accountable, Sustainable, and Professional Security Sectors

Africa Center for Strategic Studies, April 3, 2023

Infographic

Professional Military Education Institutions in Africa

Africa Center for Strategic Studies, February 25, 2022

Book Chapter

"Mitigating Evasion of UN Sanctions: Africa as a Testing Ground" in Multilateral Sanctions Revisited: Lessons Learned from Margaret Doxey. Andrea Charron and Clara Portela, eds.

McGill-Queens University Press, September 2022

Spotlight

Six Issues Shaping Côte d'Ivoire's Presidential Election

Africa Center for Strategic Studies, October 20, 2020

Spotlight

Examining Togo's Implausible Election Results

Africa Center for Strategic Studies, March 2, 2020

Spotlight

Five Issues to Watch in Togo's Presidential Election

Africa Center for Strategic Studies, February 14, 2020

Spotlight

Guinea at a Crossroads
La Guinée à la croisée des chemins

Africa Center for Strategic Studies, August 15, 2019

Spotlight

Elections in the Democratic Republic of the Congo Falling Short of Credible
Les élections en République démocratique du Congo : La crédibilité fait cruellement défaut

Africa Center for Strategic Studies, December 14, 2018

Report

Supporting, Non-Standard Mission Role: U.S. Operations in Liberia, 2014–2015, That Enabled the U.S. and UN Response to the EVD Outbreak

U.S. Army Peacekeeping and Stability Operations Institute, January 2018

Spotlight

Priorities for Security and Justice during Liberia's Transition
Priorités en matière de sécurité et de justice pendant la période de transition au Libéria

Africa Center for Strategic Studies, January 2018

Book Chapter

"UN Panels of Experts: Identifying Sanctions Violations and the Networks behind Them," in Combating Criminalized Power Structures: A Toolkit, Michael Dziedzic, ed.

July 2016

Book Chapter

"United Nations Sanctions Coordination," in Targeted Sanctions: The Impact and Effectiveness of UN Action, Thomas Biersteker, Sue Eckert, and Marcos Tourinho, eds.

March 2016

UN General Assembly/UN Security Council Document

"Compendium: High Level Review on United Nations Sanctions"

June 12, 2015

Case Study

"Targeted Sanctions: The Case of Côte d'Ivoire," in the UN Targeted Sanctions Qualitative Database

June 2014

Report

Countering Violent Extremism and Promoting Community Engagement in West Africa and the Sahel: An Action Agenda

July 2013

Report

United Nations Panels of Experts and UN Peace Operations: Exploiting Synergies for Peacebuilding

September 2010

Report

Targeting Spoilers: The Role of UN Panels of Experts

January 2009

Report

Defense Sector Reform: A Note on Current Practice

July 2009

Report

National Security Strategies and Policies: A Note on Current Practice

July 2009

Report

Threat Assessments and Reviews (or Conflict Assessments and Defense Reviews): A Note on Current Practice

July 2009

Article

"Framing the Issue: UN Responses to Corruption and Criminal Networks in Post-Conflict Settings"

International Peacekeeping, February 2009

Report

Mapping and Fighting Corruption in War-Torn States

March 2007

Chapter

"The Role of Fighting Corruption in Facilitating Transition in Afghanistan," in Transitions: Issues, Challenges, and Solutions in International Assistance Harry R. Yarger, ed.

August 2011




Guinean President Visits US, Faces Term Limit Questions

Voice of America, September 20, 2019

Malians Voted Amid Terror Threats

Voice of America, August 13, 2018

Can AU Tackle Security Challenges in the Sahel?

Voice of America, July 10, 2018

Washington Forum du 15 février 2018

La Voix de l'Amérique, February 15, 2018

Liberia Election: George Weah Versus Joseph Boakai

Al Jazeera, December 26, 2017

Ugandan Soldiers Accused of Rape and Assault to Face Court Martial

The Guardian, June 6, 2017