Militant Islamist violence in Africa set new records for violent events and fatalities this past year. This continues a relentless decade-long upward trend. To give a sense of the accelerating pace of this threat, both violent events and fatalities have almost doubled since 2019.
There were 6,859 episodes of violence involving militant Islamist groups in Africa in 2022, a 22-percent increase from the previous year. Fatalities linked to these events shot up 48 percent to 19,109 deaths.
This spike in violence was marked by a 68-percent increase in fatalities involving civilians, highlighting the heavy costs incurred by noncombatants. This figure is significant as it indicates these militant groups are not focused on winning hearts and minds so much as intimidating local populations into compliance.
This is a companion piece to our recent infographic: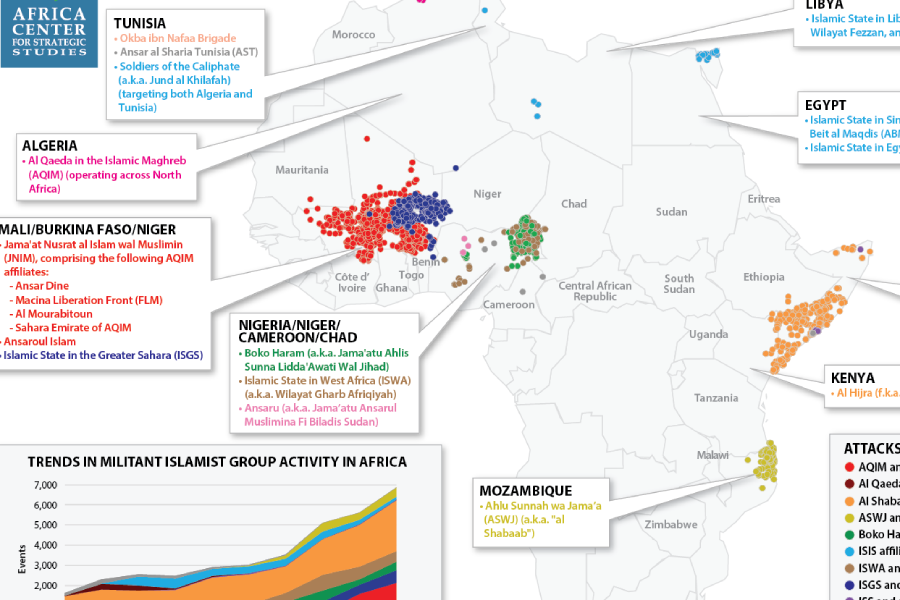 Fatalities from Militant Islamist Violence in Africa Surge by Nearly 50 Percent
The expanding nature of this threat calls for a more comprehensive and contextualized response that integrates the efforts of local communities with those of national, regional, and international actors.
Violence Concentrated in Sahel and Somalia
The militant Islamist threat is not monolithic but comprised of over a dozen different militant groups. Each has distinct leadership, objectives, organizational structure, funding, and supply of weapons.
They are motivated by a host of factors. These include religious ideology, money, revenge against real and perceived government abuses, criminality, ethnic polarization, and political ambition.
The threat is concentrated in five regions: the western Sahel, Somalia, the Lake Chad Basin, northern Mozambique, and Egypt's Sinai Peninsula. The Sahel and Somalia accounted for 77 percent of all such violent events in the past year.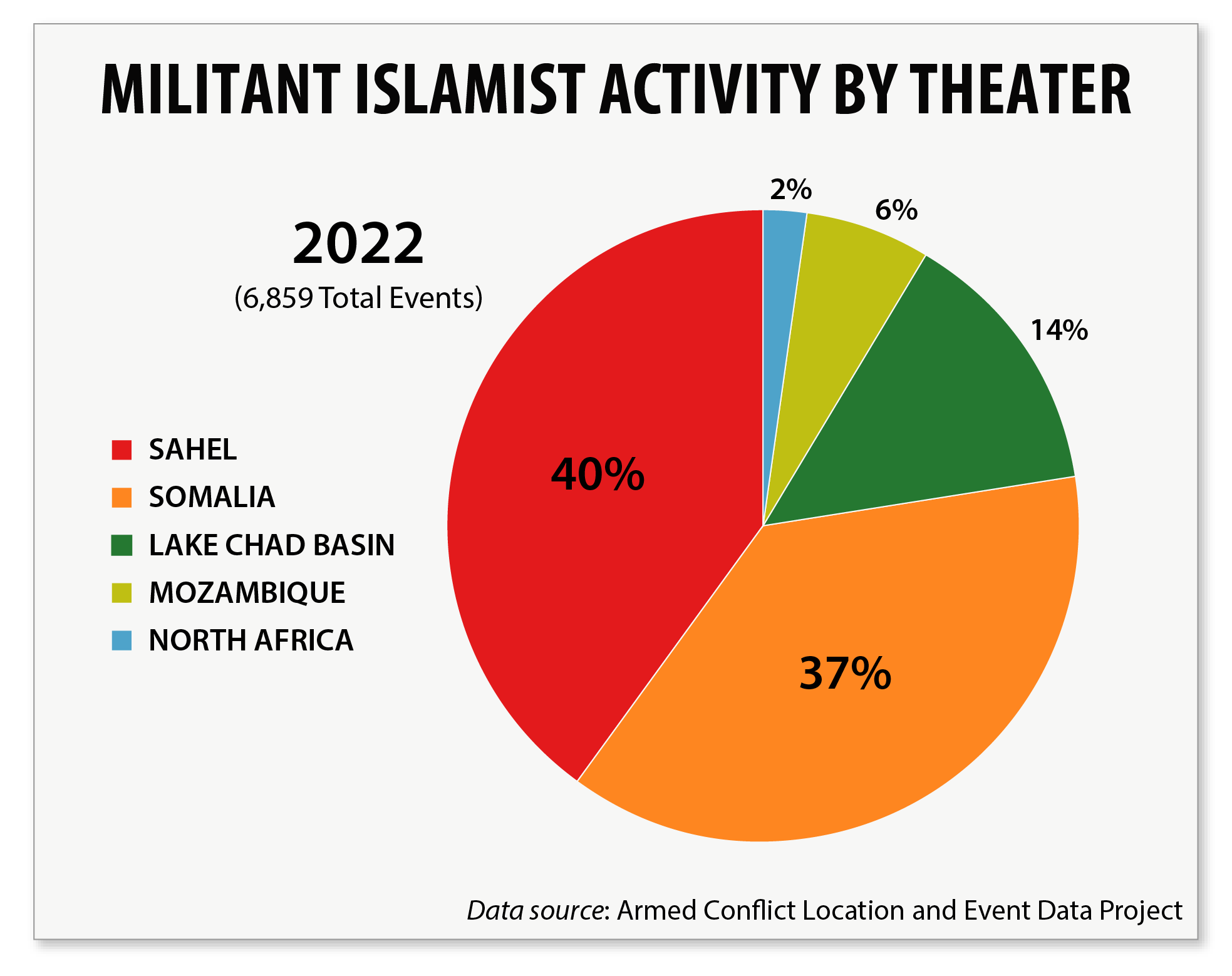 The Sahel—specifically Mali, Burkina Faso, and Niger—experienced the most rapid expansion of militant Islamist violence of any region over the past year. It accounted for 7,899 deaths, more than 40 percent of the continental total of fatalities. The groups driving this violence are the Macina Liberation Front, Ansaroul Islam, Ansar Dine, and the Islamic State in the Greater Sahara.
Militant Islamist violence in the Sahel has also been spreading geographically. From a locus in northern Mali, the propensity of violent events has shifted to the more populated regions of central and southern Mali. This includes the capital, Bamako, which has seen attacks on an increasingly regular basis after years of relative insulation.
"Mali and Burkina Faso … have struggled with a breakdown in governance and an acceleration of militant Islamist violence following coups."
Militant Islamist violence has similarly spread rapidly into northern, western, and eastern Burkina Faso. Today, Burkina Faso experiences more violent events than any other country in the Sahel.
Once seen as highly unlikely, there is now a real chance that Bamako and Ouagadougou—the capital cities of Mali and Burkina Faso—could fall, fragmenting what little semblance of coherent state structures remain. Both countries have struggled with a breakdown in governance and an acceleration of militant Islamist violence following coups starting in 2020.
The erosion of security in Burkina Faso, in turn, threatens bordering countries, especially Togo and Benin. Both nations saw double digit increases in the number of violent events involving militant Islamist groups in the past year.
In Somalia, fatalities linked to al Shabaab shot up from 2,606 in 2021 to 6,225 in 2022. This 133-percent increase was accompanied by a 29-percent rise in violent events, reflecting an escalation in both the pace and lethality of violence. The tempo of fighting significantly accelerated after President Hassan Sheikh Mohamud called for an all-out offensive against al Shabaab. Driven from areas it once controlled, al Shabaab has increased retaliations against soft targets. One example is the October 2022 twin bombings in Mogadishu that killed over 100 people and injured hundreds more.
Indicative of the highly varied nature of threats from militant Islamist groups in Africa, the Lake Chad Basin region (northern Nigeria, Cameroon, Chad, and southeastern Niger) saw a plateauing of violence from Boko Haram and the Islamic State in West Africa in the past year. However, this obscures a 33-percent increase in violence against civilians. There's also been a geographic spread of attacks from northeastern Nigeria to regions in the west and center of the country.
In northern Mozambique, violent events linked to Ahlu Sunnah wa Jama'a (ASWJ) rose by 29 percent in 2022. This follows a decline in incidents the previous year after forces from the Southern African Development Community (SADC) and Rwanda intervened. Dislodged from the coastal cities of Palma and Mocimboa da Praia, ASWJ has shifted its attacks to districts further west and south. ASWJ is notorious for mounting a higher share of violent attacks against civilians than seen in any other region in Africa.
North Africa is the one region that has seen a demonstrable drop in activity over the past year. There's been a 32-percent decline in violent events. Roughly 90 percent of these incidents, resulting in 276 fatalities, were in Egypt involving the Islamic State in Sinai.
Need for Recalibration
These developments underscore that the overall trajectory of militant Islamist violence is trending in the wrong direction.
"These militant groups thrive in regions with weak governments."
The unfavorable trajectory underscores that these African militant groups are becoming increasingly resilient, particularly in the Sahel and Somalia. A direct outcome of the record levels of fatalities and militant Islamist violence against civilians are an estimated 12.5 million people forcibly displaced from the affected regions. Likewise, roughly 40 million people in regions affected by militant Islamist violence are facing acute food insecurity. Parts of Somalia and Nigeria are experiencing famine-like conditions.
Many of these militant groups have been operating for years. They've established the capacity to recruit, train, supply, and deploy their forces. They've also become adept at generating revenue. This occurs through a combination of looting, extortion, control of mining sites, and trade route domination. In most cases, this equates to becoming more criminally rather than ideologically motivated. This operational and financial resiliency suggests these groups are unlikely to fade away anytime soon.
The flipside of this reality is that these militant groups thrive in regions with weak governments. They are a symptom of this fragility rather than a demonstration of militant strength. When confronted with an effective and capable statutory force, these militant groups take heavy losses and are compelled to retreat. Government forces have often been unable to sustain pressure and hold territory, however.
This points to the central role that governance plays in defeating an insurgency. Experience shows that effective counterinsurgency requires government legitimacy, political will, control of corruption, investment in development activities, and the mitigation of human rights abuses, among other factors. This makes sense. Successful counterinsurgency entails gaining the trust and support of local populations.
The ineffectiveness of the military juntas in Mali and Burkina Faso are illustrative of this. In addition to intimidating dissenters and forsaking government services, the Malian junta, by partnering with the notorious Russian paramilitary Wagner Group, has become party to serial human rights abuses. Four out of five people killed by the Wagner Group alongside the Malian junta were civilians. Meanwhile, militant violence is accelerating.
In addition to reestablishing legitimate governance processes, effective counterinsurgency efforts will require:
sustaining pressure on militant groups, including holding territory retaken
protecting civilians through population-centric security strategies
building support with and providing services to local populations
cutting off revenue flows for militant groups
Importance of Regional Security Forces
Experience from countering militant Islamist groups in Africa has also highlighted the vital role played by regional security forces.
AMISOM/ATMIS in Somalia, SADC in Mozambique, and the Multinational Joint Task Force in the Lake Chad Basin have all been instrumental in mitigating the threats faced, supporting overstretched government forces.
The juntas in Mali and Burkina Faso, meanwhile, have done just the opposite. They have alienated the G-5 Sahel, MINUSMA, and European Union forces. This has resulted in a dramatic downsizing of security partner support at the very time that militant Islamist activity is accelerating.
Effective counterinsurgency operations are hard. Moreover, success is not guaranteed. Even when legitimate governments demonstrate political will, it takes 6 years on average to prevail in a counterinsurgency.
African countries facing insurgencies and their regional partners should be prepared for a long slog to reverse the deteriorating trends of militant Islamist group violence. The alternative is an ever more emboldened and enriched Islamist militancy with expansive ambitions on neighboring countries.
This article is republished from The Conversation under a Creative Commons license. Read the original article.