Associate Research Fellow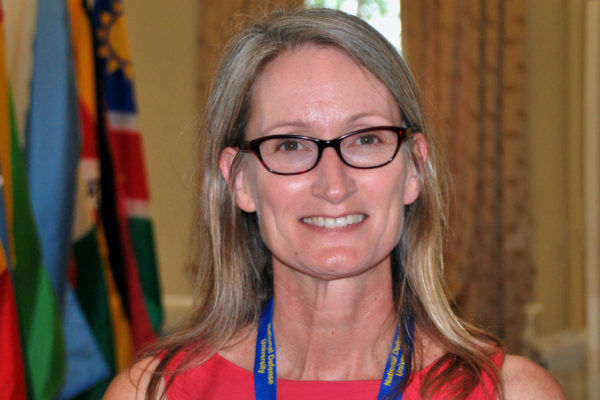 Wendy Williams' research focuses on forced displacement and migration, violent extremist organizations, illicit financial flows, international human rights and humanitarian law, military professionalism, and the rule of law.
Before joining the Africa Center, Ms. Williams worked at Milbank, Tweed, Hadley & McCloy, LLP, as an attorney in its Global Securities Group, counseling international investors on public and private capital markets, negotiating legal agreements with U.S. and foreign entities, and conducting research on rules and regulations regarding capital market transactions. At the International Federation of Red Cross and Red Crescent Societies, she served as a policy advisor on population movements, including conducting and publishing a survey of migration flows and its causes and impacts within Europe and Central Asia. She also provided situational analysis for the organization's West Africa region.
Ms. Williams received a B.A. from Columbia College at Columbia University in New York and a J.D. from Columbia Law School.
Areas of Expertise
Forced displacement and migration; violent extremist organizations; international human rights and humanitarian law



Spotlight

Reclaiming Al Shabaab's Revenue

Africa Center for Strategic Studies, March 27, 2023

Spotlight

Taking Stock of the Surge in Militant Islamist Violence in Africa

Africa Center for Strategic Studies, March 7, 2023

Infographic

African Migration Trends to Watch in 2023

Africa Center for Strategic Studies, January 9, 2023

Infographic

African Biodiversity Loss Raises Risk to Human Security

Africa Center for Strategic Studies, December 7, 2022

Infographic

Rising Sea Levels Besieging Africa's Booming Coastal Cities

Africa Center for Strategic Studies, November 8, 2022

Infographic

Conflict Remains the Dominant Driver of Africa's Spiraling Food Crisis

Africa Center for Strategic Studies, October 14, 2022

Infographic

Surge in Militant Islamist Violence in the Sahel Dominates Africa's Fight against Extremists

Africa Center for Strategic Studies, January 24, 2022

Infographic

African Migration Trends to Watch in 2022

Africa Center for Strategic Studies, December 17, 2021

Infographic

How Global Warming Threatens Human Security in Africa

Africa Center for Strategic Studies, October 29, 2021

Infographic

10 Years after Independence South Sudan Faces Persistent Crisis

Africa Center for Strategic Studies, September 13, 2021

Infographic

African Militant Islamist Group Violence Maintains Record Pace, though Slowing

Africa Center for Strategic Studies, July 27, 2021

Infographic

32 Million Africans Forcibly Displaced by Conflict and Repression

Africa Center for Strategic Studies, June 17, 2021

Infographic

Climate Change Amplifies Instability in Africa

Africa Center for Strategic Studies, April 21, 2021

Infographic

Spike in Militant Islamist Violence in Africa Underscores Shifting Security Landscape

Africa Center for Strategic Studies, January 29, 2021

Africa Security Brief

The Puzzle of JNIM and Militant Islamist Groups in the Sahel

Africa Center for Strategic Studies, December 1, 2020

Infographic

Boko Haram Violence against Civilians Spiking in Northern Cameroon

Africa Center for Strategic Studies, November 13, 2020

Infographic

African Militant Islamist Groups Set Record for Violent Activity

Africa Center for Strategic Studies, July 21, 2020

Spotlight

COVID-19 and Africa's Displacement Crisis

Africa Center for Strategic Studies, March 25, 2020

Infographic

Threat from African Militant Islamist Groups Expanding, Diversifying
Augmentation et diversification de la menace provenant des groupes islamistes militants

Africa Center for Strategic Studies, January 18, 2020

Research Paper

Shifting Borders: Africa's Displacement Crisis and Its Security Implications
Frontières en évolution : La crise des déplacements de population en Afrique et ses conséquences sur la sécurité

Africa Center for Strategic Studies, October 17, 2019

Infographic

African Militant Islamist Groups Again on the Rise
Groupes islamistes militants en Afrique: Les attaques de nouveau à la hausse

Africa Center for Strategic Studies, April 27, 2018

Article

Boko Haram vs. Al-Shabab: What Do We Know about Their Patterns of Violence?

Washington Post, October 2, 2017

Article

"ISIS in Africa: Implications from Syria and Iraq"

SMA Reachback, March 2017

Article

"Sahrawi Insurgency Could Provide an Opening for AQIM"
L'insurrection sahraouie pourrait fournir un prétexte à AQMI

Africa Center for Strategic Studies, June 15, 2016

Article

"African Migration Funds Criminal and Terrorist Networks"
Les migrations africaines financent les réseaux criminels et terroristes

Africa Center for Strategic Studies, August 13, 2015






Expulsion of Eritreans from Egypt [6:30–10:24]

VOA, Africa News Tonight, April 25, 2022

The Hunt: What are terrorists planning in 2020?

WTOP, January 22, 2020

New Term, Same Old Foes for Mali's Keita

Voice of America, September 5, 2018

Malians Voted Amid Terror Threats

Voice of America, August 13, 2018