Academic Dean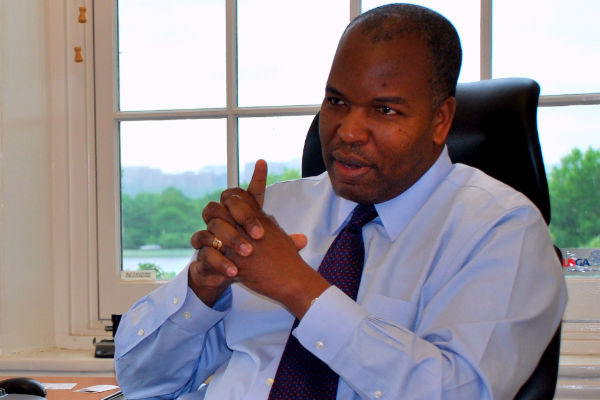 As Academic Dean, Dr. Assis Malaquias oversees curriculum and program development at the Africa Center. This includes lines of effort in Advancing Military Professionalism; Countering Transnational Organized Crime; Countering Violent Extremism and Countering Terrorism; Cyber Domain Awareness, Cybersecurity, and Information/Disinformation; Maritime Safety and Security; National Security Strategy Development; Peace Support Operations and Crisis Response; and Rule of Law and Security Sector Governance.
Prior to joining the Africa Center, Dr. Malaquias served as Professor and Chair in the Department of Global Studies and Maritime Affairs at the California State University Maritime Academy. Dr. Malaquias' previous positions include: Professor and Chair of Defense Economics and Resource Management at the Africa Center for Strategic Studies; Associate Dean of International and Intercultural Studies and Professor of Government at St. Lawrence University; Extraordinary Associate Professor of Political Studies at the University of Western Cape in South Africa; and a Visiting Professor at Stellenbosch University in South Africa.
Dr. Malaquias holds an M.A. in economics and a Ph.D. in Political Science from Dalhousie University, Canada.
Areas of Expertise
Strategy, Maritime Security, Political Economy of Security, Defense Economics, Lusophone Africa



Q&A

By Assis Malaquias

Africa Center for Strategic Studies, January 2017

Paper

By Assis Malaquias

Africa Center for Strategic Studies, July 2011

Book Chapter

By Assis Malaquias

2007

Book

Rebels and Robbers: Violence in Post-Colonial Angola

By Assis Malaquias

2007

Paper

By Assis Malaquias

2005

Book Chapter

By Assis Malaquias

1997




African Responses to Maritime Security Threats
Les réponses Africaines aux menaces pour la sécurité maritime
Reações Africanos as Ameaças Marítimas de Segurança

Africa Center for Strategic Studies, June 2023

Security Implications of African Megatrends
Implications sécuritaires des mégatendances en Afrique
Implicações na Segurança das Tendências Grandes na Africa

Africa Center for Strategic Studies, June 2023

Ten Years of the Yaoundé Protocol: Reflections on Maritime Security in the Gulf of Guinea

Africa Center for Strategic Studies, June 2022

Maritime Safety & Security in Africa

Africa Center for Strategic Studies, December 2016

National Security Strategies: Identifying and Managing Resources

Africa Center for Strategic Studies, May 2016

Contemporary Maritime Security Challenges

Africa Center for Strategic Studies, May 2016

Engajamento de outros parceiros externos

Africa Center for Strategic Studies, May 2016

Managing Security Sector Resources

Africa Center for Strategic Studies, November 2015

Governance and Accountability in African Security Sectors

Africa Center for Strategic Studies, August 2015

Maritime Security and Safety in Africa

Africa Center for Strategic Studies, July 2015

Africa's Diverse External Partnerships

Africa Center for Strategic Studies, November 2014

Africa Center for Strategic Studies, November 2014

Africa Center for Strategic Studies, October 2014

Linking Resource Management and Security Strategies

Africa Center for Strategic Studies, October 2011




By Taylor Mayol

Ozy, August 16, 2016

By Luke Vargas

Talk Media News, April 28, 2016

The World in 2:00, April 28, 2016

Rádio Nacionale de Angola, March 21, 2016

DefenceWeb, January 7, 2016

VOA Português, November 9, 2015

Madagascar Tribune, August 19, 2014

By Alan Neuhauser

U.S. News and World Report, April 25, 2014

Voice of America, May 2013

Voice of America, August 2012

By Blake Lambert

World Politics Review, January 24, 2008