Research Associate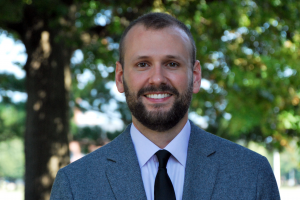 Dr. Mark Duerksen is a research associate at the Africa Center for Strategic Studies. His research focuses on Africa's unparalleled urbanization and the security challenges and opportunities this shifting landscape presents. His current work includes analysis of Nigeria's diverse security threats as well as the growing impact of disinformation campaigns on the continent's rapidly changing information systems. Trained as a historian, he brings deep knowledge of the underlying material, governance, social, and developmental dynamics driving current tensions and conflicts in and around the continent's cities.
Dr. Duerksen's projects at the Africa Center include tracking strategic communication and demographic trends across the continent and creating analytic maps and infographics to visualize spatial patterns and historical precedents. His maps of Lagos have been recognized through various awards, and his Africa Center Infographics have been reproduced and shared widely. His background includes training in Geographic Information Systems (GIS) and writing on African art and architecture.
Dr. Duerksen holds a Ph.D. in African History from Harvard University and a BA in Political and Social Thought from the University of Virginia. His dissertation research on the history of Lagos's ecology, housing, and politics was funded by a Boren Fellowship and a Frederick Sheldon Fellowship (Harvard). Previously, he taught at Hunter College in New York and the African School of Economics in Benin.
Areas of Expertise
African Urbanization Trends, Disinformation Trends, Nigeria, Benin



Spotlight

Delivering on Nigerians' Demands for Security

Africa Center for Strategic Studies, June 5, 2023

Essay

Disinformation Drilling into Africa's Information Ecosystems in Africa: Year in Review 2022

Wilson Center Africa Program, January 30, 2023

Infographic

Rising Sea Levels Besieging Africa's Booming Coastal Cities

Africa Center for Strategic Studies, November 8, 2022

Infographic

Mapping Disinformation in Africa

Africa Center for Strategic Studies, April 26, 2022

Article

Lagoon: Hidden Depths to Housing Schemes across Independence in Lagos, Nigeria

Journal of West African History, Fall 2021

Spotlight

Criminal Gangs Destabilizing Nigeria's North West

Africa Center for Strategic Studies, December 14, 2021

Spotlight

Domestic Disinformation on the Rise in Africa

Africa Center for Strategic Studies, October 6, 2021

Infographic

Devastating Human Toll as the Delta COVID Variant Takes Hold in Africa

Africa Center for Strategic Studies, July 9, 2021

Spotlight

Lessons for Africa from India's Deadly COVID Surge

Africa Center for Strategic Studies, May 28, 2021

Spotlight

The Dismantling of Benin's Democracy

Africa Center for Strategic Studies, April 27, 2021

Spotlight

Nigeria's Diverse Security Threats

Africa Center for Strategic Studies, March 30, 2021

Infographic

Food Insecurity Crisis Mounting in Africa

Africa Center for Strategic Studies, February 16, 2021

Infographic

Analyzing Africa's Second Wave of COVID-19

Africa Center for Strategic Studies, January 5, 2021

Spotlight

#EndSARS Demands Nigerian Police Reform

Africa Center for Strategic Studies, November 10, 2020

Spotlight

A Light in Libya's Fog of Disinformation

Africa Center for Strategic Studies, October 9, 2020

Infographic

Africa's Varied COVID Landscapes

Africa Center for Strategic Studies, July 13, 2020

Spotlight

Innovations Needed to Prevent COVID-19 from Catching Fire in Africa's Cities

Africa Center for Strategic Studies, April 9, 2020

Infographic

Mapping Risk Factors for the Spread of COVID-19 in Africa

Africa Center for Strategic Studies, April 3, 2020

Infographic

Coronavirus Spreads through Africa

Africa Center for Strategic Studies, March, 2020

Spotlight

Russian Disinformation Campaigns Target Africa: An Interview with Dr. Shelby Grossman

Africa Center for Strategic Studies, February 18, 2020

Article

"A History of Violence in Acholi Architecture" in Architectural Guide: Sub-Saharan Africa," Philipp Meuser and Adil Dalbai, eds.

2020

Spotlight

The Testing of Benin's Democracy

Africa Center for Strategic Studies, May 29, 2019

Spotlight

Security Priorities for the New Nigerian Government

Africa Center for Strategic Studies, February 25, 2019

Review

Review of Architecture and Politics in Nigeria: The Study of a Late Twentieth-Century Enlightenment-Inspired Modernism at Abuja, by Nnamdi Elleh

College Art Associate, 2018

Article

The Koolhaas Effect: Hot Air over Lagos

The Johannesburg Salon (Special Issue: Imagining Africa's Future Cities), 2014

Review

Review of Lagos: A Cultural History, by Kaye Whiteman

African Studies Quarterly, 2014

Article

Uganda's Independence Monuments at 50

SJ Magazine of Contemporary Arts & Culture in East Africa, 2012




Infographic

Burkina Faso Crisis Continues to Spiral

Africa Center for Strategic Studies, August 29, 2023

Infographic

African Conflicts Displace Over 40 Million People

Africa Center for Strategic Studies, August 22, 2023

Infographic

Mali Catastrophe Accelerating under Junta Rule

Africa Center for Strategic Studies, July 10, 2023

Tech Salon

How to Counter the Malign Influences of China and Russia in Digital Development

Technology Salon, May 31, 2023

Infographic

Malian Military Junta Scuttles Security Partnerships while Militant Violence Surges

Africa Center for Strategic Studies, February 27, 2023

Infographic

African Migration Trends to Watch in 2023

Africa Center for Strategic Studies, January 9, 2023

Infographic

Five Zones of Militant Islamist Violence in the Sahel

Africa Center for Strategic Studies, September 26, 2022

Event Transcript

Public Diplomacy Approaches to Countering Disinformation Effects in Sub-Saharan Africa

U.S. Advisory Commission on Public Diplomacy, September 23, 2022

Event Video

Russian Disinformation Strategies in Africa

Strategic Multilayer Assessment (SMA) Speaker Series, August 30, 2022

Infographic

Mali's Militant Islamist Insurgency at Bamako's Doorstep

Africa Center for Strategic Studies, August 29, 2022

Event Video

Herder-Farmer Conflicts and Food Security in Southeast Nigeria: Plugging the Gaps in the Peacebuilding Policy Framework

Wilson Center Africa Program, August 17, 2022

Africa Security Brief

Strengthening Sahelian Counterinsurgency Strategy

Africa Center for Strategic Studies, August 2021

Infographic

Record 36 Million Africans Forcibly Displaced

Africa Center for Strategic Studies, July 19, 2022

Infographic

Cycles of Escalating Threats Facing Africa from Global Warming

Africa Center for Strategic Studies, June 17, 2022

Infographic

Cyclones and More Frequent Storms Threaten Africa

Africa Center for Strategic Studies, May 24, 2022

Infographic

Debunking the Malian Junta's Claims

Africa Center for Strategic Studies, April 12, 2022

Spotlight

Weapons Losses Fueling Africa's Militant Groups

Africa Center for Strategic Studies, March 28, 2022

Infographic

The Growing Threat of Violent Extremism in Coastal West Africa

Africa Center for Strategic Studies, March 15, 2022

Infographic

African Migration Trends to Watch in 2022

Africa Center for Strategic Studies, December 17, 2021

Africa Security Brief

Collaborative Policing and Negotiating Urban Order in Abidjan

Africa Center for Strategic Studies, November 2021

Infographic

How Global Warming Threatens Human Security in Africa

Africa Center for Strategic Studies, October 29, 2021

Infographic

Conflict Drives Record Levels of Acute Food Insecurity in Africa

Africa Center for Strategic Studies, October 13, 2021

Infographic

10 Years after Independence South Sudan Faces Persistent Crisis

Africa Center for Strategic Studies, September 13, 2021

Infographic

Cries from the Community: Listening to the People of Cabo Delgado

Africa Center for Strategic Studies, August 30, 2021

Africa Security Brief

The Growing Complexity of Farmer-Herder Conflict in West and Central Africa

Africa Center for Strategic Studies, July 2021

Infographic

32 Million Africans Forcibly Displaced by Conflict and Repression

Africa Center for Strategic Studies, June 17, 2021

Infographic

Dispelling COVID Vaccine Myths in Africa

Africa Center for Strategic Studies, May 21, 2021

Infographic

Climate Change Amplifies Instability in Africa

Africa Center for Strategic Studies, April 21, 2021

Infographic

Autocracy and Instability in Africa

Africa Center for Strategic Studies, March 9, 2021

Infographic

Islamic State in the Greater Sahara Expanding Its Threat and Reach in the Sahel

Africa Center for Strategic Studies, December 18, 2020

Infographic

Boko Haram and the Islamic State in West Africa Target
Nigeria's Highways

Africa Center for Strategic Studies, December 15, 2020

Spotlight

Lessons from the 1918-1919 Spanish Flu Pandemic in Africa

Africa Center for Strategic Studies, May 13, 2020

Infographic

Timeline of South Sudan Peace Agreements and Violence

Africa Center for Strategic Studies, December 18, 2020

Infographic

Myths about Human Trafficking in Africa

Africa Center for Strategic Studies, July 26, 2019

Infographic

Record Number of Forcibly Displaced Africans Likely to Grow

Africa Center for Strategic Studies, July 10, 2019

Website

Hunter Department of Art and Art History, 2019

Blog

2012-2015

Exhibit

Making Africa's Megalopolis: A Visual-Spatial History of Lagos

Harvard History Design Studio exhibition at the Hutchins Center, 2014




Russia Has Ramped Up Its Propaganda in Africa. Here's How to Counter It and How Europe Can Help

The Fix, August 29, 2023

Wie Prigoschin ein Desinformationsökosystem errichtete [How Prigozhin Built a Disinformation Ecosystem]

Tagesspiegel, August 28, 2023

DW, July 27, 2023

An Important Fishing Village in Senegal Is Disappearing as Sea Levels rise

The World, July 13, 2023

How Moscow Chased France Out of Africa

Politico, February 23, 2023

Information War: China and Russia Conduct Extensive Disinformation in Africa says U.S. Officials

Open Parly, February 9, 2023

Russia is Using African Influencers to Spread its Lies on Twitter

Coda, December 16, 2022

Russia finds friends in West Africa

NHK, December 14, 2022

"Подходы США, Китая и России в Африке: от партнерства до «поля битвы» [U.S., Chinese, and Russian Approaches in Africa]"

August 19, 2022

"Nigeria Is a 'Soup' of Security Responses"

August 15, 2022

"«Афро-путинизм»: очередное гибридное оружие Кремля ('Afro-Putinism': another hybrid weapon of the Kremlin)"

August 3, 2022

"Nigerian Social Media Accounts Targeted in Influence Campaign Centered on Ukraine Invasion"

April 6, 2022

"How Universities Can Help during an Economic Downturn"

April 30, 2020

April 20, 2020