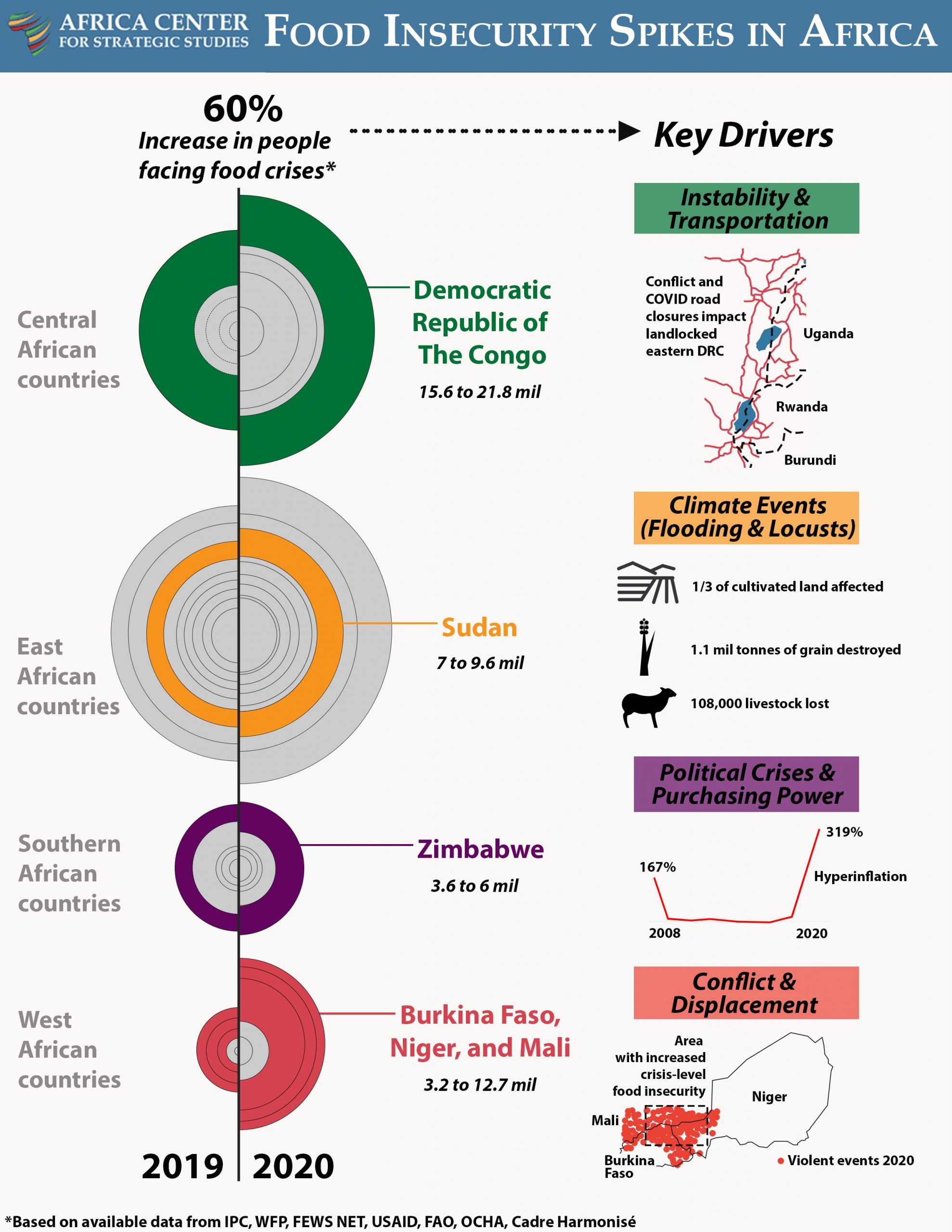 Highlights
Conflict
Conflict continues to be the primary driver of acute food crises in Africa. South Sudan is currently experiencing famine (Phase 5) in parts of Northern Bahr El Ghazal, Jonglei, and Warrap States, affecting over 100,000 people. Areas of Soum and Oudalan Provinces in Burkina Faso are also in Phase 5. Parts of Ethiopia are likely facing famine level conditions, though access to the affected regions is restricted. The Democratic Republic of the Congo (DRC), Mali, Niger, Nigeria, and Cameroon also have large conflict-affected populations.
Nine of the ten countries with the largest increases in food insecurity in 2020 are facing active conflict.

Attacks by militant Islamist groups in the Sahel increased by 44 percent in 2020, contributing to the displacement of 1.7 million people—many of whom require food assistance. Insecurity has also disrupted flows of food and trade.
In northeast Nigeria, where nearly 4 million people are acutely food insecure, militants have increasingly attacked highways, reducing food movements and humanitarian access.
In Ethiopia, food insecurity is especially acute in Tigray as a result of ongoing conflict. Reports of starvation and malnutrition are emerging while much of the region remains inaccessible to UN and aid agencies.
Many of the 4.9 million Cameroonians facing acute food insecurity are concentrated in the country's Anglophone Northwest and Southwest Regions where fighting continues between separatists and the military. Others have been displaced in Cameroon's Far North Region, driven by escalating Boko Haram attacks.
Renewed fighting in the Central African Republic has included a deliberate rebel blockade of food and humanitarian supplies from reaching Bangui.
COVID-19
COVID-19 has had an aggravating effect on food insecurity across the continent. Border closures, lockdowns, and lost jobs have reduced food access. Food and livestock traders have experienced a surge of spoiled goods due to prolonged transit times.

West Africa experienced above average food production in 2020 but because of transportation restrictions and distribution issues, the number of people facing acute food shortages is expected to increase.
Truckers have regularly lined up for miles and faced prolonged delays to deliver goods to market in East Africa.
In eastern DRC, the region with the continent's largest forcibly displaced population, many people have been unable to flee across the border into neighboring countries.

Cities in Africa have historically not been included in food security evaluations as they have been relatively better off than rural regions. This calculation changed in the aftermath of COVID-19 as many cities saw their vulnerable populations face intense food insecurity pressure as a result of income-depriving restrictions. In South Africa, the 11.8 million people found to be facing food crisis largely reflects the effects of pandemic mitigation measures on urban households.
Some countries with the highest levels of food insecurity (DRC, Ethiopia, Mali, and Sudan) are facing multiple crises simultaneously. COVID has exacerbated this fragility.
Political Mismanagement and Loss of Purchasing Power
Zimbabwe, Sudan, and South Sudan saw spikes in hyperinflation and currency depreciation that were kindled by years of political mismanagement, further aggravating levels of food insecurity. Coupled with COVID-19 prevention measures, households in Zimbabwe experienced income reductions of more than 50 percent in 2020.
Climate Events
Floods in Sudan and South Sudan, southern African droughts, and East African locust surges were among the destabilizing climate-related events that increased food insecurity for millions. Sudan, which saw an additional 3.5 million people experience acute food insecurity in 2020, was struck by the worst flooding in 100 years as well as the worst locust outbreak in decades, which also affected Kenya, Somalia, Eritrea, and Djibouti.
More on:  COVID-19​ Displacement​ Food Security​ Militant Islamist Groups​