The bomb blast at the ruling Zimbabwe African National Union–Patriotic Front (ZANU-PF) rally in Bulawayo on June 23 threatened to mar what has been Zimbabwe's most peaceful election campaign in decades. President Emmerson Mnangagwa, who assumed the presidency after Robert Mugabe was pushed out by the military last November, was unharmed. However, two people were killed, and at least 49, including his two deputies, were injured. Many fear that this could have been an assassination attempt on Mnangagwa given the intense infighting between the military establishment and civilian ZANU-PF cadres since Mugabe's ouster and an ongoing purge of his allies in the party. Mnangagwa has accused such factionalism as being behind the alleged plot. Despite the attack, the government refrained from declaring a state of emergency.
The July 30 election will be the first without Mugabe's name on the ballot since independence in 1980. It will also serve as a litmus test for Mnangagwa, a former Mugabe protégé. Since the transition, in an effort to reduce Zimbabwe's diplomatic and economic isolation, the government has been at pains to signal a shift toward greater inclusion. Mugabe's removal came on the back of growing economic hardships. Zimbabwe's economic outlook has been in decline since the Government of National Unity (2009-13) was disbanded. Hard currency is in short supply stoking inflation, past government profligacy has led to mounting debt, and unemployment remains very high. Agriculture, once Zimbabwe's mainstay and chief foreign exchange earner, continues to post negative growth. Sanctions relief and the revamping of the economy provide powerful incentives for reform and re-engagement with the international community as ZANU-PF struggles to find new sources of legitimacy.
It has moved quickly in this regard. Zimbabwe applied to rejoin the Commonwealth and invited 61 countries and international agencies to monitor the July polls. In February, Zimbabwe broke tradition by according the deceased opposition doyen, Morgan Tsvangirai, a state-funded funeral—a rare distinction usually reserved for ZANU-PF stalwarts. More recently, the government permitted a major protest by the MDC over lack of electoral reforms. It would not, however, allow a planned counter demonstration by ZANU-PF youth due to safety concerns.
While such overtures have been welcomed, ZANU-PF's agenda remains ambiguous. Many of its old features persist, such the military's domination of party and government functions. Given that Mugabe's ouster was partially prompted by the military's desire to stem its declining influence in the party, the military's overt entanglement in politics is a cause for concern. The risks of instability persist.
New Divisions
New factions emerged in ZANU-PF after it began purging Mugabe's allies from its rolls. One consists of military officers who supported the operation that ousted him and is led by former Defense Chief and current Vice President Constantino Chiwenga. The other is dominated by civilians loyal to Mnangagwa but suspicious of the military. The independence war veterans, who helped orchestrate Mugabe's ouster, have increasingly been sidelined as the party reconfigures itself.
In April's chaotic ZANU-PF primaries, dozens of civilian cadres loyal to Mnangagwa lost key strongholds to candidates that had the open backing of the military or had recently retired from the force. ZANU-PF's top bodies—including the Commissariat and Politburo—are now controlled by generals who served with Chiwenga on the Joint Staff.
The Commissariat is the nerve center of the party bureaucracy and controls its electoral machinery, as well its vast patronage system and its disciplinary and enforcement arms. It was previously led by Victor Matemadanda, the Secretary General of the Zimbabwe National Liberation War Veterans Association (ZNLWA), who has been replaced by former army chief of staff Engelbert Rugeje. Sitting alongside Chiwenga in the Politburo—ZANU-PF's policymaking committee—are former senior officers including retired Air Marshall Perrance Shiri, now minister for lands, and the current foreign minister, General Sibusiso Moyo.
The defeat of ZNLWA leader and Mnangagwa aide Chris Mutsvangwa was one of the biggest upsets of the ZANU-PF primary. Once a staunch ally of Chiwenga, he petitioned the Politburo for a recount, accusing Chiwenga's loyalists of using the police and intelligence agents as election officials and intimidating candidates. The Politburo ordered reruns in 10 locations and launched internal reconciliation talks chaired by Mnangagwa to defuse tensions. However, they were inconclusive, and infighting is likely to continue.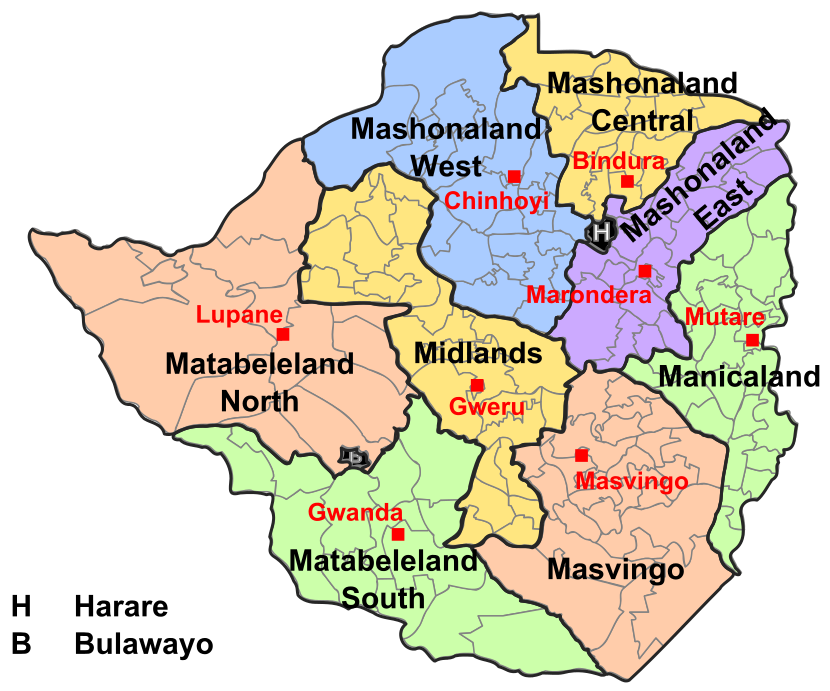 The MDC, Zimbabwe's oldest opposition party, faces similar challenges, as well as a confusing web of potential allies. Nelson Chamisa, who emerged as Tsvangirai's successor, leads MDC-Tsvangirai, or MDC-T. Thokozani Khupe, one of the party's former vice presidents, split to form a breakaway party that also calls itself MDC-T. A third faction, MDC-Ncube, is led by Welshman Ncube. Despite the turmoil the three MDC parties have formed an alliance among themselves and with other parties, including the People's Redemption Party, National People's Party, and the lesser-known Transform Zimbabwe and Multiracial Democrats. Former finance minister Tendai Biti leads the People's Redemption Party, a breakaway of MDC-T. ZANU-PF stalwart and former vice president Joice Mujuru leads the National People's Party while also running for president as the head of her People's Rainbow Coalition.
The MDC-Tsvangirai–led alliance seeks to end ZANU-PF's rule, but disagreements about who would be the flagbearer have strained its show of unity. The alliance was further weakened by claims from both Chamisa and Khupe of rigging and violence in its primaries. Furthermore, Chamisa has made controversial statements that have undermined his credibility. These include claims that the United States has pledged $15 billion to his party if it won the election and that Rwanda's president had endorsed him—assertions that were refuted by both governments. His campaign promises have included building bullet trains and solving the country's liquidity crisis in two weeks.
A number of former Mugabe allies, among them General Ambrose Mutinhiri, have formed the New Patriotic Front, but it has suffered numerous defections to other parties—including to ZANU-PF.
In short, despite its own internal friction, ZANU-PF appears to be in a stronger position than it was a few months ago.
A Still Uneven Playing Field
This electoral campaign has largely been free of the widespread fraud, intimidation, and killings seen during Mugabe's reign, but the Bulawayo incident and the violence in the ZANU-PF and MDC primaries and rallies could be ominous signs. The local chapter of the Media Institute of Southern Africa (MISA) recorded several cases of reporters being assaulted at ZANU-PF and MDC rallies.
MISA also observed that although the state-owned Zimbabwe Broadcasting Corporation had toned down its propaganda, it gave far more coverage to ZANU-PF and continued to portray other parties in a negative light. In early May, MISA wrote to the Zimbabwe Electoral Commission reminding it of its statutory obligation to ensure equal media access by all parties. It has not responded to the query.
Two thousand local monitors deployed by the Zimbabwe Election Support Network Coalition (ZESN) observed the voter registration process, which registered 5.5 million voters—80 percent of the eligible voting population. ZESN commended the Zimbabwe Electoral Commission for its professional conduct despite technical hitches, inadequate staff training, and poor physical infrastructure. The voter rolls were opened for public inspection in mid-May, one of the key opposition demands to ensure greater integrity of the polls. ZESN and its partner coalition, the Election Resource Center, monitored the inspection and reported that it was free of violence and intimidation. However, the MDC contends that it does not have full access to the rolls and accuses the electoral commission of running ungazetted polling stations and continuing to employ military personnel. Former soldiers make up 15 percent of its staff.
"The new electoral code signed by Mnangagwa in early June retains many regressive laws."
As the elections draw closer more concerns are being raised by civil society organizations, media, and the general public, about whether the electoral commission can deliver a truly free and fair election. According to one investigative report, there are as many as 250,000 ghost voters on the rolls, which might explain the commission's reluctance to give opposition parties full access to them. Then, in a worrying move that harkens back to the scandal-riddled elections of the past, the electoral commission published controversial new rules that would position the ballot boxes in full view of election officials and party agents on polling day. This undermines the secrecy of the ballot, a cardinal principle enshrined in international electoral instruments, including the African Charter on Elections and Democracy, which President Mnangagwa ironically signed in March. Reports have also emerged of ruling party agents roaming the countryside demanding to see the serial numbers of voter registration slips, a practice that was used extensively to intimidate voters in previous elections.
In yet another troubling sign initially denied by the electoral commission, the police confirmed that its members were already voting in police camps across the country, saying that it was necessary as police officers would be on duty during the elections and therefore needed to cast their ballots early. These and several other irregularities have sent a message that despite the professionalism displayed by the country's electoral institutions during the registration exercise, they remain as vulnerable to manipulation and abuse as they were under Mugabe.
Opportunities to create a more conducive environment for elections appear to be closing fast. The new electoral code signed by Mnangagwa in early June retains many regressive laws, such as giving the government powers to veto the electoral commission's regulations. Democracy activists had lobbied lawmakers to enact wide-ranging reforms that would have created a more level playing field for democratic elections. In May, the Constitutional Court again blocked an appeal on diaspora voting after dismissing an earlier petition in 2013. It also threw out an application seeking to preserve the independence of the electoral commission. The independence of this court has frequently been called into question due to the president's power to appoint the chief justice, deputy chief justice, and judge president. Reform advocates suggest that this casts further doubt on the government's sincerity in instituting comprehensive reforms.
Meanwhile, given China's expansive diamond interests in Zimbabwe, as well as its history of supporting certain elements of ZANU-PF, the military, and intelligence services, China's potential role in tilting the fairness of the electoral process must also be taken into consideration. Indeed, elements of both the opposition and ZANU-PF have called for reducing China's influence in Zimbabwe.
Beyond Elections
Zimbabwe's civil society has been at the forefront of the reform movement, and its continued advocacy and engagement will be critical in maintaining popular demands for reform and holding the government accountable to its stated commitments beyond the elections. Since 2015, the Platform for Concerned Citizens (PCC) consisting of professionals, civil society, and churches, has been building national consensus on a path to reform by conducting dialogues across the political divide. Its agenda lays out four main priorities: restoring constitutional governance, reforming key institutions, repealing repressive laws, and stabilizing the economy. The PCC has also led calls for accountability and reconciliation to be at the center of the post-Mugabe political process. In January 2018, the National Peace and Reconciliation Bill became law as a result of heavy lobbying by its members and survivors of the 1980–85 counterinsurgency campaign dubbed Gukurahundi ("the rain that washes away the chaff"). The new law, however, also gives the minister of security broad discretionary authorities, including the power to block investigations on security grounds. Such measures send the message that while the government has allowed some positive changes, it is unlikely to support fundamental and far-reaching reforms that would put Zimbabwe back on a democratic trajectory.
"Vigilance by Zimbabwe's civil society will be key in expanding the reform agenda."
Vigilance by Zimbabwe's civil society will be key in expanding the reform agenda. Civil society organizations were weakened over the years by a raft of draconian laws and legislation. Civil society leaders have demanded the repeal of two laws in particular, the Access to Information and Protection of Privacy Act and the Public Order and Security Act. However, the internal affairs ministry insists they are necessary for stability. Civil society point to this as another example of the government's limited commitment to genuine reforms.
Regardless of which political parties emerge on top in the July elections, addressing Zimbabwe's legacy of military involvement in politics will be a priority. Similarly, the continued use of the police and intelligence to repress dissent is a cautionary sign that commitment to genuine reform is shallow.
Conclusion
Multiple possible scenarios could play out in Zimbabwe. The country may follow a path of incremental, and arguably cosmetic, reform in the attempt to reduce its international isolation. Recognizing the crippling effects of a politicized security sector and the legacy of repressive governance, Zimbabwe may embark on a clear break from the past and vigorously pursue needed institutional reforms. Or, the military could consolidate its hold on the political levers of power perpetuating the exclusionary, patronage-driven politics that have come to define Zimbabwe. In this case, despite the departure of Robert Mugabe after 38 years in leadership, the same system will persist with different faces at the top. Barring a more organized opposition coalition, much will depend on how a reconfigured ZANU-PF positions itself. The revitalization of Zimbabwe's civil society and professional bodies will be critical in sustaining the demand for change and holding leaders to account. Finally, Zimbabwe's external partners will play a key factor in setting the bar of reforms needed before they renew their economic and diplomatic engagement.
Africa Center Experts
More on:  Zimbabwe​