In July 2018, Tanzanian president John Magufuli laid a foundation stone for the Mwalimu Nyerere Memorial Academy, named for the nation's revered founding president. The $45-million project, which is being fully funded and built by the Chinese government, will provide leadership training to emerging leaders from countries governed by the Former Liberation Movements of Southern Africa (FLMSA). The decision to build this school was made at the biennial FLMSA summit in May 2017, which brought together the African National Congress of South Africa, Chama Cha Mapinduzi of Tanzania, Popular Front for the Liberation of Mozambique, Movement for the Liberation of Angola, Southwest African Peoples Organization of Namibia, and Zimbabwe African National Union Patriotic Front. All had received Chinese backing during their fight against apartheid and colonialism.
This initiative and others show China's growing ability to advance its strategic interests through cooption, cooperation, and inducements. At the 19th Communist Party of China (CPC) Congress in October 2017, President Xi Jinping called it "soft power with Chinese characteristics." The concept of soft power was adapted from American scholar Joseph Nye's writings from the early 1990s on the importance of culture, values, and ideals to shape global norms. Over time, the subject has stimulated intense interest in China. In 2017, Wang Huning, a leading proponent of soft power, was elected to China's topmost body, the six-member Politburo Standing Committee. "China will be a global leader in national strength and international influence," Xi said at the October Congress. "We will improve our capacity to tell our stories, present a multidimensional view, and enhance China's cultural soft power."
Africa's Part in the Grand Strategy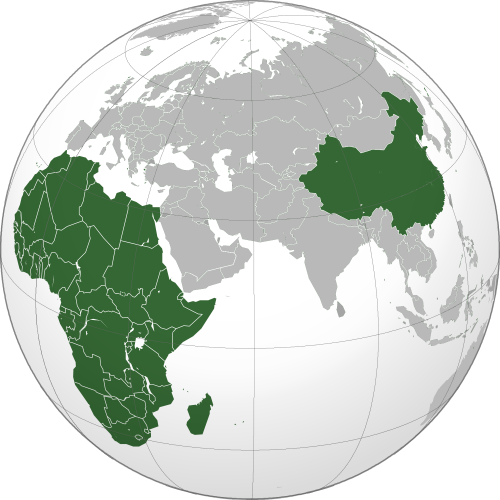 The overriding goal of China's Grand Strategy is to restore itself as a great power. The approach has three prongs. By 2021, China seeks to double its 2010 gross domestic product to $12 trillion so that it can become a "moderately prosperous society."
The quest for regional and global leadership is the second feature of China's Grand Strategy. By 2049, the centenary of the CPC's founding, China hopes to be a "world class power." China's rapid military modernization and expanding economic and diplomatic influence are all part of this goal. China has also increased its participation in multilateral institutions such as the United Nations, and its willingness to create new institutions allow it to more directly set the agenda and promote alternative norms and models.
China's Grand Strategy also seeks to build on and expand its financial reach beyond its borders through increased investments by private and public entities. The multibillion dollar "One Belt, One Road" initiative, which aims to strengthen infrastructure, trade, and development links between China, Africa, the Gulf countries, Asia, and Europe, is central to this effort.
China sees Africa as playing a key role in accomplishing these goals. Africa is recognized as an emerging market with high dividends despite high risks. Gaining a competitive advantage in less secure political and economic environments allows China's diplomats and state-backed industrialists to nurture personal ties and negotiate deals outside formal institutions. This is a central idea in Chinese culture that is known as guanxi. It refers to a system of social networks and influential relationships that facilitate business and political dealings through personal ties, favors, and hierarchies. These play a major role in Chinese dealings with African business, political, and military leaders.
"Gaining a competitive advantage in less secure political and economic environments allows China's diplomats and state-backed industrialists to nurture personal ties and negotiate deals outside formal institutions."
Africa is also the source of rare earth minerals and other natural resources that are crucial to the continued growth of the Chinese economy. The One Belt One Road initiative is aimed in part at diversifying China's access to these resources.
China, furthermore, sees Africa as a willing partner in its ability to influence and shape international decisionmaking. Africa provides the biggest single bloc of votes at the UN General Assembly, and members of its regional organizations sit in a variety of international institutions that China seeks to influence in advancing its international agenda.
African leaders have mostly welcomed China's renewed engagement, praising Beijing's treatment of Africans as "equals" and hailing its commitment to development infrastructure such as railways, power stations, ports, and dams. "Being part of One Belt allows the continent to move to a new platform, through which global collaboration will allow for value-addition, innovation, and increased prosperity," said Kenyan President Uhuru Kenyatta.
The Shift
China's soft power push in Africa has been spreading since the founding of the Forum on China Africa Cooperation (FOCAC) in 2000. The sixth summit in Beijing in September 2018, allowed China to showcase its multibillion dollar relationships with Africa. This year's FOCAC represented the widest array of African stakeholders ever. The notion of non-interference in domestic affairs had once been a sacrosanct principle of China's foreign policy. And the idea of forging ties outside of official government-to-government channels had long been considered unacceptable. Today, however, China actively engages civil society, professional bodies, and the private sector with a view to extending its inroads into Africa and its ability to influence African policymaking at different levels.
China's growing role in Africa has largely been welcomed by Africans. In 2008, the African Union (AU) established the China–AU Strategic Dialogue to strengthen ties. Three years later, the AU opened its newly built $200 million headquarters in Addis Ababa, fully funded by China as a "gift." A 2016 Afrobarometer survey conducted in 36 African countries found that 63 percent of respondents thought China's economic and political influence was positive.
Negative opinions of China do, however, exist. Concern is growing about the flooding of African markets with cheap, low-quality Chinese goods; Beijing's opaque investments, especially in the extractive industries, which some see as predatory; the leveraging of debt to take control of key infrastructure across the globe; and the practice of employing Chinese nationals in its massive construction projects on the continent. Many of China's engagements have come under criticism for coopting senior political and military leaders, encouraging corruption, weakening accountability, and supporting authoritarian leaders.
Confucius Institutes
In May 2018 in Mozambique, 300 delegates from 40 African countries attended the annual Joint Conference of Confucius Institutes in Africa. These institutes are joint ventures between Chinese and foreign universities and funded by the Chinese education ministry with the aim of promoting Chinese language and culture and support academic exchanges. China initially hesitated to launch the program because the notion of promoting national values overseas was viewed as a mechanism of "Western hegemony." That, however, changed after the first Confucius Institute was established in Seoul, South Korea, in 2004. Since then, about 500 have been set up in more than 130 countries. In 2012, there was only one in Africa. Today, about 70 operate in over 40 countries. As a result of their programs, the number of African students studying in China has grown from under 2,000 in 2003 to over 50,000 in 2015. In 2017, China surpassed the United States and United Kingdom as the top destination for English-speaking African students.
Despite their rapid growth, Confucius Institutes have been criticized by some foreign scholars as being political instruments of the CPC. They generally avoid topics the Chinese government considers sensitive, such as Taiwan, Tibet, and banned intellectual movements such as the Falun Gong. Keenly aware of these controversies, Chinese leaders have refrained from giving overt policy direction to the Confucius Institutes. However, official Chinese media regularly refers to their policy importance—a fact often cited by critics who argue that they are indeed one of China's nontraditional foreign policy instruments.
Policy
Beijing has not hesitated to push the boundaries in identifying new areas of engagement to inform and influence policy debates relevant to Chinese foreign policy, such as its investments in the New Development Bank based in Shanghai, which was set up as an alternative funding mechanism to the World Bank and the International Monetary Fund.
In 2011, after years of deliberation with African governments, the China-Africa Think Tank Forum (CATTF) was established. Funded by the China Development Bank, the forum promotes joint policy research and training among top Chinese and African private and government think tanks. More than 380 directors and senior researchers from leading African and Chinese think tanks attended the seventh annual CATTF in Beijing in July 2018. High on its agenda were the One Belt, One Road strategy and several policy prescriptions on industrial cooperation, trade, and aid that were discussed and adopted at the 2018 FOCAC summit.
The state-owned Chinese Academy of Social Sciences oversees several institutional agreements between Chinese and African think tanks as part of a larger effort to generate broad African support for Chinese policy positions. These research partnerships cover such topics as Chinese security cooperation, trade relations, United Nations reform, and governance. The research is then used to formulate Chinese government policies and influence African ones.
Media
The Forum on China-Africa Media Cooperation is a new addition to China's portfolio of soft power engagements. While Chinese media agencies have operated on the continent since the 1960s, the creation of platforms to directly engage with and influence African media professionals is more recent. In June 2018, the Communist Party held the fourth annual forum that brought together 400 members of African state-owned and private media agencies to discuss the global media environment, the state of the African media, and digital broadcasting.
Several new agreements were also negotiated, including one that will see the Beijing-based Star Times, a new entrant in Africa's satellite television industry, install digital satellite television in 10,000 villages in sub-Saharan Africa.
Broadcasting is vitally important to China as it seeks to influence policy debates and counter negative narratives. Xinhua News Agency, the world's largest media outlet, is a cabinet-level agency that also sits on the Communist Party's powerful Central Committee. In 2018, Xinhua established an Africa regional bureau in Nairobi. This is the first time that Xinhua has built an office block outside Beijing, as its bureaus had previously always operated out of rented spaces.
"Beijing has also sought to shape African media practices and values as part of its media entry into Africa."
Once complete, it will be the largest of the agency's 170 international bureaus and will also house the Africa office of the Chinese Global Television Network. Beijing has also sought to shape African media practices and values as part of its media entry into Africa. In 2017, the China-Africa Press Center, a specialized arm of China's foreign ministry, hosted its third 10-month exchange program for African media professionals. Topics of the training included media management and ethics, China's politics and culture, and China-Africa relations, all part of Xi's campaign to "increase China's soft power, give a good Chinese narrative, and better communicate China's message to the world."
Leadership
In 2016, China increased the number of annual scholarships granted to African government leaders from 200 to 1,000. Its leadership training now includes parliaments, local governments, politically neutral groups, and even opposition parties. Hosted by the CPC's Central Party School, the trainings cover the theory and practice of party building, propaganda techniques, cadre training and development, and management of interactions between the party, government, and military. Mentorships in Chinese institutions form part of these programs, and participants take field trips to gain first-hand knowledge of how party cadres solve local problems.
Senior leaders are typically trained in Beijing, while mid-ranking and junior officials are sent to provincial and local party offices. Support to the Nyerere Academy in Tanzania may represent a new approach to this leadership training. These programs are replicated for ruling party youth leagues through the China-Africa Young Leaders Forum. In 2018, it was held in Guangdong province for 70 young African leaders from over 40 governing parties. The China-Africa Youth Festival, Beijing's version of the United States' Young African Leaders Initiative, includes young leaders from civil society, business, media, and students. Its third forum was held in Beijing in June 2018.
"Many African countries have made observable changes to their governance styles and models as a result of these deepening engagements."
China's focus also extends to sub-national governance. The China-Africa Local Government Cooperation (CALGC) mentors several hundred African local government administrators every year. They work in local government bodies in China to learn about local government management, administration, and budgeting. African and Chinese local leaders also meet regularly in CALGC forums to share experiences. The 2012 and 2015 forums focused on industrial development in provinces and cities and how local governments could attract investments. The most recent forum in May 2018 discussed poverty alleviation. In all, more than 1,000 African local government staff from over 40 African countries have participated in these programs since they started in 2012.
Many African countries have made observable changes to their governance styles and models as a result of these deepening engagements. Angola, Ethiopia, Mozambique, and Tanzania, among others, have been particularly keen to apply the Chinese development model, with its emphasis on strong export-led growth, heavy state involvement in the economy, and the development of labor-intensive industries.
Some Chinese academics refer to Ethiopia as the "China of Africa." Its policies on special economic zones and infrastructure development were adapted from the Chinese model. Since 1994, multiple delegations of the ruling Ethiopian People's Revolutionary Democratic Front visited China to study its governance system. The party has many features of the Communist Party of China, as do other governing parties in Eritrea, Namibia, Rwanda, South Sudan, and Sudan, to name a few. Some of these include the principle of party supremacy over the government, an emphasis on ideological education, and "democratic centralism," which allows criticism only within stipulated bounds. In many of these models, especially those that are common to former liberation movements, the military is an extension of the party and subordinate to its structures, a cardinal feature of the Chinese system.
Filling a Vacuum
China's soft power push is accelerating at a time traditional powers such as the European Union and United States are perceived to be scaling back their global commitments. This has given more vigor and focus to what continues to be a deliberate, long term, and sustained Grand Strategy.
China's leaders have become more adept and attentive to pursuing strategic goals without relying on traditional tools of foreign relations. In addition, with the growth of China's global influence, Beijing is less averse to boldly promoting China's values and models than it had been in the past. In fact, many within the Chinese political establishment welcome this as a strategic opportunity to offer alternatives to Western norms. With China's Grand Strategy now well-articulated, its soft power initiatives can be expected to expand in tandem with its military and economic activities. Nowhere is this more evident than in Africa.
Africa Center Experts
More on:  Regional and International Security Cooperation​ China​ Ethiopia​