Director Emeritus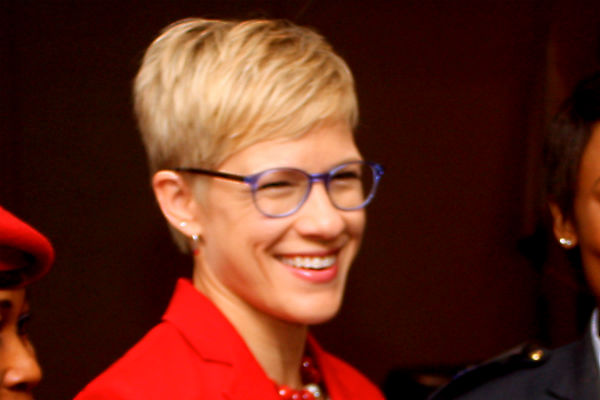 Kate Almquist Knopf served as director of the Africa Center for Strategic Studies, an academic institution within the U.S. Department of Defense, from July 2014 to December 2021. Established by the U.S. Congress for the study of security issues relating to Africa, the Center serves as a forum for bilateral and multilateral research, communication, and the exchange of ideas. It aims to be an objective source of strategic analysis on contemporary and over-the-horizon security issues for African security sector professionals, policymakers, scholars, media, and civil society, as well as international partners.
Ms. Knopf has spent most of her career focused on the intersection of security and development in Africa. From 2001 to 2009, she held several senior positions at the U.S. Agency for International Development, including as assistant administrator for Africa, Sudan mission director, deputy assistant administrator for Africa, and special assistant and senior policy advisor to the administrator.
Ms. Knopf has also been a senior advisor for the Crisis Management Initiative, a conflict mediation organization founded by former Finnish President and Nobel Laureate Martti Ahtisaari, and a visiting policy fellow at the Center for Global Development. Prior to federal service, she was chief of staff for the Massachusetts Turnpike Authority and for the Executive Office for Administration and Finance of the Commonwealth of Massachusetts. She began her career at World Vision, an international nongovernmental organization.
Ms. Knopf holds an M.A. in international relations with concentrations in African studies and conflict management from Johns Hopkins University's Paul H. Nitze School of Advanced International Studies in Washington, DC, and a B.A. in international relations from Johns Hopkins University in Baltimore, MD.
Areas of Expertise
Peace Processes, Conflict-Affected Areas, U.S.-Africa Relations, U.S. Foreign Assistance, Humanitarian Assistance, Sudan, South Sudan



Op-Ed

Sudan Faces an Inflection Point — and Needs US Leadership

The Hill, July 30, 2019

Op-Ed

Africa Must Escape from Being a Prize for World Powers

The Hill, April 1, 2019

Spotlight

A Path to Justice in South Sudan
Une voie vers la justice au Soudan du Sud

Africa Center for Strategic Studies, July 1, 2017

Blog Post

Salvaging South Sudan's Sovereignty (and Ending its Civil War)

Council on Foreign Relations, April 24, 2017

Report

Ending South Sudan's Civil War

Council on Foreign Relations, November 28, 2016

Testimony

"U.S. Options as South Sudan Leaders Fail the Peace,"

United States Senate Committee on Foreign Relations, September 20, 2016

Op-Ed

To Save South Sudan, Put It on Life Support

The Financial Times, July 20, 2016

Testimony

United States Senate Committee on Foreign Relations, January 9, 2014

Blog post

Five Precepts the U.S. Government Should Follow to Help End South Sudan's Conflict

Center for Global Development, January 2014

Paper

Fragility and State-Society Relations in South Sudan
Fragilité et relations entre l'État et la société au Soudan du Sud

Africa Center for Strategic Studies, September 2013

Report

Getting to Normal with the Two Sudans

Center for Global Development, February 28, 2013

Blog Post

Friend or Foe? U.S. Counterterrorism Strategy in Africa

Center for Global Development, February 5, 2013

Memorandum

Renewed Conflict in South Sudan

Council on Foreign Relations, March 2010

Article

U.S. Foreign Assistance to Africa: Securing America's Investment for Lasting Development

Journal of International Affairs, Spring/Summer 2009




Understanding the Underlying Drivers of Armed Conflict in South Sudan

Africa Center for Strategic Studies, May 1, 2019

Facilitating Humanitarian Assistance in South Sudan

Center for Strategic and International Studies, July 2018

Spotlight on Kenya: Assessing Risks and Opportunities in East Africa's Largest Economy

Center for Strategic and International Studies, September 2017

Governance and Peacebuilding in South Sudan

Africa Center for Strategic Studies, October 2016

South Sudan: Options in Crisis

U.S. Senate Committee on Foreign Relations, September 2016

Citizen-Centric Security in Africa

Africa Center for Strategic Studies, May 2016

Charting a Path to Stability in South Sudan

Africa Center for Strategic Studies, February 2014

The Ongoing Crisis in South Sudan

Africa Center for Strategic Studies, January 2014

U.S. Senate Foreign Relations Sub-Committee Hearing, January 2014

South Sudan's Struggle for Legitimacy and Accountability

Africa Center for Strategic Studies, October 2013




Will Djibouti Become Latest Country to Fall Into China's Debt Trap?

Foreign Policy, July 31, 2018

Aid Worker Killings in South Sudan Prompt Humanitarian Reexamination

The Globe Post, July 17, 2018

U.N., U.S. Failed to Stop 'Ethnic Cleansing' in Sudan

AP, October 21, 2017

U.S. Support of South Sudanese Military May Have Broken the Law

Axios, October 18, 2017

A War without End: Neighbours Carry the Burden of South Sudan's Fleeing Millions

IRIN, August 17, 2017

Ending the South Sudan Civil War: A Conversation with Kate Almquist Knopf

Council on Foreign Relations, January 31, 2017

South Sudan Rebel Chief Urges Armed Resistance to Juba Govt

AP, September 24, 2015

An Interview with Kate Almquist Knopf, Director of the Africa Center for Strategic Studies

International Relations and Security Network, September 2015

The U.S.-Africa Leaders Summit and Investment in Africa

Al Jazeera America, August 2014

Experts See Benghazi Controversy Creating "Remote Control" Diplomacy in Conflict Zones

HuffPost Politics, May 2014

What Has the U.S. Already Tried in Mali?

Christian Science Monitor, November 2012