Part 7: Maritime security
Another fundamental security challenge Nigeria's new leaders must face lies at sea. The security of the Gulf of Guinea is integral to the economic health of West Africa. The Gulf is the transit hub for much of the region's $253 billion of commerce—most notably petroleum products. Yet, in recent years, the Gulf of Guinea has also become a hotbed of piracy, overshadowing the Gulf of Aden. In 2014, there were just 11 incidents in the latter compared to 41 in the Gulf of Guinea.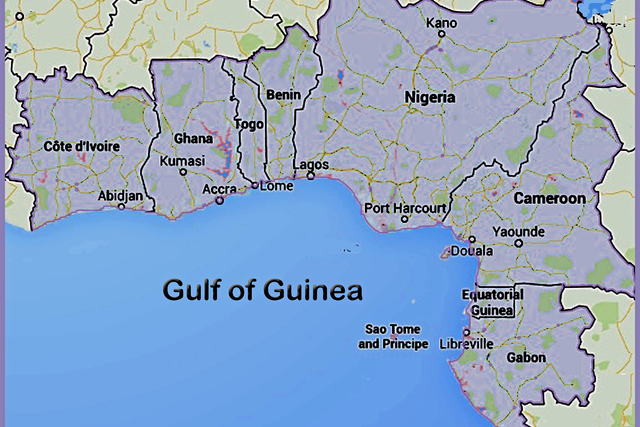 Pirates brazenly steal oil and cargo from the many defenseless and isolated vessels transiting the Gulf. In recent years, kidnap-for-ransom incidents have increased, reflecting the greater return on investment. For example, the three VLCC Kalamos crew kidnapped in February 2015 were reportedly ransomed for $400,000 a few weeks later.
Fishing vessels net large quantities of quarry from West Africa's waters without anyone knowing. Illegal, unreported, and unregulated fishing accounts for about 40 percent of fish caught in West Africa. The Gulf of Guinea also remains an important transshipment point for narcotics trafficking from Latin America to Europe. The UN estimated about $1.5 billion worth of cocaine had passed through West Africa in 2013.
Piracy and maritime crime are the most pronounced in and around the territorial waters of Nigeria, the region's top oil producer. Nigeria loses between 40,000 and 100,000 barrels of oil a day due to theft. According to Nigerian Chief of Naval Staff Usman Jibrin, oil theft alone costs the Nigerian government 433 billion naira (about $2 billion) each year. The Ministry of Finance claims this number is even higher.
Piracy and Crime in and around Nigeria's Waters
Many of the pirates in the Gulf of Guinea come from the militarized groups of Nigeria's oil-producing Niger Delta region. These groups were offered an amnesty arrangement—lay down arms in exchange for a monthly stipend and job training. But the amnesty, which is scheduled to end in 2015, has achieved mixed results. In an area with extensive environmental damage and few employment opportunities, oil theft has proven to be a reliable source of income for many youth in the Delta. In 2013, 1,951 illegal oil refineries were destroyed in the Niger Delta alone.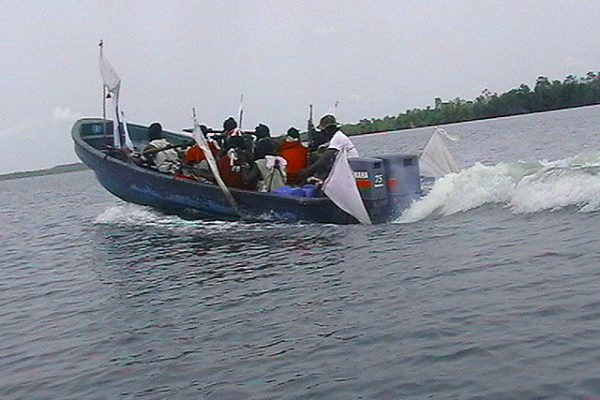 Groups with access to weapons and boats—be they ex-insurgents, local gangs, members of international organized criminal networks—have advanced from stealing oil in the inland waterways to hijacking cargo and tanker ships on the high seas. Delta-based pirates have gone so far as to take a vessel from its Angolan anchorage 900 nmi away.
Collusion among pirates, compromised elements in the oil industry and security agencies, as well as international organized criminal networks helps piracy thrive. This underscores the challenge of strengthening military professionalism throughout the Nigerian security sector—and not just in northern Nigeria.
Addressing the Challenges
Nigeria has been developing its maritime security strategy to address piracy and crime in its waters. Joint task forces (mostly between the Nigerian Maritime Administration and Safety Agency (NIMASA) and the Nigerian Navy) conduct law enforcement and antipiracy patrols backed with electronic surveillance assets that can track the International Maritime Organization number for all cooperating vessels in Nigerian waters. This represents only a proportion of all ships, however. Strengthening maritime domain awareness—the knowledge of the movements of all craft transiting Nigerian waters—must be a top priority.
In 2013, the Nigerian Navy, with two private maritime security firms, launched a Secure Anchorage Area (SAA) around Lagos Port—an area clogged with hundreds of vulnerable vessels waiting for days to offload cargo due to the antiquated facilities ashore. In the SAA, the Navy offers armed protection for ships wishing to either anchor or conduct ship-to-ship transfers offshore.
The SAA is an example of how Nigeria and its neighbors can better manage their maritime space. In addition to designated anchorage sites, clearly defined transit corridors (much like the International Recommended Transit Corridor in the Gulf of Aden) are needed—not only across the region, but also within each country's territorial waters. With designated shipping lanes and anchorage sites channeling merchant vessel traffic into narrow routes, enforcement agencies like NIMASA would be able to focus and simplify their patrol and surveillance demands.
Nigeria has teamed up with its neighbors to create regional security zones across the Gulf of Guinea. This is in recognition of the fact that the West African countries must harmonize their law enforcement tactics to prevent pirates from merely moving their activities to the most vulnerable or least punishing jurisdiction. However, partnering states have struggled to operationalize these coordination mechanisms.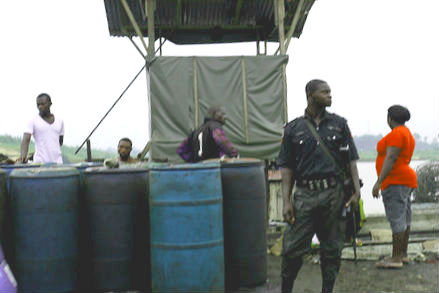 One key gap is in the area of assets. To patrol its 459 nmi of coastline and waters going out 200 nmi, Nigeria has only 2 frigates, 10 large patrol boats, 15 small patrol craft (inshore patrol craft and seaward defence boats), and 4 maritime patrol aircraft. And Nigeria is one of the better resourced littoral states in the region. At a minimum, says Rear Admiral Adeniyi Adejimi Osinowo of the Nigerian Navy, West Africa would need 90 offshore patrol vessels to cover its 3,000 nmi of coastline. Currently, the region has only 32. As a result, Nigeria, as well as some of its neighbors, has come to rely on private military and security contractors. The rise in the number of contractors could become a concern itself, however, as they have financial incentives to see the security threats they're combating to persist.
Back Onshore
Addressing maritime security is ultimately tied back onshore. The greatest concentration of theft and piracy occurs within 12 nmi of Nigeria's shores. The Niger Delta waterways where ex-militants have built illegal oil bunkering and refining businesses in collusion with some security and political officials are particularly problematic. While not the driving factor, economic and political marginalization of populations in the Niger Delta create a steady pool of recruitment for piracy. The sooner the new government tackles this challenge, the sooner it may dry up that pool.
More on:  Maritime Security​ Nigeria​