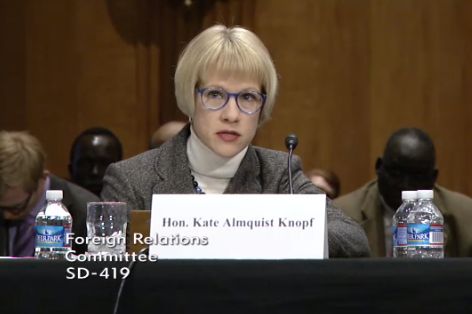 On January 9, 2014, Kate Almquist Knopf, Former USAID Assistant Administrator for Africa and adjunct professor at the Africa Center for Strategic Studies, testified before the U.S. Senate Committee on Foreign Relations on the volatile situation in South Sudan.
In her testimony, Professor Almquist Knopf—who recently authored an ACSS research paper on South Sudan—assessed the current crisis and offered several recommendations both for short- and long-term gains.
According to Professor Almquist Knopf, "the current crisis [was] neither inevitable, nor unstoppable. It is political and ultimately a failure or South Sudanese leadership."
While the unique conditions in which the country became independent called for creative thinking and bold steps following the end of decades of war with northern Sudan, Professor Almquist Knopf said the political leadership in South Sudan is yet to show that capability. The government of South Sudan is still undergoing an arduous transition from liberation movement to civilian government, and she warned the audience not to rush to judgment because "institutional development takes decades, and political transitions are inherently messy."
In her written testimony, Professor Almquist Knopf said the United States can play a crucial role because of its great influence in the country. Her recommendations to Congress include:
Pressure both parties in conflict to end the fighting;
Release the political detainees arrested following the outbreak of fighting in Juba;
Allow full and unimpeded access for humanitarian response and;
Accept a U.N. Commission on Inquiry to document human rights abuses.
Finally, Professor Almquist Knopf called for institutional transformation in South Sudan once the crisis has settled. For this to happen, she urged the government of South Sudan to:
Put in place a more inclusive government;
Expand the space for independent voices to be heard and;
Put the citizen's interest at the heart of government's action by responding first and foremost to citizen's priorities.
"Going forward, South Sudan's leadership can set a new course toward legitimacy, stability, and sustained development if it prioritizes above all else building trust, accountability, and social cohesion with and across the South Sudanese citizenry" she said. "There is no more essential state building task than this."
The U.S. Senate convened the hearing on South Sudan in an attempt to help U.S. lawmakers better understand the broader implications of the current crisis and the road to a political solution. Other panelists included: Ambassador Linda Thomas-Greenfield, Assistant Secretary of State for African Affairs; Ms. Nancy Lindborg, USAID Assistant Administrator, Bureau of Democracy, Conflict and Humanitarian Assistance; Ambassador Princeton Lyman, Former Special Envoy  for Sudan; and Mr. John Prendergast, Co-founder of Enough Project.
Related content:
» Ask the Expert: Prof. Kate Almquist Knopf on South Sudan
More on:  South Sudan​