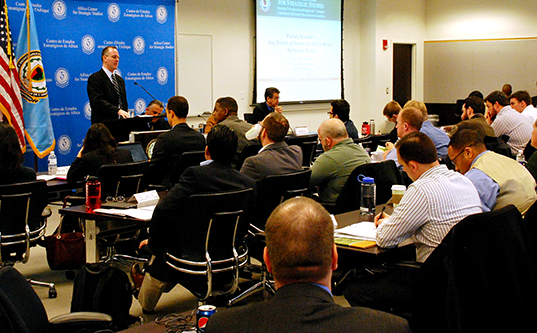 Advice for U.S. government personnel assigned to duties relating to Africa: The sheer diversity of the continent, approximately three times larger than the United States in both land mass and population, makes it impossible to apply a fixed set of indicators to explain its social, economic, political and security dynamics and challenges. Furthermore, if the finer nuances and issues in each country context are not well understood—and if the right sets of relationships are not established—it will be difficult, if not impossible, to build the level of trust required to deepen the U.S.-Africa relationship.
These are some of the issues discussed at the Introduction of African Security Issues (IASI) Seminar scheduled for January 27–30, 2014, in Washington, D.C. IASI is the Africa Center's in-house program designed to equip U.S. government officials with an understanding of African political, security, economic, and social issues and trends.
The session brought together approximately 40 staffers with Africa responsibilities from various U.S. government departments and agencies, including the Department of State, the Department of Defense, Defense Intelligence Agency (DIA), Defense Threat Reduction Agency (DTRA), Defense Security Cooperation Agency (DSCA), United States Agency for International Development (USAID), Federal Bureau of Investigation (FBI), Office of the Director of National Intelligence (ODNI), and U.S. Africa Command (AFRICOM), among others.
"African culture places a high value on personal relationships," Mr. Anton Baaré, a senior officer at the World Bank, advised. "Fostering cross-cultural relationships should therefore be at the forefront of official contact and engagement with African partners and interlocutors."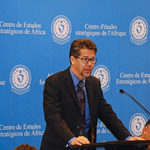 Mr. Baaré also told participants that the quality of their analysis on Africa would greatly depend on the quality of their connections and the cultural appropriateness of data collection methods.
"Because African partners consider it impolite to say no to foreign interlocutors, data collection methodologies requiring simple 'yes' or 'no' answers are unreliable in the African context. … A conversational, relationship-building approach is much more valuable," Mr. Baare observed.
Ms. Lauren Ploch Blanchard, an Africa analyst with the Congressional Research Service (CRS) echoed similar views.
"Too often we make the mistake of using Western conflict-assessment models in attempting to understand the African context without critically examining their applicability or relevance," she cautioned. "It would be better if we applied context-specific analysis based on indicators that should be developed together with partners on the ground. … After all, they understand the issues better."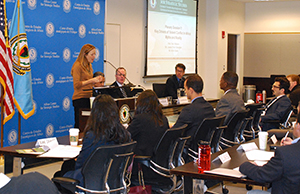 "It should also be borne in mind," she continued, "that not every problem has an immediate solution. … Solutions in most African contexts are forged during protracted processes of conflict resolution which sometimes take years to materialize. … U.S. policy makers should therefore focus on more long-term strategic engagement."
Ms. Blanchard, in responding to a question about how the United States could develop more strategically focused defense partnerships with African countries, urged participants to understand key elements of the African strategic culture.
"In their interactions with U.S. counterparts, the Ethiopians, for instance, always remind us that they fought alongside U.S. and U.N. forces in Korea from 1950 to 1953," she said. "The Ethiopians, like many other African partners, remind us as well that Africa is home to some of the world's oldest civilizations, many of which continue to shape African attitudes towards international relations. … American interlocutors would gain a lot from understanding these dimensions of the African experience and how they affect how Africans interact with the West."
Professor Paul Williams, an Associate Professor of International Affairs and Director of the Security Policy Studies Program at the Elliot School of International Affairs at George Washington University, urged participants to develop a better understanding of the African Regional Economic Communities (RECs) such as the Economic Community of West African States (ECOWAS) and Southern African Development Community (SADC).
"Besides forming the foundations for the Regional Standby Brigade mechanisms, the RECs have over the years developed capabilities and experience in early warning, peace enforcement, and peacekeeping, which are all part of Africa's emerging peace and security doctrine," he stressed.
"American interlocutors need to understand and work more closely with these structures in order to develop a more proactive and strategic engagement," Prof. Williams said, "which reflects regional security nuances rather than a policy which views the continent as an undifferentiated monolithic whole."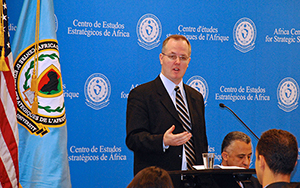 Professor Williams, who is also a visiting professor at the Institute of Peace and Security Studies at Addis Ababa University in Ethiopia, also advised participants expecting to deploy in conflict zones to be sensitive about the message that the military uniform conveys to victims of conflict.
"People in uniform, regardless of what military force their uniform represents, tend to be viewed with suspicion in conflict or post-conflict environments," he warned. "American military engagement in such environments should therefore be based on solid civil-military relations to help partners overcome suspicion and build confidence."
In concluding the question-and-answer session, Mr. Baaré of the World Bank reminded the audience that Africa has over the years created several institutional and normative frameworks such as the African Charter for Human Rights, New Partnership for African Development (NEPAD) and the African Charter on Democracy, Elections and Governance (ACDEG).
"Basing U.S. policy engagement on instruments and commitments crafted by Africans themselves might be more effective than invoking international instruments alone," he suggested. "The key message is that U.S. policy needs to be more strategic, sophisticated, patient, nuanced, and collaborative."