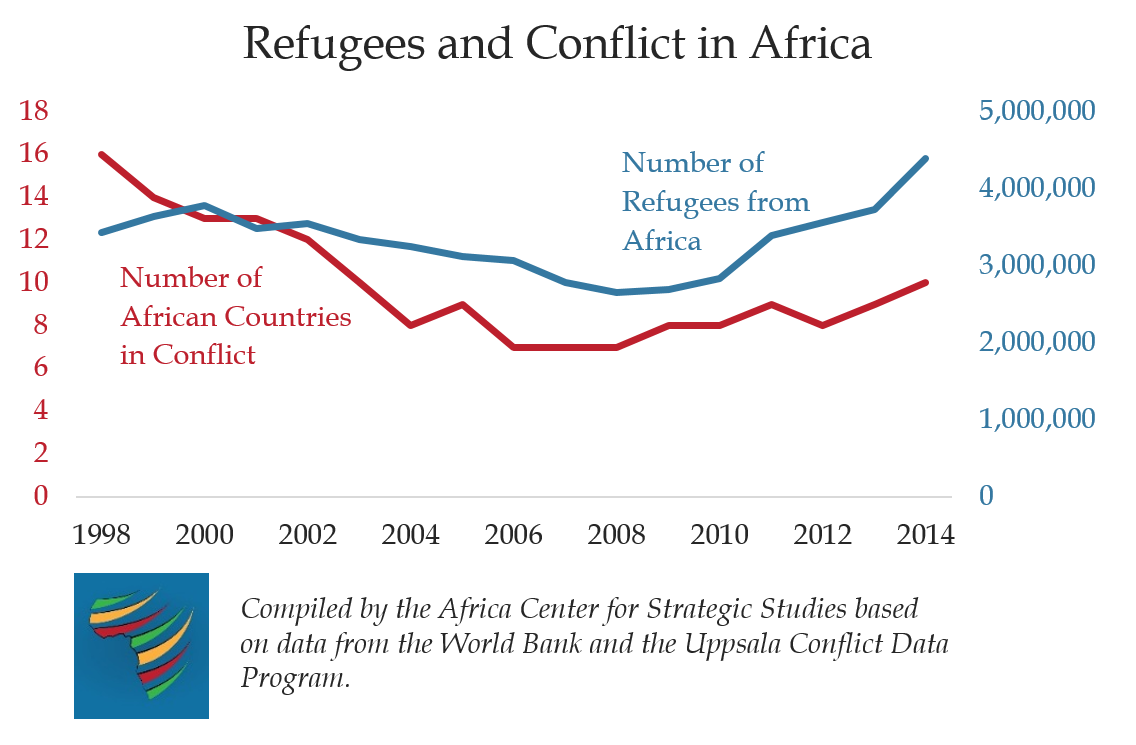 After a period of decline, nine African conflicts have erupted or been reignited in recent years, and today Africa endures more intrastate conflicts than any other region of the world. While Africa has only 16 percent of the world's population, it is home to 52 percent of the world's armed conflicts. As a result, 25 percent of the world's 60 million forcibly displaced people are in Africa, half of whom are children.
The vast majority of refugees are hosted by neighboring countries, highlighting the regional costs of conflict and political instability. Many of these countries end up hosting large refugee populations for years. In Africa the focal point for refugees is East Africa and the Horn. The principle sources of the region's people displaced by conflict are the Democratic Republic of the Congo (DRC), Somalia, South Sudan, and Sudan. Given their proximity to these centers of instability, Ethiopia (702,000), Kenya (552,000), Uganda (428,000), and Chad (421,000) are the largest African hosts of refugees. The source of the greatest internal displacement on the continent is Sudan with 2.27 million IDPs, followed by the DRC with 1.5 million, South Sudan with 1.54 million, and Nigeria with 1.39 million.
These large-scale displacements have enormous social, economic, political, and human costs. According to the International Organization for Migration's Missing Migrant project, migrant fatalities during migration to Europe in 2015 increased by 15 percent compared to the previous year, reaching at least 3,770. Africans formed the largest percentage of these casualties.
More on:  Africa Security Trends​ Migration​