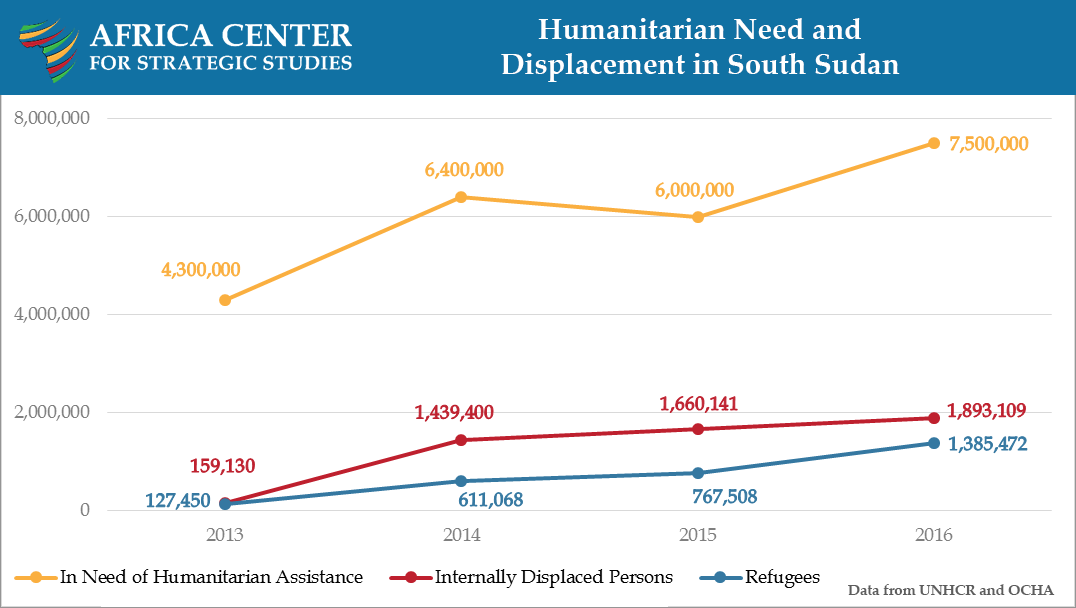 Click on image for PDF version
A spike in political violence in South Sudan since mid-2016 has caused the worst humanitarian crisis in that country since its decades-long civil war with Sudan. Millions have been driven from their homes, and violence against civilians and aid workers has prevented humanitarian assistance from reaching those most in need. Farmland lies fallow as nearly five million people are experiencing severe food insecurity. This includes more than 100,000 who are in a state of famine and another million on the brink of starvation. According to the UN Commission on Human Rights, serious human rights violations and ethnically targeted violence have been committed by the government, bringing the country to the edge of genocide. The man-made humanitarian disaster sees no signs of abating without concerted regional and international action.
Between December 2013 and December 2016, the number of South Sudanese displaced from their homes increased from 2.5 percent of the population to 25 percent of the population—an estimated 3,278,281 people.
Seventy percent of refugees are under the age of 18.
Two out of three South Sudanese are in need of humanitarian assistance.
Famine has been declared in two counties of Unity state, where half of the population has been displaced from their homes. In Greater Equatoria, where fighting has been among the most intense, the number of displaced persons has increased 250 percent since July 2016.
More on:  Africa Security Trends​ Conflict Prevention or Mitigation​ Stabilization of Fragile States​ Food Security​ South Sudan​