South Sudan is arguably the most fragile state in the world. Lacking an institutional legacy at its creation in 2011, political, security, economic, and social indicators have all deteriorated with the ongoing civil conflict.1 As state legitimacy has eroded, the number of armed factions and tribal militias has increased rapidly, now exceeding 40 such groups.
"The erosion of the government's presence in rural South Sudan and its retreat to Juba has prompted some observers to argue that South Sudan has been reduced to a city-state."
One consequence of the prolonged conflict is that South Sudan is now one of the main exporters of refugees in the world with nearly 2.5 million people seeking exodus in neighboring countries and another 1.85 million internally displaced. Nearly 7 million people (60 percent of the pre-crisis population) face famine and severe food insecurity. The economy has almost collapsed with annual inflation fluctuating between 100 to 150 percent. Conflicts within and between communities have led to social fracturing and the erosion of social cohesion, the very assets that served southerners well in their long struggle against Arab-Islamist hegemony from governments in Khartoum. The retreat into ethnic cocoons that threatens national unity is due, in part, to the dynamics of the conflict but also to the refusal by ruling elites to embrace diversity and devolution of decision-making power and resources from the center.
The fledgling state of South Sudan now faces three possible trajectories.
Scenario 1: Status Quo
The first scenario is characterized by the numerous and serious challenges currently creating instability:
Continuing insurgency in which no single party to the conflict can impose its will militarily
Ethnically motivated violence
A man-made famine caused by the conflict and the collapse of food and economic production accompanied by mass displacement within and outside of South Sudan's borders
Human rights violations, including war crimes and crimes against humanity
State incapacity caused by the disintegration of state institutions with security institutions not only unable to discharge what constitutes the state's primary mandate of securing limb and property but also standing out as a key source of violence and instability
Amid the numerous challenges detailed above, the erosion of the government's presence in rural South Sudan and its retreat to Juba, the capital city, has prompted some observers to argue that South Sudan has been reduced to a city-state. This retreat has created large ungoverned spaces (that were already challenged by South Sudan's expansive geography) in which insurgents, militia, and what remains of the South Sudanese military clash repeatedly while preying on and victimizing civilians wantonly, primarily on an ethnic basis.
Yet, this "national conflict" overlays a cornucopia of preexisting conflicts within, between, and among communities over resources, including land, pasture, water, and cattle. Moreover, conflicts related to "cultural practices," such as honor killings, often result in intergenerational blood feuds that add additional layers of complexity to the conflict.
This devastating account of the challenges that confront stabilization and peace efforts paint an undoubtedly bleak and dreary picture of what the future holds for the people of South Sudan. The bad news is that it could get worse.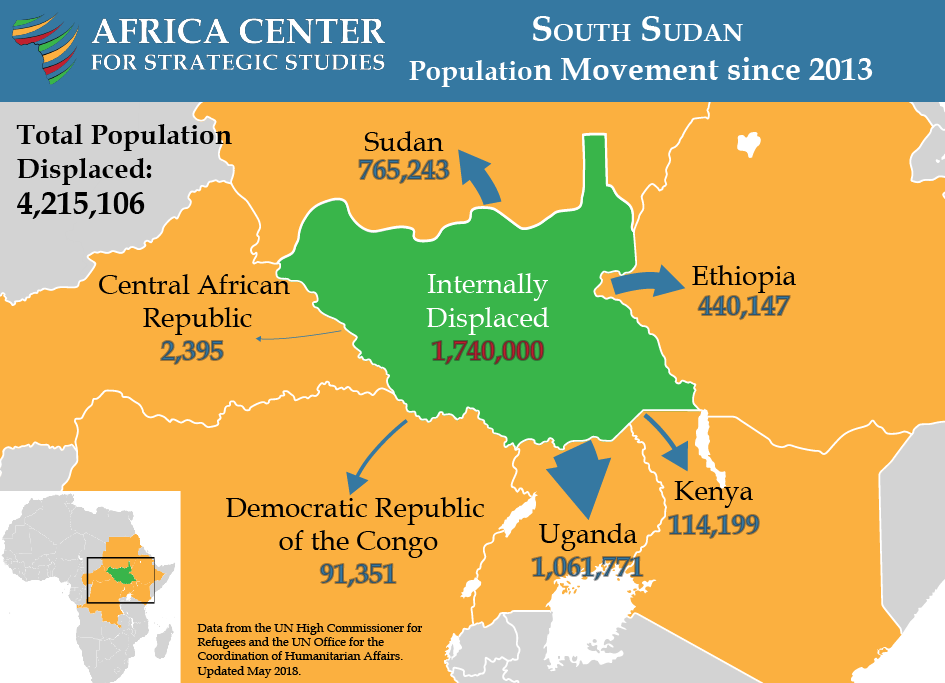 Scenario 2: The Hobbesian State
The second scenario represents a state of permanent anarchy in which life is nastier, shorter, and even more brutish than it has been for an overwhelming majority of South Sudanese up to the present. It would be characterized by the:
Degeneration of the status quo into chaos, anarchy, lawlessness, or ochlocracy. This would be accompanied by the continued factionalization of political and ethnic groups. Survival would be entirely dependent on strength of arms. Weaker communities would be forced to flee or be eliminated.
Inability to pay the salaries of state functionaries, judges, and other bodies of arbitration resulting in a total shutdown of government.
Prospect of regional powers intervening militarily in favor of one or several factions increasing the intensity, scope, and longevity of violence. This would render war intractable.
Disintegration of economic conditions making trade, capital transfers, and infrastructural maintenance unviable. As a result, militia and other security personnel would increase their extortionist activities.
"In essence, the territory of what is currently South Sudan would revert to a stateless entity."
In essence, under this scenario, the territory of what is currently South Sudan would revert to a stateless entity. There would be a period of massive death as famine and conflict ravaged the remaining population, which would exist on a much smaller scale and on a subsistence basis. The vast ungoverned space would also pose a regional security vacuum, potentially inviting proxy conflicts by regional actors seeking to exploit South Sudan's resources while creating a buffer against instability on their borders.
Scenario 3: Pathways to Stability
A third scenario presents a South Sudanese society in which citizens enjoy physical security, can meet their basic material needs, and relate with others from within and outside their own communities in coexistence. Realizing this vision will entail concerted and multifaceted efforts to address the challenges detailed above.
Key among the conditions necessary for the stabilization efforts to work is a conducive environment. The Agreement on the Resolution of Conflict in the Republic of South Sudan (ARCSS), signed in August 2015, provides a framework and minimum conditions for silencing the guns and working toward sustainable peace and stability. As the conditions under which the ARCSS was concluded have deteriorated considerably, the revitalization of the ARCSS is a critical initial step for renewing the commitments of the parties and creating the conditions for stabilization efforts to commence. This revitalization dialogue should be open to all political entities currently active in South Sudan. A realization that the situation for nearly all communities has declined since 2015 and can degrade still further should provide an impetus to reboot these commitments.
"A realization that the situation for nearly all communities has declined since 2015 and can degrade still further should provide an impetus to reboot these commitments."
Given the many tragic events that have unfolded since 2013, as a confidence-building measure, the deployment of the 4,000-strong Regional Protection Force (RPF) constitutes an integral part of this effort. The size of this force may indeed need to be enlarged considering the challenges created by the expanded scope of the conflict. This temporary outsourcing of security services is one of the elements that can create a conducive security environment enabling other aspects of the stabilization process to proceed.
Stabilization efforts will also require strategic direction at the national level. Given that the Kiir-led government lacks legitimacy due to the non-implementation of the ARCSS, the installation of an encompassing, public-spirited political authority for a period of time to lead stabilization efforts and to lay the groundwork for democratic elections is critical. Various options may be contemplated here including: an international transitional administration,2 an African Union-led transitional administration,3 or a caretaker transitional administration led by South Sudanese technocrats.4 These arrangements should be accompanied by a negotiated exit strategy for the current political leaders.5 In view of capacity gaps and lack of trust in sections of the South Sudanese political class, a hybrid arrangement composed of untainted South Sudanese technocrats and African Union-United Nations nominees may be the preferred pathway for managing the transition in South Sudan.
Efforts to redesign and transform security sector institutions in South Sudan should draw on the experiences of Liberia (inviting foreign security forces to manage the security sector while local security sector institutions are built up) and Burundi (ethnic-based quotas in the security forces).
Although most reform efforts in the security sector have a political dimension, there is a tendency in Africa to regard such reforms as purely technical endeavors, and this complicates implementation. Scrupulous attention to the political aspects, including the participation of political parties and other actors in the future transformation of the security sector, is central to ensuring sustainable stability.6
Conclusions
The current situation in South Sudan is rapidly degenerating into a Hobbesian state of nature, and options for rescuing its sovereignty are eroding every day. To reorient the country toward a pathway that leads to a united and peaceful South Sudan, it is proposed that stakeholders prioritize revitalizing and injecting new life into the ARCSS coupled with the completion of the deployment of the RPF. Doing so can create a more conducive security environment for stabilizing South Sudan. Parallel efforts should continue focusing on saving lives, restoring livelihoods, as well as restoring confidence and nurturing social cohesion. The establishment of effective and accountable security institutions and formation of a national army is a long-term exercise that requires a thorough and cautious approach. The measures outlined above help create the time and space to undertake this process so that it will have the opportunity to gain traction.
Notes
More on:  Security Sector Governance​ Stabilization of Fragile States​ South Sudan​