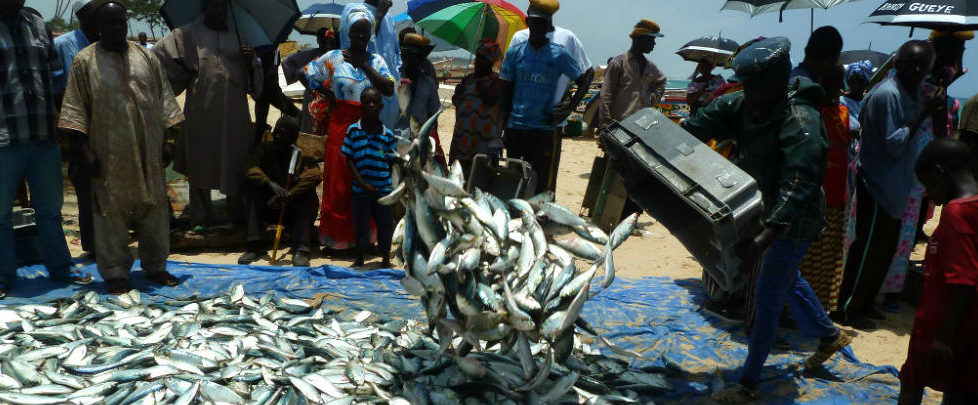 Africa's 16,000-mile coastline gives two-thirds of its countries direct access to a sea of riches. The maritime domain offers enormous earning potential through fishing and tourism. It serves as a major cultural reference point and a vital source of livelihoods for both coastal and inland communities. Maritime access, moreover, gives Africa a strategic advantage for international trade, diplomacy, and national development.
The maritime domain is also a source of insecurity that affects the continent's stability. Piracy, narcotics trafficking, arms smuggling, and other transnational threats all thrive in Africa's maritime space, undercutting government authority and investor confidence. "There is no national security without maritime security," says Dr. Assis Malaquias, an expert on maritime safety and security for the Africa Center for Strategic Studies. And yet, national security and economic policies rarely emphasize maritime security due to a lack of awareness, political will, and resources. In the effort to strengthen maritime security efforts on the continent, the Africa Center for Strategic Studies brought together participants from 12 African countries in Accra, Ghana, from March 2–4, 2016, to review the process of developing maritime national security strategies.
Strategic Importance of the Maritime Domain to Africa's Security and Development
"When you look at the African map it is easy to ignore the waters around the continent, and yet this is a feature that makes Africa important," according to Dr. Malaquias. "The maritime domain is not given the priority it deserves. … Thirty-eight African countries are either coastal or inland states. Only 15 are landlocked. … Furthermore, none of the 38 coastal states can fully claim sovereignty over territorial waters."
The world's primary maritime routes encircle Africa. Yet Africa's share of global trade (roughly two percent) remains very small, despite being home to more than 15 percent of the world's population. Ninety percent of intra-African trade, including two-thirds of its energy supplies, arrives by sea, making it a vitally important economic engine, especially given recent offshore oil and natural gas discoveries in countries such as Angola, Mozambique, and Nigeria.
The maritime domain is also a potential source of major non-oil revenue. In Kenya, for instance, tourism represents 12 percent of GDP, 60 percent of which consists of visits to the coast. By 2050, Africa's population will have doubled to 2.5 billion, and achieving the growth levels required to sustain this massive population explosion will be impossible if the maritime domain is not harnessed and protected.
Sources and Effects of Maritime Insecurity
According to the African Union, the Gulf of Guinea experiences one pirate attack weekly, causing a 4.1 percent annual decrease in shipments. Piracy in the Gulf of Aden costs Africa $25 billion annually, and since the 1960s, $100 billion in oil revenues has been lost due to insecurity in African seas. Given these numbers, Dr. Malaquias warns that piracy should not only be viewed as a criminal issue, but as a major strategic impediment to Africa's development since sustainable economic growth depends on trade, which itself depends on safe seas.
Maritime insecurity has also allowed global arms, narcotics, and human trafficking to flourish, as smugglers exploit Africa's weak maritime law enforcement and customs procedures, the lack of government control over maritime domains, and corruption. As a result, the consequences of maritime insecurity have mushroomed. And while the old paradigm suggested that drug use was a mainly Western problem, many African countries have evolved from being a transit point to being important markets in the global narcotics trade, straining already weak public health systems, food security, law and order, and public safety.
Illegal, Unreported, and Unregulated Fishing
A half billion Africans rely on fish for their protein intake, requiring 1.6 million tons of fish annually to maintain current consumption. While this heavy demand is expected to increase to 5.2 million tons by 2030, Africa's fish stocks are declining at an alarming rate, with major repercussions for social and political stability. According to the African Union, illegal fishing results in an annual loss of $10-15 billion, much of it occurring in Africa. Poor fishery management has cost the continent $50 billion since independence. Illegal fishing is both a cause and an effect of decreasing fish stocks. As fish resources elsewhere are decreasing and the demand and value for fish is rising, African marine resources are gaining strategic and financial value, but to the detriment of fish stocks and economic livelihoods.
These resources are a magnet for illegal trawlers from China, Europe, the Philippines, Russia, South Korea, and Taiwan who are thriving due to poor enforcement capacities. The long-term cost is a cause for concern. Dr. Malaquias notes that the fishing industry is indispensable to reducing extreme poverty in environments characterized by exponential population growth and rising levels of youth unemployment. Today the fish trade generates livelihoods for more than 100 million Africans, but as the coastal environment deteriorates, so too do family incomes.
Increasingly, African countries are taking note, and many are now engaging in a process that will lead to the development of comprehensive strategic frameworks for national maritime security. It started at the regional level, first with the adoption of the Africa Integrated Maritime Strategy 2050, followed by the establishment of regional maritime security strategies by the Regional Economic Communities of Western, Central and Southern Africa. These frameworks now need to be translated into national strategies, according to Dr. Malaquias. National maritime security strategies are the building blocks of an effective regional strategy, cooperation around which is indispensable given the transnational nature of maritime threats such as illegal fishing, piracy and arms trafficking.
Africa Center Expert
More on:  Maritime Security​ Maritime Security​