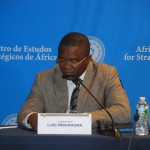 "Maritime security is an integral part of a nation's overall economic performance," maritime security expert Loïc Moudouma said in a seminar held at the Africa Center for Strategic Studies. He was speaking to a gathering of senior U.S. officials, academics and researchers and members of the African diplomatic corps. The seminar, titled "Africa's Security and the United States: Converging Interests and Expanding Partnerships," took place July, 29, 2014, at National Defense University in Washington, DC.
Commander Moudouma is the Lead Maritime Security Expert at the Economic Community of Central African States (ECCAS) and an officer in the Gabon Navy.
» See also: African experts discuss the continent's security issues ahead of the U.S. Africa Leaders' Summit
He raised two key issues: first, in the past decade piracy in the West African maritime domain has increased causing a substantial loss of oil revenues. The International Maritime Bureau estimates that the amount of oil pilfered in 2012 was between 34 and 100 million barrels. Such colossal losses in vital revenues undermine development in several coastal states, according to the Commander. Second, the maritime domain has become an increasingly important environment for trafficking of persons, drugs, weapons and illegal immigration. The problem is exacerbated by the lack of effective control over this domain. "The African state is absent at sea," Commander Moudouma told participants.
The discussion went on to explore several themes and implications for U.S. policy. "African security professionals value and rely on the United States to raise the profile of security initiatives with African Heads of State and Ministers," Commander Moudouma noted.
He told participants that analysis and recommendations from government or civil society actors within Africa are often ignored but if the same issues are picked up by official diplomatic channels or released in partnership with U.S. organizations the attention generated in Africa is magnified.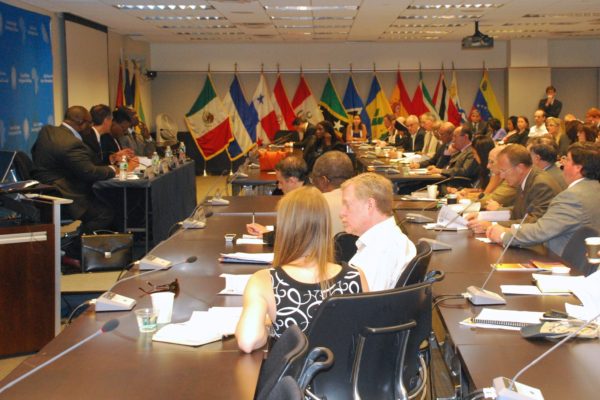 "Forums organized by actors such as the Africa Center for Strategic Studies therefore have a crucial role to play," the Commander argued. He urged ACSS and the United States Africa Command (USAFRICOM) to provide more technical assistance on maritime safety and security with emphasis on maritime governance, maritime economics and maritime civil and criminal authority.
The nature of the partnership between African and American counterparts was discussed extensively in the session.
"American assistance should be directed towards supporting African mechanisms," Mr. Moudouma suggested.
He cited the example of the process leading up to the Yaoundé Protocol providing a framework for maritime security cooperation between the Economic Community of West African States (ECOWAS) and ECCAS. This process, which was facilitated by USAFRICOM and ACSS, created for the first time a strategic framework for regional cooperation on maritime security issues.
The partnership was effective because it "worked within an African framework," the maritime expert stressed.
Several recommendations were offered: first, training and capacity building programs should be elevated to the strategic level in order to create awareness among senior policy makers about the importance of maritime security; second, African countries need more support in designing maritime national security strategies; and third, African maritime capabilities need to be better aligned with national policy.
"The maritime domain cannot be ignored and the time is right to bring it to the forefront of policy," Mr. Moudouma said in his closing remarks.
More on:  Maritime Security​