A Creeping Threat
"The Center is what binds our country together," observed Ali Nouhoum Diallo, the former president of Mali's National Assembly. Yet, it is in the center of Mali that violence has dramatically escalated since 2015. Since then, reported violent events linked to militant Islamist groups in Mopti and Ségou regions increased from a few dozen to nearly 150 per year, making central Mali the most dangerous region in the country. Over 500 civilians were killed in this region in 2018, and more than 60,000 people have fled the violence. In Mopti region, over 972,000 people are in need of humanitarian assistance. Despite growing international and regional engagement, the cycle of violence has not stabilized.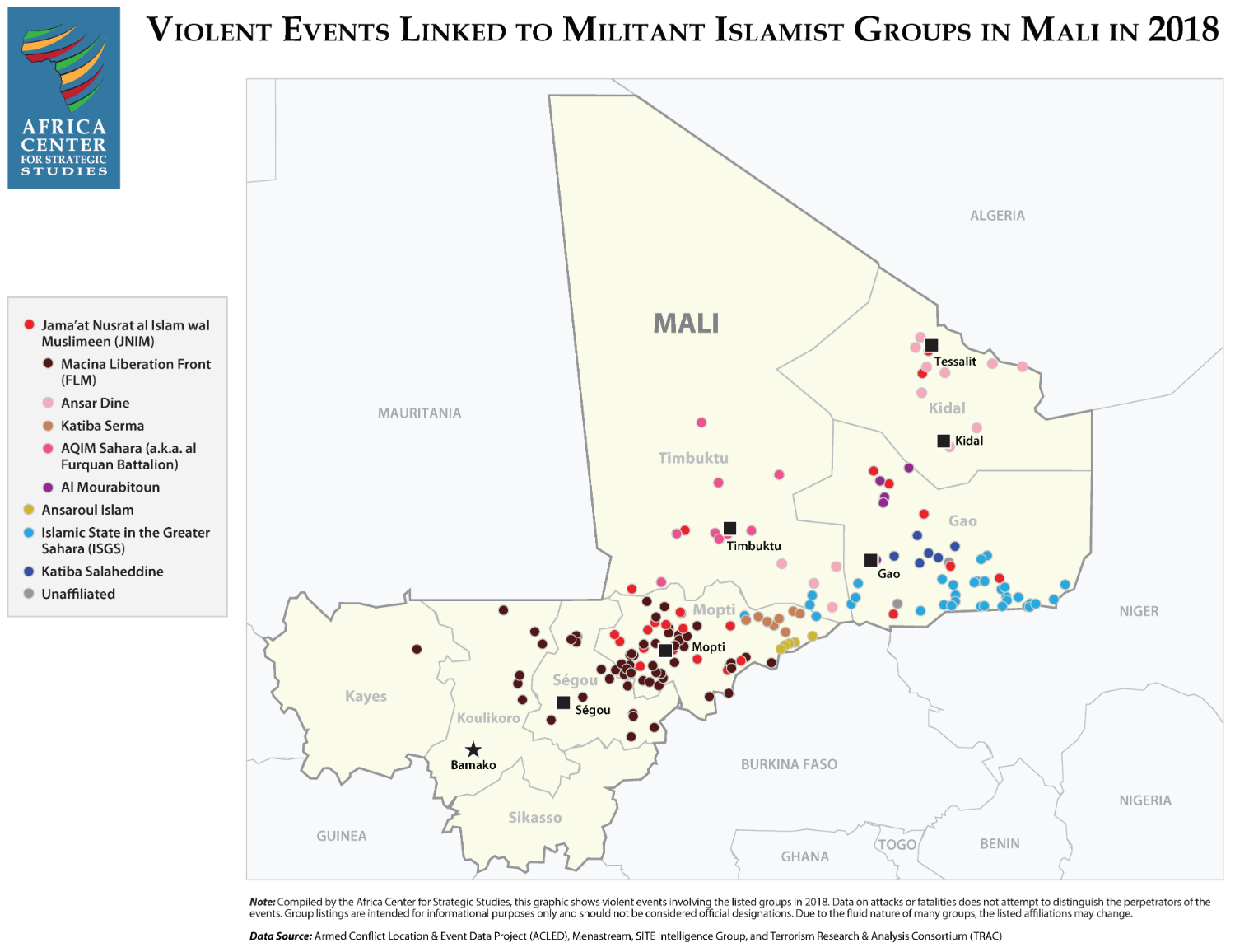 Click for printable PDF version.
Just as central Mali has become the focus of violent extremist activity within the country, Mali as a whole has accounted for 64 percent of all violent episodes in the Sahel linked to militant Islamist groups. While the upsurge in violence is attributed to a coalition of extremist groups that fall under the umbrella Jama'at Nusrat al Islam wal Muslimeen (JNIM, the Group to Support Islam and Muslims), one group in particular has played an outsized role in this destabilization: the Macina Liberation Front (FLM), also known as Katiba Macina. In 2018, the FLM was linked to 63 percent of all violent events in central Mali and a third of violent events in the whole of Mali.
Who Is the Macina Liberation Front and What Are Its Motivations?
The Macina Liberation Front first arrived on the scene in January 2015, claiming that it would seek to "reinstall the Islamic Macina Republic." This name is a direct reference to the former theocratic Macina Empire, which from 1818 to 1863 encompassed a large territory comprising Ségou, Mopti, and Timbuktu regions. The Macina Empire, which was dominated by the Fulani ethnic group, applied Islamic rule across its territory. FLM has drawn on narratives of this historical empire to gain popular support, with the overarching goal of taking over the territory in central Mali and substituting itself for the Malian state.
When it emerged, Katiba Macina was closely linked with Ansar Dine and its chief Iyad Ag Ghaly, although the FLM did not initially acknowledge it publicly. Founded in 2012, Ansar Dine was among the coalition of jihadist groups who allied with Tuareg separatists in an offensive to take control of northern Mali.
Katiba Macina was founded by Amadou Koufa, a Fulani radical preacher from the Mopti region. Koufa grew up in the small town of Niafunké in central Mali. He first worked as a griot, a traditional poet, advocating for more social justice and practicing a moderate form of Islam. While educated in Qur'anic schools, he is believed to have been radicalized in his forties after being in touch with Pakistani preachers from the Dawa sect. Originally named Dawa Tabligh Jama'at, the group first expanded from Pakistan to India, Afghanistan, and Qatar. It reached Africa in the late 1990s, funding mosques and madrasas, starting in Algeria, Mauritania, and Libya. It gained influence in Mali in the early 2000s.
Following his contacts with Dawa, Koufa travelled to the Middle East and Afghanistan. Upon his return to Mali around 2008-2009, Koufa's radicalism intensified. He opposed the new Malian family code, which he saw as too progressive (the code had proposed greater gender equality in marriage and raising the legal age of marriage to 18, among other features). It was during this period that Koufa met his mentor, the Tuareg Malian Iyad Ag Ghaly. Thereafter he spread his radical preaching through, among other means, social media platforms such as WhatsApp and Facebook.
In 2012, Koufa joined Ansar Dine during its quest to control northern Mali. Between July and December 2012, he received military training, probably in the Timbuktu region. He also negotiated with Malian authorities to free militants captured in Kidal and in Tessalit. On January 10, 2013, Koufa led an offensive by Ansar Dine, Al Qaeda in the Islamic Maghreb (AQIM), and the Movement for Unity and Jihad in West Africa (MUJWA or MUJAO) into the town of Konna in central Mali, and declared himself the "Sultan of Konna." This was the militants' deepest push toward Mali's capital of Bamako during the jihadist occupation of northern Mali following the Tuareg rebellion of 2012. Only the French-led operation Serval halted this advance. After the military defeat, Koufa managed to hide while supporting jihadist attacks in northern and central Mali, including by acting as a spiritual leader to Islamist militants.
During this incubation period, Koufa continued to build ties with other militant groups. As a result, the FLM is believed to be partially composed of former members of MUJAO and another splinter group, Al Mourabitoun. Collaboration with militant Islamist groups has been a feature of FLM throughout its existence. When Katiba Macina released its first official video on May 18, 2016, it introduced itself as affiliated to Ansar Dine and its leader, Iyad Ag Ghaly, suggesting that it was Ansar Dine's "Fulani branch." In a video published on March 2, 2017, Amadou Koufa appeared next to Ag Ghaly and other senior jihadist leaders, at the inception of the JNIM.
The first attacks officially attributed to FLM in early 2015—in the villages of Nampala, Ténenkou, and Boulkessi—were all against military targets. However, the FLM apparently initiated a major attack against the Byblos hotel in Sévaré, known for hosting international staff and expatriates, in August 2015. Thirteen people were killed, including four Malian soldiers and five contractors with the UN's stabilization mission in Mali, MINUSMA. Later that month, Barkérou city's imam, Aladji Sékou, to whom Koufa had been opposed, was brutally murdered. FLM also claimed responsibility for the attack on the Radisson Blu hotel in Bamako, on November 20, 2015. This attack, for which Al Mourabitoun also claimed responsibility, killed 22. The FLM is reported to have used IEDs, car bombs, and suicide attacks as tactics, including during the attack against the G5 Sahel's Joint Force headquarters, on June 29, 2018. In total, FLM is likely to be directly responsible for the death of hundreds of Malian military personnel. While the overall number of people involved with FLM is difficult to assess, it is estimated at between several hundred and several thousand, including the network of informants and those providing logistical support. FLM's militants now control several dozen villages in central Mali.
Koufa is believed to have been killed in an attack by the French operation Barkhane in November 2018, though AQIM's leader, Abdelmalek Droukdel denied this in December. Nonetheless, FLM's operational capacity does not appear to have been weakened.
Roots of Current Tensions
The FLM can be characterized as an opportunistic movement. Its leaders were likely inspired and mentored by AQIM and Ansar Dine's fundamentalist theoreticians. According to documents found in Mali by journalists in the aftermath of the French-led intervention in 2013, AQIM leader Abdelmalek Droukdel had advised AQIM and partner militant groups, including the future Katiba Macina, to "pretend to be a 'domestic' movement that has its own causes and concerns" and to avoid "showing that we have an expansionary, jihadist, al Qaeda, or any other sort of project." FLM has, accordingly, emphasized its domestic roots and downplayed its ties to global jihadist groups. By so doing, it has effectively remained under the radar of international counterterrorism efforts.
After the jihadist insurgency threatening Bamako was defeated in January 2013, Islamist militants scattered and started hiding among the population, notably in northern Mali and in Niger. The return of Malian government officials to central Mali was accompanied by a pattern of complaints of abuses against local populations, including summary executions by the Malian Armed Forces. Similarly, episodes of collective punishment were alleged to have taken place after the security forces returned – incidents that were rarely investigated. The return of civil servants, likewise, was at times linked to a resumption of racketeering and bribery. Indeed, for some residents, the departure of government officials had brought with it a silver lining: the end of taxation, predation, and other harassment. It was against this backdrop that Koufa and his lieutenants recognized that they had a window of opportunity in central Mali, a territory already suffering from widespread poverty.
Economic Grievances
Central Mali has for decades been one the poorest regions in what is one of poorest countries in the world.
Living conditions for communities in central Mali are bleak. In the rural Ségou and Mopti regions, the child mortality rate has hovered around 120 per 1,000 live births, compared to 83 per 1,000 in urban areas. The poverty rate is estimated at around 60 percent in these regions, whereas the poverty rate is around 11 percent in Bamako. In effect, central Mali has for decades been one the poorest regions in what is one of poorest countries in the world. In 2014, it had the lowest rate of electrification (7 percent versus 23 percent at the national level) and the lowest primary school rate (42 percent versus 72 percent nationally) in the country.
FLM offered an alternative to severe poverty. Financial incentives became a powerful recruiting tool, especially among young men. For instance, youth recruited by FLM to commit suicide bombing attacks may have been offered up to 750,000 CFA francs ($1,300), a small fortune in rural Mali.
Given the limited availability of public education in central Mali, many schools are Qur'anic. Educational models in the central Sahel have also been criticized for being poorly adapted to the needs of mobile, transhumance communities. By targeting state educational programs, the FLM has attempted to reinforce the choice of religious education as the only alternative for many families in central Mali—and in the process further cultivate the region as fertile ground for potential recruitment.
Ethnic Grievances
Koufa's effectiveness came in part from his mastery of radio as a tool for communication in Fulfulde, the native Fulani language. His calls for more equality of opportunity and political reform resonated among young Fulani herders aggrieved over the theft of their livestock, abuses by administrative authorities and certain traditional leaders, as well an identity crisis over their role in the religious, ethnic, and intergenerational crosscurrents buffeting many Sahelian communities. This explains why many of Koufa's recruits are likely to be Fulani and Malian media often refer to FLM as a Fulani movement. Nonetheless, there is little evidence to suggest that the FLM incorporates Fulanis from elsewhere in West Africa. Even in Mali, it's not clear how many of the country's 3 million Fulani (roughly 17 percent of the total population) have joined or support the FLM.
The FLM has used grievances of the Fulani community to fuel tensions and rivalries between tribes, some of which have existed for decades. Historical tensions between herders, generally from the Fulani tribe, and farmers, mainly Bambara and Dogon, have long existed in these regions. Until 2010, these were mostly managed in a peaceful manner, and outbreaks of violence were limited in scale.
Amadou Koufa cleverly manipulated these tensions, endorsing feelings of injustice and discrimination widespread among the Fulani community and using their grievances as a banner to generate cohesion. For example, in May 2012, a land dispute led to the massacre of 16 Fulani herders by Dogon farmers in Sari (Koro circle, southeast of Mopti), where there were no police officers stationed. This attack, which was never investigated, nor the perpetrators punished, is believed to have played a direct role in the decision by nomadic Fulani groups to arm themselves. That same year, some of them joined the radical movements that were occupying Gao. Since 2015 and the rise of the Katiba Macina in central Mali, the FLM has been accused of targeting Dogon and Dozo communities, often in retaliation for violence perpetrated against Fulanis. Having associated themselves with the FLM, the Fulani have become targets for violent reprisals. Communal violence has increased dramatically in central Mali since early 2018, with Fulanis believed to have experienced the highest number of fatalities in central Mali. Adding to the complexity, observers fear that external mercenaries may have been used to foment inter-communal tensions and provoke greater violence.
The Fulanis have long harbored feelings of political and economic marginalization in Mali.
Because of their nomadic way of life, the Fulanis have long harbored feelings of political and economic marginalization in Mali. They believe that successive peace agreements have not taken their interests into account and instead compensated those who have stolen Fulani herds. This unfair treatment, they believe, reduces them to second-class citizens. Whether real or perceived, this feeling of exclusion and underrepresentation has fueled growing discontent among the Fulani community, which has proved a key factor to FLM's attractiveness in central Mali.
Filling the Vacuum
The FLM has pursued a two-faced strategy in central Mali. While mobilizing support around the lack of public services, the group has been actively involved in forcing out state officials through violence and intimidation. The FLM has then strived to establish its control and to arrogate to itself the role and powers of the state, including functions of justice, security, economy, and education. Since 2015, this strategy has led to the progressive disengagement of the state in the form of police officers, the military, mayors, and teachers from central Mali. By the end of 2018, 478 schools were closed in Mopti and Ségou regions, representing 68 percent of schools in Mopti. Sixty-five percent of all closed schools in Mali are in the central region. Only health structures have been preserved.
The FLM has pursued a two-faced strategy in central Mali. … Since 2015, this strategy has led to the progressive disengagement of the state.
The FLM has imposed Islamic law to solve disputes, instituted a new tax (zakat), and imposed strict behavior rules, especially on women. Despite the harsh conditions imposed by FLM militants, they are sometimes perceived as a viable alternative to the Malian state, whose institutions are often seen as corrupt and abusive by local communities. For instance, government officials responsible for water, forestry, or security are commonly alleged to extort money from shepherds during their travels. The challenge for the state, therefore, is to not only reestablish a presence in this territory but to rebuild trust with local communities.
National and International Responses
The government response to the growing extremist threat has been slow to come to central Mali. In the aftermath of the 2012 jihadist and Tuareg insurrection, attention had been focused on the north. Since 2017 however, national and external actors such as the G5 Sahel have launched significant military and development initiatives to benefit the populations in central Mali.
On June 28, 2018, the UN Security Council adopted Resolution 2423, allowing for a reinforcement of MINUSMA operations in central Mali, maintaining its 13,289 troops and 1,920 police personnel. The G5 Sahel—an intergovernmental partnership between Burkina Faso, Chad, Mali, Mauritania, and Niger—launched a Joint Force in 2017 with the objective of countering security threats in the region. Given its strategic position in central Sahel, the Joint Force's headquarters was originally set up in Sévaré, however, a deadly attack on June 29, 2018, destroyed the new infrastructure and compelled the Joint Force to relocate its headquarters to Bamako.
The G5 Sahel, the European Union, MINUSMA, the United States, and other actors have also invested significant resources in training and equipping Mali's security forces. Malian armed forces launched operation Dambé in 2017 with 4,000 soldiers, with the objective of countering the militant grip on central Mali. Former Minister of Defense and head of intelligence services Soumeylou Boubèye Maïga was appointed Prime Minister on December 31, 2017. He quickly acknowledged the need to address the situation in the central region. In February 2018, he went to several villages affected by violence near Mopti to show support to the population and announced the implementation of a comprehensive security plan, calling for 4,000 more military troops and enhanced financial and material support for the Malian Armed Forces. In December 2018, the government launched a new disarmament, demobilization, and reintegration plan, targeting diverse armed groups and militias active in central Mali with the objective of creating incentives for young militants to give up armed struggle. In January 2019, Malian President Ibrahim Boubacar Keïta travelled to central Mali to announce the installation of a new military base to support the region.
Alongside enhanced training and equipment, strengthening oversight of security forces' engagement with local populations is vital. Reports of arbitrary killings negate any efforts at trust-building. For example, on May 19, 2018, just months after the G5 Sahel Joint Force was officially on track, elements of the Malian Armed Forces reportedly killed at least 12 civilians during an operation believed to be carried out in retaliation for the murder of one of their soldiers in Boulikessi, in the Mopti region. MINUSMA was requested to assist the G5 Sahel Joint Force in investigating the case. This incident underscores the importance of justice as much as enhanced capacity for the security sector. Only by conducting investigations into allegations of abuse and taking corrective action publicly will the government be able to rebuild the trust that has been lost.
Beyond a security presence, reestablishing public services, especially quality educational opportunities for youth, is a priority. Past experience has demonstrated the importance of delivering these services with strong measures of accountability to ensure benefits reach the intended populations. The FLM's effective communications strategy also highlights the need to counter the group's narrative in person, on the radio, and on social media. This narrative will need to appeal to Fulani communities in central Mali to assure them that the government is not anti-Fulani, as the FLM would have them believe.
The FLM has become entrenched in central Mali over a period of years. In the process, it has demonstrated that it seeks to hold territory and take on the functions of the state. While the future direction of the FLM is uncertain, dislodging the group from this region will take some time and will require simultaneous strategic engagements on the political, economic, and educational fronts if it is to be effective.
More on:  Countering Violent Extremism​ Mali​ Sahel​