Visiting Assistant Research Fellow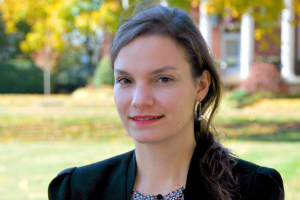 Pauline Le Roux is a visiting assistant research fellow focusing on the security challenges facing the Sahel. This includes examining the links between marginalization and extremism, priorities for stabilization, and understanding how structural trends of population growth and environmental fragility will shape the security landscape in the Sahel.
In previous roles, Ms. Le Roux focused on legal guarantees within the framework of an INTERPOL program aimed at addressing organized transnational crime in West Africa and enhancing police cooperation among West African countries. She previously worked on migration and humanitarian issues with the United Nations High Commissioner for Refugees (UNHCR) and the International Organization for Migration (IOM) in South Africa.
Ms. Le Roux holds a B.A. in law and political science from Pantheon-Sorbonne University and an M.A. in international law and administration from the Humboldt University of Berlin, Germany and from the Sorbonne Law School in Paris, France
Areas of Expertise
Marginalization, extremism, stabilization, population growth, environmental fragility, migration, humanitarian issues, Sahel



Spotlight

Ansaroul Islam: The Rise and Decline of a Militant Islamist Group in the Sahel / Ansaroul Islam : l'essor et le déclin d'un groupe islamiste militant au Sahel

Africa Center for Strategic Studies, July 29, 2019

Spotlight

Exploiting Borders in the Sahel: The Islamic State in the Greater Sahara / Comment l'État islamique dans le Grand Sahara exploite les frontières au Sahel

Africa Center for Strategic Studies, June 10, 2019

Infographic

A Review of Major Regional Security Efforts in the Sahel / Aperçu des réponses sécuritaires régionales au Sahel

Africa Center for Strategic Studies, March 4, 2019

Spotlight

Confronting Central Mali's Extremist Threat / Le Centre du Mali face à la menace terroriste

Africa Center for Strategic Studies, February 22, 2019

Spotlight

Growing Instability in Cameroon Raises Fundamental Questions about the State / Le Cameroun, un pays profondément déstabilisé

Africa Center for Strategic Studies, October 26, 2018