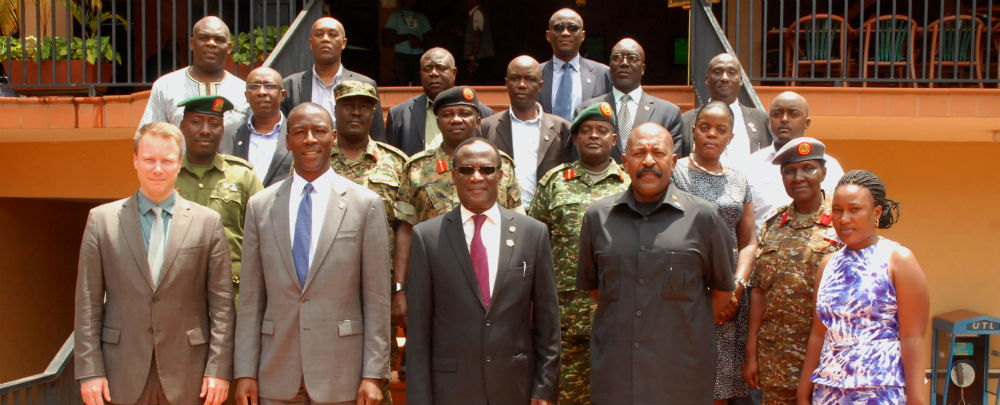 The Uganda Community Chapter of the Africa Center, established in 2004, and the Africa Center for Strategic Studies held a joint symposium in August 2017 on "Peace Support Operations in a Terrorist Environment: Lessons Learned." Lieutenant General Ivan Koreta, former Deputy Chief of Defense of the Uganda People's Defense Force (UPDF) and current Member of Parliament, chaired the discussion, and the Africa Center's Academic Dean, Dr. Raymond Gilpin moderated the event. Brigadier General (ret.) Saleh Bala of Nigeria, Africa Center alumnus and UPDF Commander Brigadier General Dick Pritt Olum, and Dr. Benjamin Nickels, Africa Center Associate Professor of Counterterrorism and Counterinsurgency, participated in the panel.
During the discussion, Brigadier General Bala shared his perspective on experience of the Nigerian Armed Forces and Lake Chad Basin community. He described "offensive stabilization" and affirmed that the "protection of civilians takes center stage consideration for mandate formulation in any force."
Next, Brigadier General Olum, who formerly served as AMISOM's Contingent Commander, shared his personal experience conducting peace support operations in a terrorist environment. He provided lessons learned and emphasized that pan-Africanist success in the operations is highly dependent on winning hearts and minds, establishing clear command and control, integrating political military and civilian support elements, and having effective communication.
Dr. Nickels remarked on three points: advocating for specific language regarding the mandate on terrorism, getting the right kind of training and equipment to deal with terrorism, and preparing for the unique second order effects of terrorism and peace support operations.
Following the symposium, the Vice Chair, Colonel Aloysius Kagoro, led a meeting of the Ugandan Alumni Chapter to discuss the current state of the community and plans for the future. Africa Center alumnus, His Excellency Steven B.K. Kavuma, Deputy Chief Justice of Uganda, concluded the proceedings for the chapter.
Photos of the event can be found on the Africa Center's Flickr page.