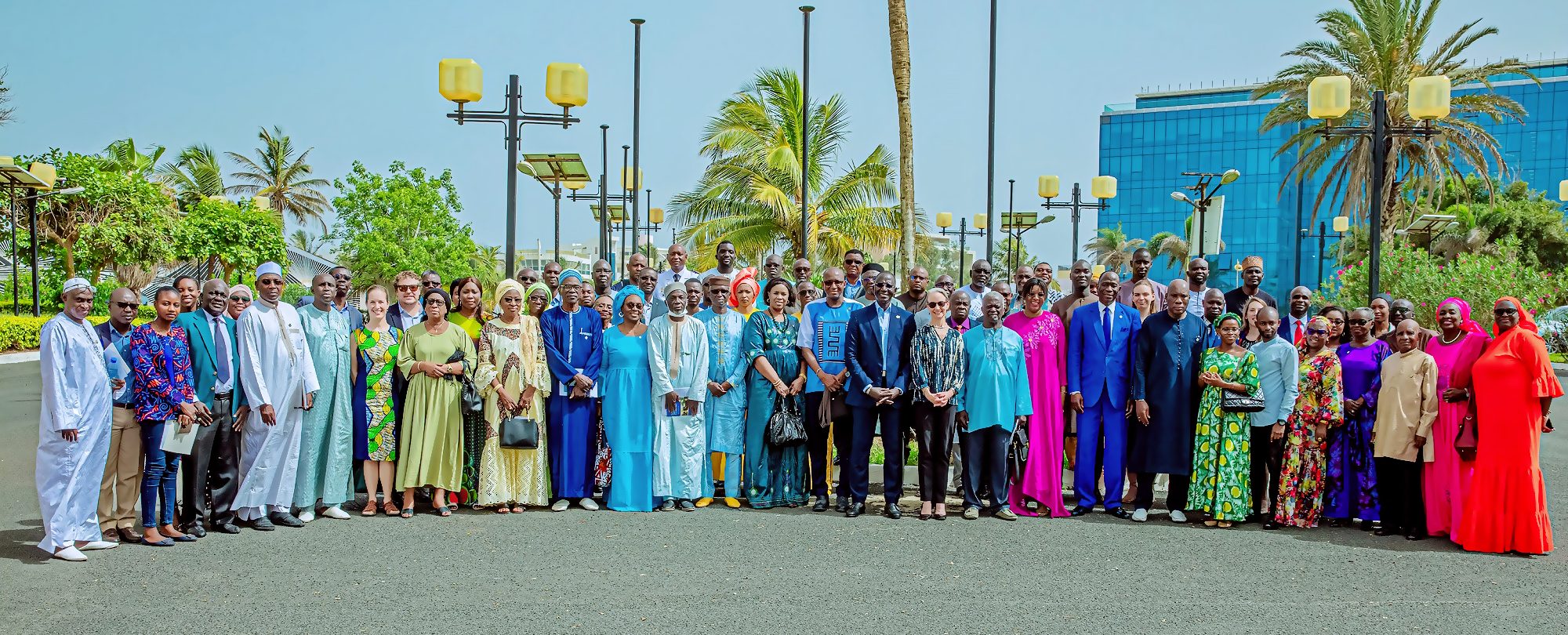 In collaboration with the Africa Center for Strategic Studies, the Senegalese Chapter of the Africa Center for Strategic Studies (ASCESA) organized a lunch-colloquium followed by its general assembly on Saturday July 30, 2022. The colloquium, which took place at the King Fahd Palace Hotel in Dakar, saw the participation of approximately one hundred alumni civilians and uniformed participants from a wide spectrum of the security sector and civil society in Senegal.
Discussions started with a panel on "The Strategic Importance of the Use of Citizen-Centered Approaches to Address National and Regional Security Challenges in Africa". During the panel, moderated by Mrs. Woré Ndiaye K., Expert in Conflict Transformation and Development, Dr. Catherine Kelly, Associate Professor of Justice and Rule of Law and Interim Academic Dean of the Africa Center for Strategic Studies, presented the main takeaways and recommendations from the series of roundtables and webinars organized jointly by the Africa Center for Strategic Studies and the Senegal Center of Advanced Studies for Defense and Security (CHEDS) from July 26-28, 2022. Speaking on behalf of the Chapter, Colonel Mamadou ADJE briefed the audience on the history of civil-military relations and how Senegal and other African countries can draw from history to develop and implement policies and strategies centered on citizens to enhance peace and security on the continent. Several participants offered practical recommendations, including the establishment a compulsory national civic and military service for youth and the inclusion of women in security initiatives.
In his impromptu remarks, Senegal's National Security Advisor, Major General Joseph Mamadou Diop, briefed the audience on the various socio-economic initiatives currently being implemented by the government of Senegal at its border regions with Mali and Guinea. He emphasized the effectiveness of development-oriented projects and their impacts on building trust between the government and the populations living in the border areas.
The second part of the day was marked by the general assembly of the ASCESA. The discussions revolved around the revitalization of the association, the mobilization of members, the resumption of activities, post-COVID 19 lessons, and the movements of members. The amount of the annual dues owed by each member was increased by acclamation and a new Chapter Executive Committee was elected. The new Chapter Executive Committee is composed of and structured as follows:
President: Major General (ret.) Talla NIANG
1st Vice-President: Brigadier General Wagane FAYE
2nd Vice–President in charge of international relations and relations with Institutions: Professor Adjaratou Wakha AIDARA
Secretary General: Mrs. Woré NDIAYE K.
Deputy Secretary General: Mr. Mountaga TALL DIOUME
Treasurer: Commissioner Joséphine SARR
Deputy Treasurer: Mr. Moussa NDOUR
Organization Committee Head: Colonel (ret.) Balla BEYE
Deputy Organization Committee: Mr. Ibrahima CISSE
Communication Commission: Colonel (ret.) Mamadou ADJE
Deputy Communication Commission: Mr. Ahmadou Bamba SENE