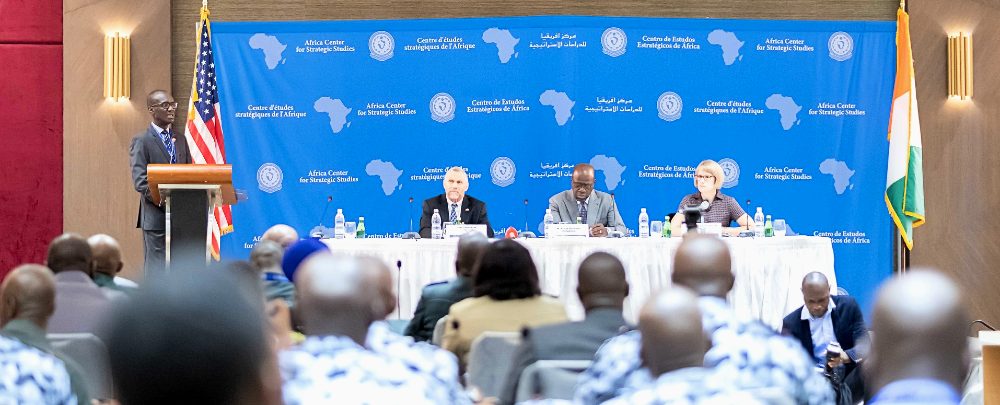 The Africa Center for Strategic Studies held a joint symposium with its Côte d'Ivoire Community Chapter in December 2019 on Preventing and Countering Terrorism in Côte d'Ivoire, a topic that the Chapter designed.
Approximately 90 Africa Center alumni, scholars, practitioners, members of civil society, and government officials participated in the symposium, discussing the historical trends of the terrorist threat in the subregion, with a particular focus on Côte d'Ivoire. Speakers included Minister of Water and Forests Alain Richard Donwahi, U.S. Ambassador to Côte d'Ivoire Richard Bell, and Africa Center Director Ms. Kate Almquist Knopf.
In her remarks, Ms. Knopf gave an overview of the Africa Center and explained that bilateral programs like this one are part of the Center's mission to expand understanding and build enduring partnerships.
Ambassador Bell's speech emphasized the importance of gaining the trust of the population in order to be able to prevent counter terrorism. "This requires being present, efficient, and respectful, avoiding any stigmatization of a segment of the population. It takes a lot of courage, discipline, communication, sacrifices, and perseverance," he said.
Mr. Jean-Louis Moulot, Director General of SODEXAM (Société d'exploitation de developpement aeroportuaire aeronautique météo; Aeronautical and Meteorological Development Company) and Deputy Coordinator of the Chapter, provided an overview, vision, and objectives of the Côte d'Ivoire Chapter, which was established in 2017. The panel of experts was moderated by Professor Dominique Bangoura, President of Political and Strategic Observatory of Africa. Dr. Jean-Jacques Konadje, an authority on geopolitical and international relations, and Brigadier General Namory Karamoko, General Director of Intelligence and Security at the Ministry of Defense, participated in the discussion panel. These experts provided a historical overview of violent extremism and terrorism in the subregion and made practical recommendations for the prevention of terrorism in Côte d'Ivoire.
To see photos of the symposium, please visit the Africa Center's Flickr account: https://www.flickr.com/photos/africa_center/albums.