Former Associate Professor, Conflict Prevention, Mitigation, and Resolution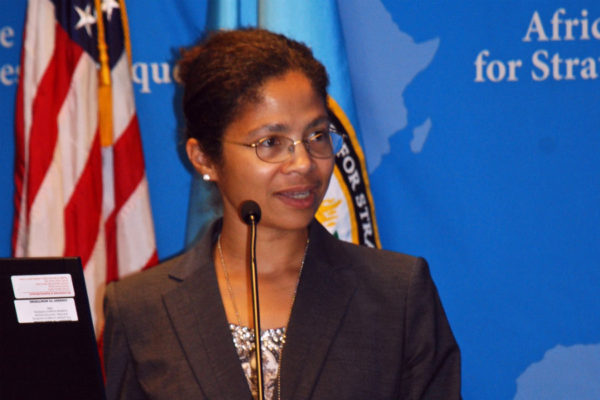 Dr. Dorina Bekoe was an associate professor of conflict prevention, mitigation, and resolution until November 2018, focusing on Africa's peace operations and security challenges. Her areas of expertise include Africa's political development, peace agreements, electoral violence, and institutional reform, including the New Partnership for Africa's Development and the African Peer Review Mechanism.
Prior to joining the Africa Center, Dr. Bekoe was a senior research associate in the United States Institute for Peace Center for Conflict Analysis and Prevention. She has also worked at the Institute for Defense Analysis and International Peace Institute. She received a B.A. in economics from Franklin and Marshall College in Lancaster, PA; an M.S. in public policy from Carnegie Mellon University in Pittsburgh, PA; and a Ph.D. in public policy from Harvard University in Cambridge, MA.
Areas of Expertise
Conflict Prevention, Conflict Mitigation, Conflict Resolution, Political Development, Peace Operations, Peace Agreements, Electoral Violence, Institutional Reform



Spotlight

Africa's Most Challenging Elections in 2018

Africa Center for Strategic Studies, February 16, 2018

Article

The United Nations Operation in Côte d'Ivoire: How a Certified Election Still Turned Violent

International Peacekeeping, August 23, 2017

Article

Storm Clouds Gather in Kenya: Five Threats to Peaceful Elections

African Studies Review, July 17, 2017

Article

The Contradictions of Pre-election Violence: The Effects of Violence on Voter Turnout in Sub-Saharan Africa

African Studies Review, June 20, 2017

Article

High Stakes in Gambia: Security Implications

Africa Center for Strategic Studies, January 19, 2017

Article

Ghana's Perfect Storm: Is Africa's Model Democracy in Danger of Faltering?

World Politics Review, October 11, 2016

PAPER

The Kenyan Diaspora in the United States and the 2013 Elections: When Money Does Not Equal Power

Diaspora Studies, May 22, 2016

ARTICLE

Sub-Saharan Africa's Electoral Landscape: Concerning Signals and Reassuring Trends

Africa Center for Strategic Studies, May 16, 2016

ARTICLE

Unloved but Unyielding: Burkina's Presidential Guard Could Derail Transition

IRIN, February 13, 2015

ARTICLE

What to Expect in the 2014 South African Elections

The Washington Post, March 20, 2014

REJOINDER

What Does Electoral Violence Signify?

Foreign Policy, June 10, 2013

BOOK

Voting in Fear: Electoral Violence in Sub-Saharan Africa

United States Institute of Peace, 2012

BRIEF

Nigeria's 2011 Elections: Best Run, but Most Violent

United States Institute of Peace, August 2011




Democratic Transitions, Elections, and Conflict in Africa

Africa Center for Strategic Studies, May 2017

Democratic Transitions and Security in Africa

Africa Center for Strategic Studies, December 2016

Collective Approaches to Security in Africa

Africa Center for Strategic Studies, December 2016

Wilson Center, September 2016

2016 : La présidentielle gabonaise

Voice of America: Washington Forum, September 2016

Burkina Faso: A Power Play by the Presidential Guard

Africa Center for Strategic Studies, September 2015

Understanding Nigeria's 2015 Elections

Council on Foreign Relations, April 2015

Africa Center for Strategic Studies, February 2015

Contemporary Challenges: Political Processes, Economic Governance, and Democratic Transitions

Africa Center for Strategic Studies, June 2014




Interview

VOA, August 2, 2018

Interview

CGTN, August 1, 2018

Article

Institutions' Weakness Could Fuel Violence, Think Tank Says

Daily Nation, July 18, 2017

Interview

South Africa's Economic Crisis

CGTN, June 28, 2017

Article

Tycoon, Striker or Banker: Liberia Seeks a New President

AFP, May 23, 2017

Interview

Washington Forum: La présidentielle gabonaise

VOA, September 1, 2016

Article

Foreign Policy, April 20, 2016

Article

The Rocky Road to Democracy in Burkina Faso

IRIN, September 22, 2015

Interview

Security during the Nigerian Elections

Straight Talk Africa, February 4, 2015

Article

Rebuilding Ivory Coast Will Be "a Hell of a Time"

NPR News, April 7, 2011