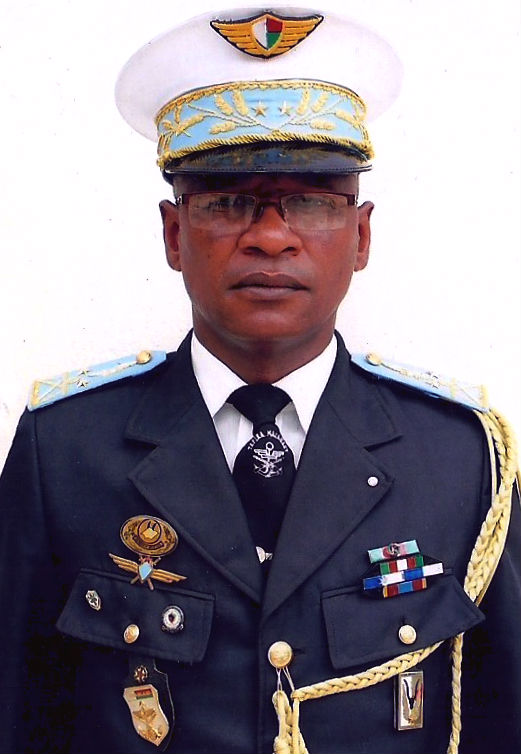 Air Brigadier General Andriamahazoarivo has been a member of the Africa Center alumni community since 2009. He participated in the 2009 Next Generation of African Security Sector Leaders Course, the 2014 Thematic Outreach Program Symposium in Antananarivo, and most recently, the 2015 Senior Leaders Seminar in Washington, DC. He currently serves as the Director of Madagascar's Officer Professional Development Center (Centre de Perfectionnement des Officiers) where he is working to implement his vision of "an Army worthy of and accountable to its people." In this position, among his other duties, he is again working closely with the Africa Center to improve professional military education in Madagascar through the African Military Education Program (AMEP). He is the recipient of numerous prestigious honors and awards, including Officer of the National Order of Madagascar, Knight of the National Order of Madagascar, Officer of the Order of Merit of Madagascar, Knight of the Order of Merit of Madagascar, and the Gold Medal of the French Air Force.
General Andriamahazoarivo believes that the Africa Center is an indispensable tool of the U.S. Government in responding to the growing and diversifying security threats, including terrorism, in Africa. He said, "The Africa Center for Strategic Studies is, for me, a place for dialogue and for sharing experiences from across the horizons of the world. What I appreciate the most is the open mindedness and the fruitful exchanges between conference organizers and the participants."
As for his advice to the next generation of African security sector leaders, the General offered the following focus areas:
Exhibit their professionalism by respecting the rules of the profession, particularly with regard to human rights
Demonstrate that the security forces remain a cornerstone of competence, self-sacrifice, devotion and rigor
Serve as a model of good governance
Demonstrate that their unit is unshakeable
Take control of arms proliferation
The Africa Center most recently visited its alumni community in Madagascar in August 2014 and held an academic symposium on maritime security, an important topic for this island nation, which has the fourth largest maritime Exclusive Economic Zone in Africa. This was again highlighted when Madagascar participated in the January/February 2016 Cutlass Express exercise with the U.S. Navy and the Seychelles to promote interoperability with partner navies and increased information sharing within the sub-region. Another area of focus for the security sector is the internal threat of cattle rustling in the Madagascar Highlands. They conducted a 5-month operation, "Operation Fahalemana," which was launched in August 2015, to improve security in rural areas.
Madagascar's alumni chapter was founded on May 2, 2006, and is includes in its membership alumni of programs at the Daniel K. Inouye Asia Pacific Center for Security Studies, a sister Regional Center. The chapter has approximately 63 members from the Africa Center and approximately 38 from APCSS. Other senior alumni from Madagascar include the current Defense Minister, General Dominique Rakotozafy.