Também disponível em português
João Lourenço's first year as Angola's head of state has seen quicker change than many expected. The former defense minister, who became Angola's president in September 2017, had two policy priorities for his first year: to stabilise the economy and to take full control of his party, the Movimento Popular de Libertação de Angola (MPLA). He has made progress on both fronts.
The MPLA Congress and Consolidation of Power
Over the course of Lourenço's first year as president, two poles of power emerged: the presidency of the state, headed by João Lourenço—popularly known in Angola as "JLo"—and the ex-head of state and MPLA president, José Eduardo dos Santos. Angola has not experienced anything like this since 1979, as the separation between party and state has long been blurred. The relationship between both men also deteriorated from late 2017 over JLo's increasingly assertive reforms that impacted dos Santos, his family, and his allies. For a while, they relied on intermediaries to communicate with each other.
Unsurprisingly, after 38 years of leading Angola, dos Santos was not planning to relinquish all his power rapidly. There was a tug of war over the date for the extraordinary MPLA congress—with dos Santos in March (encouraged by his family and allies) saying that the congress should be in December or April 2019. This initiative failed, and JLo continued to build up his support base—such as appointing a dos Santos "dissident," General Fernando Garcia Miala, as head of the Serviço de Inteligência e Segurança de Estado (SINSE, the state intelligence and security service). Miala's appointment locked in intelligence community support and weakened dos Santos further.
JLo was elected president of the MPLA at the party's sixth extraordinary congress on September 8, 2018, in Luanda. He stood unopposed and secured 98.6 percent of the votes and replaced dos Santos, ending his 39-year tenure as party president. Having secured his grip on the party presidency, JLo immediately overhauled its Bureau Político (BP): close to half its members were replaced by younger people, many of them not linked to dos Santos. Those released from the BP read like a Who's Who of the dos Santos era, including Francisco Higino Lopes Carneiro, a one-time public works minister; Manuel Vicente, a former chief executive of Sonangol and Angola's previous vice-president; Juilão Mateus Paulo "Dino Matrosse," a veteran of the liberation struggle and long-time MPLA secretary-general; and Kundi Paihama, a former defense minister and majority shareholder in Banco Angola de Negócios e Comércio. Some allies of dos Santos were also retained, such as lawyer Carlos Feijó and Rui Luís Falcão Pinto de Andrade, a one-time MPLA spokesman.
In the 12 months since JLo became head of state, several key officials, including family of dos Santos—such as his son José Filomeno ("Zenu") as head of the sovereign wealth fund, and the head of the state oil company Sonangol, his elder daughter, Isabel—have been charged or investigated in connection with corruption and money-laundering allegations. This played well among Angola's middle class and weakened resistance to JLo's tightening grip of the MPLA. A year on, JLo has firmly consolidated his hold on authority and ended the dual centers of power within the party. JLo now controls the party, the executive, and the armed forces and intelligence. He is also responsible for appointing senior members of the judiciary and the leadership of the parastatals. This concentration of power in the presidency could pose a longer-term risk for Angola, particularly if JLo's reforms fail to deliver. Angola currently lacks credible institutions to place checks and balances on its executive, and the MPLA is more tightly controlled by the President following the party congress.
Deepening Reform
Looking ahead, a key question is: Will JLo become more equitable in his reform efforts? The last year saw disproportionate action against family and allies of dos Santos. This was unavoidable, as during the final years of the dos Santos administration, allies, confidantes, and the dos Santos family prospered substantially. Any serious reform needed to confront this reality.
Reform should, however, not be just about power consolidation for JLo. Angola is ranked 167th out of 180 countries in the 2017 Corruption Perceptions Index by Transparency International and scores poorly in the World Bank's Doing Business study, ranking 182 out of 190 in 2017. Reform was unavoidable, and Angolan banking needs it as a recent Deloitte assessment concluded.
Some $30 billion of Angolan money is held outside the country, around half in personal accounts.
Legislation approved in May 2018 mandated the return of illicitly exported capital over $100,000. According to the Banco Nacional de Angola (BNA), some $30 billion of Angolan money is held outside the country, around half in personal accounts. Will this be enforced under the law and how much money will be returned? Opposition parties and anti-corruption activists welcomed the initiative but claim people close to JLo have unaccounted-for fortunes too. It is promising that some of these individuals were not reappointed to the MPLA's BP in September—hopefully signaling that a new phase of reform is starting.
Debt Burden
Currently, the economy has fragile growth, high debt, and high inflation. The IMF expects 2.25 percent growth in 2018 (compared with 1 percent in 2017), with the economy experiencing a mild recovery, helped by reforms and a buoyant global debt market. At the same time, inflation is expected to reach 24.75 percent year-on-year for 2018 and formal unemployment is at least 25 percent.
2018 is also a year of debt maturities for Angola. Angola projects its total debt, excluding that of the state oil company Sonangol, to reach $77.3 billion or 71 percent of GDP by end of 2018. The debt service-to-revenue ratio reached 89 percent in 2017. To help, China has opened a new $11 billion credit facility for Angola in 2018 (Angola's current debt to China is $23 billion, and debt owed to Chinese institutions accounts for 56 percent of Angola's external debt). In addition to China, Angola has oil-backed loan commitments with Brazil and Israel and currently lacks wiggle room—forcing it to turn to commercial borrowing and reengaging with the IMF.
In May, Angola successfully sold a $1.7 billion, ten-year bond and a 30-year bond worth $1.25 billion. This Eurobond was three times oversubscribed, signaling investor confidence in Angola. Angola's reengagement with the IMF over a financial service support program (an extended fund facility) has helped investor confidence. The IMF engagement is a positive development, helping Angola's international reputation and it will encourage a control in expenditures. Long-term debt rescheduling but may also restrict fiscal and monetary policy—and have some social impact in the short term (unemployment and lower purchasing power).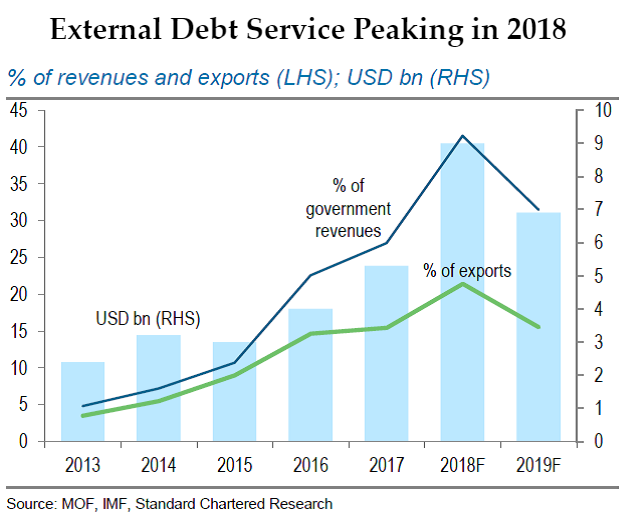 The Angolan currency, the Kwanza, has also fallen over 40 percent since a dollar peg was abandoned in January for a floating foreign exchange regime. This has eased pressure on international reserves, which fell from $28 billion in 2014 to a decade-low $12.8 billion in February 2018. A lack of foreign currency and concerns of corruption had forced foreign companies to pull back operations. This has made nurturing the oil and gas industry a priority until the government can figure out how to sustainably diversify its economy away from over-reliance on hydrocarbons.
Protecting the "Golden Goose"—Oil
JLo has also convinced international oil companies (IOCs) to recommit to Angola and described the oil industry as Angola's "Golden Goose." Oil production is set to decline by 36 percent by 2023 according to the Ministry of Finance because Angola's off-shore oil fields peak quickly and decline sharply. Oil currently represents 95 percent of foreign exchange earnings and more than 40 percent of gross domestic product. In mid-2017, there were only 8 active rigs (compared with 25 in 2014), and seismic activity fell by 80 percent. Over the prior 12 months, crude oil production had declined to an average of 1.632 million barrels per day. The outlook was bleak, and several IOCs were considering an exit.
The JLo administration over the last year has been working with IOCs to avoid this projected steep decline, removing obstacles to the development of new fields, particularly in blocks 14, 15, 16, 17, 31, and 32, and offering new licensing opportunities. The policy ambition is to steady production around 1.7 million barrels per day and attract renewed exploration and greenfield and marginal field development.
In October 2017, soon after taking office, JLo met with senior officials from Chevron, Total, BP, Eni, Exxon, and Statoil (now Equinor) to discuss the industry's future. An immediate result was the creation by the presidency of a working group, and six weeks later, the firing of Isabel dos Santos as head of Sonangol and most of her board. Reforms have followed, such as drafting legislation for the rights of companies to explore and produce natural gas in Angola and ensuring that the Ministry of Finance is responsible for the accounts of the oil and gas industry. The end of the fuel import monopoly and incentives for investment in marginal oil fields have also been introduced.
In the longer term, by the end of 2020, a new agency—the Agência Nacional de Petróleos e Gás (ANGP)—has been proposed to take over the role of concessionaire from Sonangol. Sonangol will focus just on hydrocarbon exploration, production, refining, and distribution. It will sell off non-core subsidiaries and its equity in several oil blocks. A few key IOCs have recommitted to Angola in response.
The JLo administration has also started mining sector reforms. In September, mining major Anglo American confirmed it was seeking a prospecting license. Angola also plans to privatize around 74 state companies over the next few years, and some key infrastructure projects have been reviewed. A recent Chatham House study of Angola's non-oil infrastructure showed significant graft and poor oversight in projects up to 2016.
Security Sector Reform
On paper, at up to 100,000 personnel, Angola's armed forces (the Forças Armadas Angolanas, FAA) are one of the largest in Africa. Since the civil war ended in 2002, the military has played a key role in facilitating post-conflict elite reconciliation and job creation. Maintaining such a large military is unsustainable in the long term, and in the last budget, 21 percent was allocated for defense, 11.3 percent for education, and 7.4 percent for health.
Since the civil war ended in 2002, the military has played a key role in facilitating post-conflict elite reconciliation and job creation.
Reform of the armed forces was long overdue and in April 2018, the FAA chief of staff, General Geraldo Sachipengo Nunda was fired because of corruption allegations against him, along with the external intelligence chief, André de Oliveira Sango, a long-time dos Santos loyalist. Nunda (an ex-UNITA guerrilla fighter) had been a technocratic appointment but did not have the necessary political support to continue. He was replaced by General António Egídio de Sousa Santos "Disciplina" (previously the FAA's head of education), an appointment that strengthens JLo's grip of the military in preparation for structural reform.
Since January 2018, JLo made new appointments of 62 generals and admirals to the defense and security services and retired 58 others. An armed forces reform legislation package of three laws was also approved by the National Assembly in July 2018, which paves the way for significant downsizing. The plan is to halve the size of the armed forces and to professionalize and depoliticize many posts.
MPLA Renewal
With a firm grip on the party and a stabilizing economy, JLo's priority will be to stimulate economic growth, create jobs, and improve government delivery. The reforms are all aimed at ensuring continued MPLA domination by rebuilding support for the party in anticipation of Angola's first ever municipal elections in 2020, where the party fears it could lose control of some parts of the country. It also represents longer-term preparations for an increased MPLA majority (the party secured just over 61 percent of the vote in legislative elections in August 2017) at the next national elections in 2022 and a João Lourenço second term.
A year on from taking over the Angolan presidency, the pressure to demonstrate measurable progress is increasing. Helped by improved oil prices and a firm grip on power, JLo now has a couple of years to prove that he really is a modernizing reformer that can deliver for all Angolans, rather than just a new face protecting MPLA elite interests.
Dr. Alex Vines is Research Director, Area Studies and International Law; Head, Africa Programme, Chatham House
More on:  Angola​