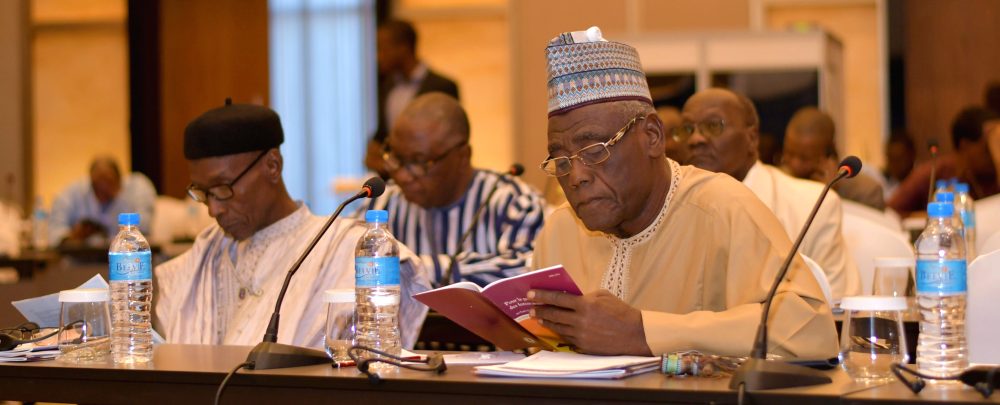 The Africa Center for Strategic Studies held a joint symposium with its Niger Community Chapter of the Africa Center, established in 2013, in January 2020 on Countering Transnational Organized Crime. The Niger Chapter president, Major General (ret.) Maï-Manga Oumara, former President's military Chief of Staff and current Grand Chancellor of the Niger National Orders, chaired the discussion.
Other speakers at the events included former Niger Chief of Defense Staff Général d'Armée Seyni Garba, U.S. Ambassador to Niger Eric P. Whitaker, and Africa Center Director, Ms. Kate Almquist Knopf.
In her remarks, Ms. Knopf gave an overview of the Africa Center and explained that bilateral programs like this one are part of its mission to expand understanding and build enduring partnerships.
In Ambassador Whitaker's remarks at the opening session, he stated that transnational crime was a threat to public safety and stability and that trafficking in narcotics, humans, arms, and wildlife feed terrorism and poison national stability.
Appearing on behalf of the Minister of Defense, General Seyni Garba officially opened the symposium. Police Commissioner Abdoul-Salam Moumouni, judicial cooperation expert Mr. Amadou Morou, and Dr. Catherine Lena Kelly, Africa Center Associate Assistant Professor of Justice and Rule of Law, participated in the discussion panel. These experts shared insights into efforts to understand the dynamics of transnational organized crime and its most effective deterrents and stressed the importance of coordination across judicial, law enforcement, and security sectors to counter these threats to society.
To see photos of the symposium, please visit the Africa Center's Flickr account: https://www.flickr.com/photos/africa_center/albums.