English | Français | Português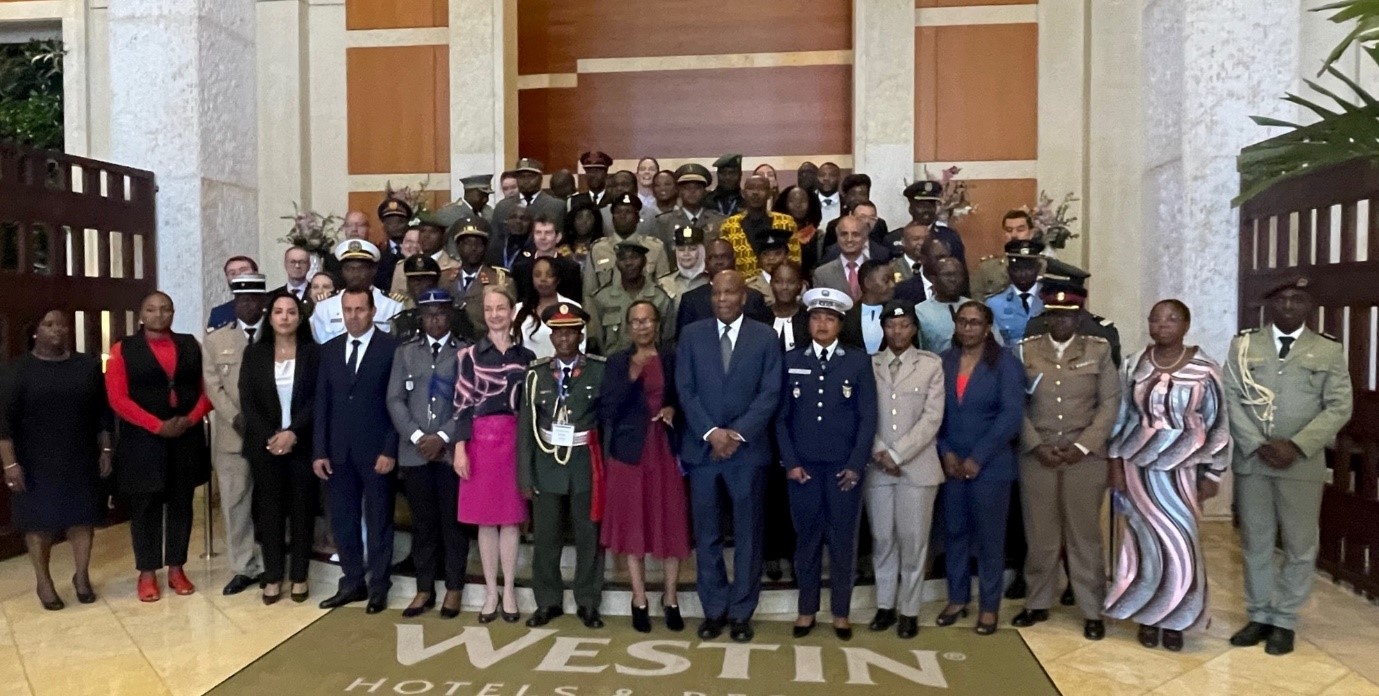 In June 2023, the Africa Center hosted 48 participants from 39 African countries and regional organizations for the Emerging Security Sector Leaders (ESSL) seminar in Washington, DC. ESSL is the successor program to the Next Generation of African Military Leaders (Next Gen) program which the Africa Center began offering in 2005. Like Next Gen, ESSL is aimed at up-and-coming security sector officials and endeavors to strengthen critical-thinking and decision-making skills, preparing tomorrow's leaders for adaptive and effective strategic leadership. Attendees at this year's program were civilian and uniformed officials from national governments, civil society members, a parliamentarian, and representatives of the African Union and Intergovernmental Authority on Development (IGAD). Several Africa Center alumni chapters were invited to nominate attendees as well.
Africa Center alumni featured prominently in the three-week program. Two alumni were in the team of facilitators that ran the discussion groups:
Anneli Botha, independent consultant on radicalisation, deradicalisation, reintegration and terrorism in Africa;
Émile Ouédraogo, adjunct professor of practice at the Africa Center, specializing in issues related to national security strategy development and security sector reform and governance.
Many alumni also served as panelists, including:
Nirina Kiplagat, Regional Peacebuilding Advisor, Regional Service Centre for Africa, UNDP
Martin Ewi, Technical Coordinator of the ENACT (Enhancing Africa's Response to Transnational Organized Crime) Project at the Institute for Security Studies in Pretoria
Nnenna Ifeanyi-Ajufo, Associate Professor of Law and the Head of Law, Buckinghamshire New University, United Kingdom
Captain (Navy) Loïc N. Moudouma, who spent three years as the Deputy Chief of the Gabon Navy-Headquarters prior to his retirement
Brigadier General (ret.) Joyce Ng'wane Puta, Chairman for the Zambia Ex- Servicemen League and a Consultant in Peace and Conflict, HIV/AIDS and gender related issues
General (ret.) Njuki Mwaniki, CEO of Power Axis Kenya, Ltd following his retirement from the Kenyan Army
Camlus Ouma Omogo, Director, Conflict Early Warning and Response Mechanism, IGAD
Gueye Abdou Lat, Director, Early Warning Directorate, ECOWAS
General Birame Diop, Military Adviser, Department of Peace Operations, United Nations
Professor Boubacar N'Diaye, Professor Emeritus, The College of Wooster
A highlight of the three-week program was a special session called "Alumni in Conversation: What it Means to be an Africa Center Alumnus." In this session, Africa Center Dean Assis Malaquias and Africa Center Regional Engagement Manager Claude Toze spoke with two distinguished alumni and graduates of the ESSL/Next Gen program:
Émile Ouédraogo, Africa Center adjunct professor of practice; 2007 Next Gen graduate
Colonel Aissatou Nabiou, Defense Attaché of the Gabonese Republic in Washington, D.C.; 2014 Next Gen graduate
In the discussion, Dr. Ouédraogo and Colonel Nabiou offered their perspectives on the shared values, holistic view of security, and technical expertise that characterize Africa Center alumni and the roles that an Africa Center alumnus can play individually and through ACSS community chapters. Dr. Ouédraogo highlighted the shift in security paradigms he experienced at ACSS, moving from classical state-centered security to a broader, more human-centric approach, which has significantly influenced his career and outlook on security. Colonel Nabiou shared a similar experience and acknowledged ACSS' valuable online library and the opportunity for alumni to engage in relevant discussions. Dr. Ouédraogo concurred, stressing that ACSS is a "gold mine," providing a "bottomless well of knowledge."
In the conversation, Dr. Malaquias emphasized how these alumni seized the tools and opportunities they were given by ACSS to help shape policies and strategies. Afterwards, when asked about the session, he elaborated, "This was an excellent opportunity to showcase two outstanding Africa Center alumni who have made, and continue to make, real contributions to improving the security environment on the continent. The new generation of emerging leaders in the audience really appreciated the insights offered by the two alumni on how participation in ACSS programs helped their careers." The full conversation with these alumni may be watched in English, French, and Portuguese.
In terms of the rest of the ESSL program, the seminar pivoted around four central themes: (1) analyzing security threats, (2) interpreting security dynamics, (3) addressing security challenges, and (4) examining responses to security challenges. Participants engaged actively in plenary sessions, discussion groups, and a two-day simulation exercise, and they completed a writing assignment. Supplementing the academic curriculum was a diverse array of social and cultural activities, including a welcome event with members of the African diplomatic corps and officials of the U.S. government, a visit to The National Museum of African American History and Culture, a guided tour of the iconic monuments of Washington, D.C., a baseball game at Nationals Stadium, and a walking tour of the historic streets of Old Town Alexandria.
What did participants of the 2023 ESSL program take away from their time in Washington, D.C.? The Africa Center reached out to two newly minted ESSL alumni and heard the following:
"I participated in the 2023 ESSL as a representative of the Intergovernmental Authority on Development (IGAD). This experience gave me a deep understanding of security challenges in Africa at both continental and country levels. It expanded my knowledge, allowed me to connect with experts and fellow practitioners, and highlighted the diverse dynamics in each country. I gained insights into security mechanisms, best practices, and challenges. As a representative of a regional economic community, I was able to share valuable experiences with my fellow participants. The seminar content was directly relevant to my work, and the simulation exercise honed my skills in working with diverse professionals. Overall, my time at ESSL contributed to my professional growth, particularly in leadership and top management within my organization."

Nejat Abdulrahman Issa, Senior Program Officer, Counter Terrorism Capacity Building, Intergovernmental Authority on Development (IGAD)
"I had the honor of participating in the emerging security sector leaders' seminar. This program allowed me to consolidate my knowledge and skills on current trends affecting the security sector in Africa. I would like to thank my ACSS colleagues, as well as the remarkable speakers and panelists for their unwavering professionalism and dedication. As an Africa Center alumnus, the knowledge acquired, and the invaluable connections made are certain to leave an indelible mark on my career and professional journey. This experience was incredibly enriching on all levels, and above all, unforgettable. I eagerly anticipate the opportunity to reunite!"

Major Mohamed Ali Zaray, Tunisia Ministry of National Defense
Are you a graduate of the ESSL/Next Gen program? We invite alumni to get in touch to share their memories if the program had an impact on their professional lives.
Enjoy photos from the 2023 ESSL program here.