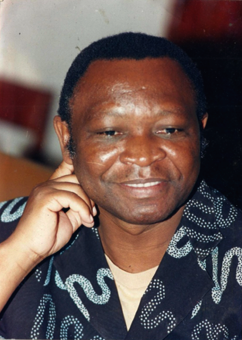 Professor Eginald Pius A.N. Mihanjo, director of studies at the National Defence College in Tanzania, did not originally find a practical application for his Ph.D. in history and strategic studies outside of teaching university courses. However, at the Africa Center's 2006 Senior Leaders Seminar, where he "trained and [was] exposed intensively on security issues and national security strategy," he began to be "able to see the links and synergies that finally drew my interest and shaped me," he says. "The Africa Center has made me who I am today both in the national security strategy training and also at National leadership and higher learning training." Professor Mihanjo has often credited the knowledge gained at the Senior Leaders Seminar and other Africa Center workshops as providing him with "the foundation for strengthening curriculum development in national security strategy" in his country.
Today Professor Mihanjo focuses on the issue of natural resource management as a potential source of conflict, and his unique blend of both government and academic service affords him a unique perspective on issues of good governance, strategic planning, and defense training. He cautions the next generation of leaders that "African security professionals detach themselves from people as they become leaders in the security sector." This may lead to leaders not being "clear on security challenges [at local and district levels], especially in regards to irregular and asymmetric threats, and on the strategies to mitigate them." In addition, "this big gap constrains the decisionmaking and informed opinion" needed to advise heads of state and government. One method of addressing it is to develop ways to sensitize the leaders to what happens on the ground at the operational and tactical levels before they are promoted to top leadership positions.
Professor Mihanjo continues to serve as a critical resource in ensuring continued engagement with the Africa Center alumni community in Tanzania and within the East Africa Community. He assists in the planning of outreach events and the participant nomination process for Africa Center programs and other U.S. Government senior-level dialogues. He currently serves as the president of the Africa Center's Tanzania Alumni Chapter, which was founded on April 24, 2010, and boasts 109 members. Since the Senior Leaders Seminar in 2006, Professor Mihanjo has attended several more Africa Center workshops, trainings, and symposia. He has also taken part in many other programs hosted by the U.S. Africa Command, U.S. Embassy, and other institutions.