Adjunct Professor of Practice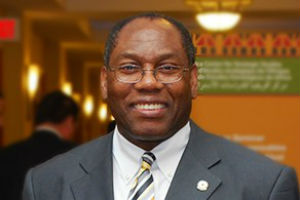 Dr. Matt Houngnikpo is an adjunct professor of practice at the Africa Center for Strategic Studies, as well as the strategic planning advisor to the Strategic Governance Initiative in Mali. His work focuses on democratic security sector governance and reform, the design and development of national security strategies, and democratic governance.
Until July 2013, Dr. Houngnikpo was the academic chair of civil-military relations at the Africa Center, overseeing curriculum and program development in the area of civil-military relations, focusing on Africa's military history, democratic civil control of the security sector, and issues of accountability, transparency, and good governance. Dr. Houngnikpo also assisted the government of Côte d'Ivoire in implementing security sector reforms, and he has held various teaching positions in both the United States and Benin.
Dr. Houngnikpo holds a Ph.D. in political science from the University of Paris VIII in Saint-Denis, France, and a Ph.D. in international studies from the University of Denver.
Areas of Expertise
Security Sector Governance (Reform and Transformation); Design and Development of  National Security Strategy/Policy; Democratic Oversight of the Security Sector; Civil-Military Relations; Leadership and Ethics in Political Governance



Book Chapter

"Repressing or Protecting? The Security Sector and Society in Africa," in The Fabric of Peace in Africa: Looking beyond the State, Pamela Aall and Chester A. Crocker, eds.

2017

Article

"Post-face: du lien entre Etat, armée er société," in Les Armées africaines et le pouvoir politique au sud du Sahara, Axel Augé and Amandine Gnanguênon, eds.

Les Champs de Mars No. 28, October 2015

Article

"Benin (Dahomey)," in African Studies, Oxford Bibliographies Online

July 30, 2015

Book Chapter

"Eroding Democracy: Competitive Authoritarian Drift in Benin," in Democratic Contestation on the Margins: Regimes in Small African Countries, Claire Metelits and Stephani Matti, eds.

2015

Book

Historical Dictionary of Benin

2013

Book

L'Afrique au Futur Conditionnel

2011

Book

Elections and Democratization in West Africa: 1990-2009

2011

Book Chapter

"AFRICOM: African Concerns and Criticism," in African Security and the Africa Command: Viewpoints on the US Role in Africa, Terry Buss, Joseph Adjaye, Donald Goldstein, and Louis Picard, eds.

2011

Book Chapter

"Small Arms and Big Trouble in Africa," in African Security and the Africa Command: Viewpoints on the US Role in Africa, Terry Buss, Joseph Adjaye, Donald Goldstein, and Louis Picard, eds.

2011

Book

Guarding the Guardians: Civil-Military Relations and Democratic Governance in Africa

2010

Article

"Benin's Ongoing Struggle for Democracy"

West Africa Review, Issue 10, 2007.

Book

Africa's Elusive Quest for Development

2006

Book

Economic Integration and Development in Africa

2006

Book

Not Yet Democracy: West Africa's Slow Farewell to Authoritarianism

2005

Book

L'Illusion Démocratique en Afrique

2004

Book

Des Mots pour les Maux de l'Afrique

2004

Book Chapter

"Friend or Foe?: The Military and Democratic Transition in Benin and Togo," in Not Yet Democracy: West Africa's Slow Farewell to Authoritarianism, M. Houngnikpo, B. N'Diaye and A. Saine

2004

Article

"Pax Democratica: The Gospel According to St. Democracy"

Australian Journal of Politics and History, Vol. 49, No. 2, June 2003

Article

"Africa's Political Renaissance: Myth or Reality?"

Black Renaissance Noire, Vol. 4, No. 1, Spring 2002

Article

"Democratization in Africa: Double Standards in Benin and Togo"

The Fletcher Forum of World Affairs Vol. 25, No. 2, Summer 2001

Book

Determinants of Democratization in Africa: A Comparative Study of Benin and Togo

2001

Book

2001

Book

Contemporary Problems Facing Africa and Viable Strategies for Redress

2001

Article

"The Military and Democratization in Africa: A Comparative Study of Benin and Togo"

Journal of Political and Military Sociology, Vol. 29, No. 2, Winter 2000

Article

"Stuck at the Runway: Africa's Distress Call"

Africa Insight, Vol. 30, No. 1, May 2000

Article

"Peaceful Democracies on Trial in Africa"

Peace Research: The Canadian Journal of Peace Studies Vol. 31, No. 4, November 1999